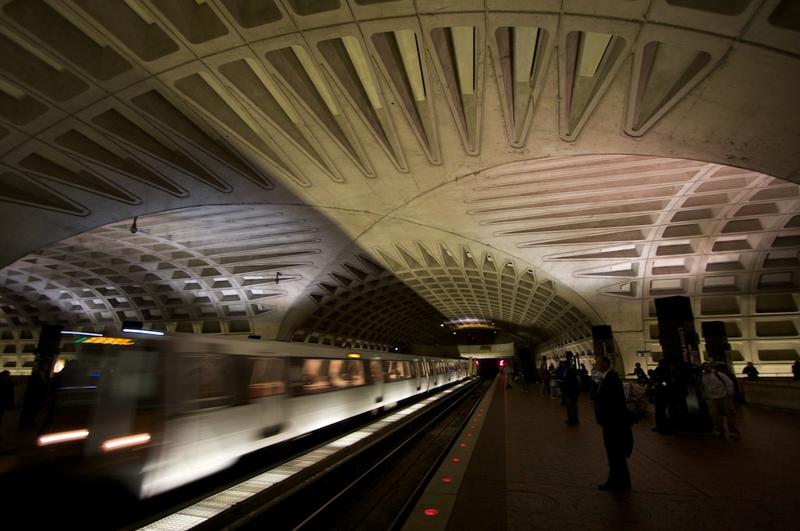 Metro is losing rail ridership, and fare revenues are falling short of projections, but transportation planners and policy experts say the short-term losses don't signal significant trouble -- especially since the transit agency is central to the region's economic growth in the coming decades.
Metro's fiscal 2013 operating budget performance review blamed a four percent drop in rail ridership (nine million fewer trips were taken than anticipated) on several factors: changes to the federal transit commuter benefit, a fare increase, and the system shutdowns caused by Hurricane Sandy and an unplanned-for federal furlough.
And weekend ridership, which accounts for only 15 percent of overall ridership, dropped significantly, mostly due to weekend track work that reduces service.
Rider frustration, though, is harder to quantify. Anecdotally passengers use social media to vent their frustrations at Metro's near-daily breakdowns and service disruptions, as well as long weekend wait times caused by the repair work.
"There are plenty of examples of people out there who have abandoned Metro because of weekend track work. I think that is a self-inflicted wound in the end," said Ben Ball, the chairman of the Riders' Advisory Council. Ball said Hurricane Sandy may have taken a chunk out of Metro's projections, but Inauguration Day made up for some of those losses.
Why is Metro losing riders?
Whatever the reasons rail revenues fell $7 million below projections (in a $1.5 billion budget), experts say the transit authority is likely to regain riders and revenue as long as it successfully completes its six-year, $5 billion capital rebuilding plan, which will continue into 2017. Moreover, the economic and demographic factors that could be behind the recent ridership drop portend well for the region's future.
"If the drops in ridership are the result of things like people walking to work more or biking to work more, or more telecommuting, and it's not that they are fleeing Metro and driving more or moving far out to the suburban fringe, then maybe these aren't bad things for decision makers in this region to think about," said Robert Puentes, a transportation policy expert at the Brookings Institution's Metropolitan Policy Program.
"We know that Metro is a vital part of the economy of this region. It moves a tremendous amount of people every single day, second only to New York City, so the elected officials and decision makers in this region understand just how vital Metro is, and the drops that have happened may be just unique to the time we are in right now," he added.
If you glance at Twitter on a day when Metro is experiencing a significant service disruption it seems angry passengers are ready to revolt. D.C. resident Parker Cohen is one.
"On weekends, I avoid the Metro a lot more than I used to," he said in an interview on the platform at Metro Center. "I've lived here about five years and it's a lot more difficult to get around. It's frustrating but the good news is I bike more and I'm living a little healthier now that I take Metro less."
However, most rail riders are generally satisfied with Metro's service and view the rebuilding program as critically important, according to Ron Kirby, the director of transportation planning at the Metropolitan Washington Council of Governments.
"What is important to note, though, is we just conducted a survey of 660 people throughout the region on what are the major challenges in the transportation system… and Metro's maintenance challenges came out as the top issue. Over 90 percent of people either supported or strongly supported a greater commitment to solving that problem," Kirby said.
"It is critical that the system be prepared to the point where it can serve the demands we are expecting because we are dependent on it in this region. We absolutely have to get it operating in a safe and reliable manner," he added.
Critics see potential trouble
Critics contend Metro's daily problems and weekend track work are so alienating riders that some will never come back, leading to lost revenue that could jeopardize certain aspects of the transit authority's future maintenance funded from the operations budget.
"Are these people leaving Metro temporarily or are they gone for good? I think that is one of the main concerns Metro really needs to address: how long are these people going to stay away?" said the RAC's Ball. "If you think about it in relative terms, the ridership actually decreased a lot further because the Metro Washington area is adding people," he added.
While heavy maintenance, like rail replacement, may be funded out of the capital budget, Ball contends Metro should not downplay even small losses in fare revenue.
"If you are going to make the case for more capital projects, you have to show that ridership is increasing, that you have more of a need. It all plays into a larger budget picture. You can't just take these things in isolation," he said.
Kirby, who is otherwise optimistic about Metro's future, agrees on this point. "There does not seem to be a comparable drop in ridership on Metro bus or on the commuter rail services. And many of these factors like the weather, hurricanes, and the transit subsidy affect those systems as well," he said.
Metro is three years into a ten-year, $3 billion funding program provided by the federal government and the transit authority's three jurisdictions, Maryland, Washington, and Virginia.
Shut down entire lines?
Other major cities have shut down entire or portions of transit lines to accelerate repairs. Transit advocates praise Metro for attempting to rebuild while maintaining service, leaving the heavy track work to weekends and nights when ridership dips. But Kirby believes Metro may want to consider closing down parts of the system entirely to complete rehab work on a shorter timetable.
"I think it is a conversation that is going on continually at Metro," Kirby said. "Perhaps at some point, some portions should be closed for a period of time. There is inconvenience here whichever way you look at it. So the question is, do we want to have a little bit of inconvenience over a long period of time, or a lot of inconvenience for a short period?"
Metro may be forced to close a segment of the Red Line in the next year or two to repair chronic water leaks, replacing trains with shuttle service for as many as six weeks. The transit authority declined to comment on this story ahead of today's presentation before the board of directors.