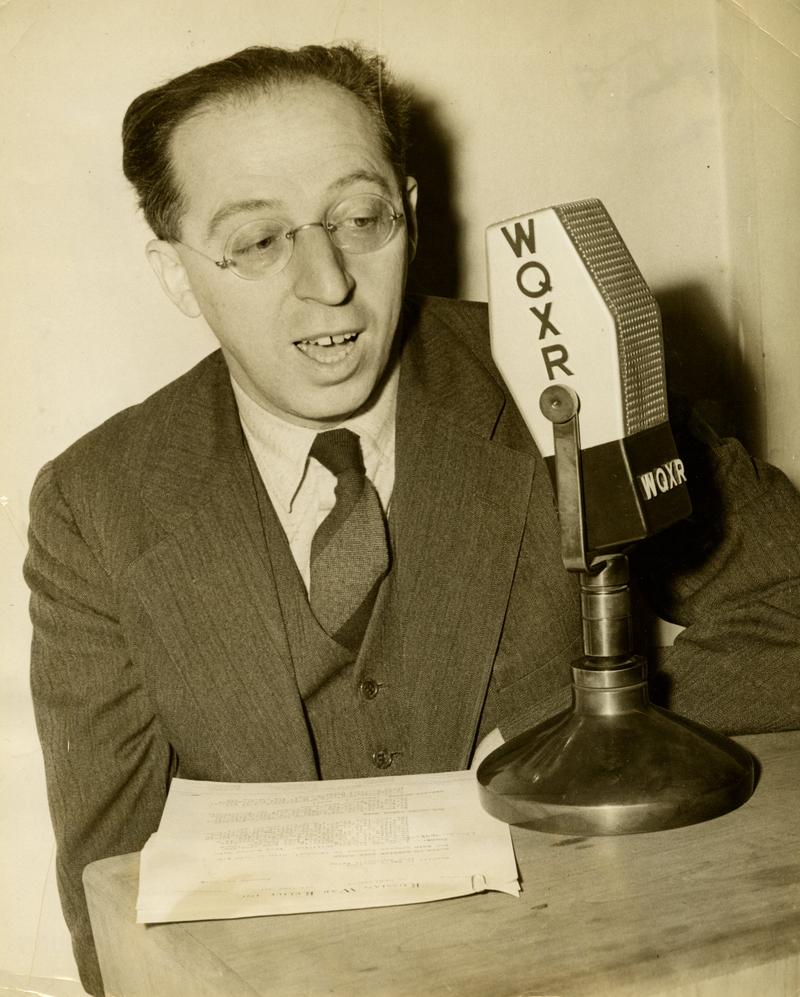 [Editor's Note] Composer Aaron Copland wrote the following for the WQXR Program Guide in June, 1942. It was, of course, the early months of the United States' involvement in World War II and the reader should keep that in mind. As well, Copland's use of 'Negro' for 'African' or 'African influenced' was common for the time in which he wrote, as was the phrase, 'serious music' for what is now generally referred to as classical music.  The program guide prefaced the article with this introduction:
Aaron Copland, gifted American composer and writer on music ("Our New Music" and "What to Listen for in Music") writes about the place of Latin American countries in the world's musical scene, and of the increasing influence being exerted by the composers of our sister republics.
One afternoon in 1923 I was introduced to a short and dynamic individual at the Paris apartment of my composition teacher, Nadia Boulanger. Someone told me that this gentleman with the dark complexion and the fiery eyes was a composer from Brazil by the name of Heitor Villa Lobos. This was the first inkling I had that there might be such a thing as Latin American music. Up to that time, we all naturally assumed that the exciting new music would come from Europe. A few daring spirits had the temerity to hope that the United States might some day contribute to the stream of world composition. But practically nobody had given a thought to South America as a possible source for fresh musical experience.
My second contact with Latin American composition was made in Greenwich Village. In a tiny one-room apartment where he lived around 1927, Carlos Chávez played for me his Mexican ballet "The Four Suns." I was enthusiastic about what I heard, and this time the concept of a Latin American music really stuck.
The idea has since been gaining hold everywhere. Recently, world conditions (and political expediency) have provided an unexpected impetus to our musical relations with neighboring American countries. By now, of course, both Villa Lobos and Chávez are familiar figures in the musical world. And, my own interest broadened considerably, after a first, tentative, visit to Mexico in 1932 and, last year, [1941*] a musical tour through nine different countries of the southern hemisphere, where I listened to the compositions of more than sixty composers.
I doubt whether anyone in Peru or Ecuador had ever before seen an American symphonic composer in the flesh. To get quite so far afield, you have to be possessed, as I am, of a kind of musical wanderlust. Too many people, when it comes to music, are inveterate stay-at-homes. They apparently feel uncomfortable except when they are in the presence of accredited genius. They prefer to wander down well-worn paths, clearly marked: This Way To a Masterpiece. But it has been my experience that those who really love music have a consuming passion to become familiar with its every manifestation. Without doubt, one of the newest of those manifestations is Latin American music, and fortunately for WQXR listeners, they have many opportunities to get acquainted with some of it.
Virgil Thomson put his finger on one aspect of Latin American composition when he said in a recent review that it does not show to best advantage in the concert hall. He pointed out that this may be due to its close affinity with various types of native or urban popular music. As a matter of fact, the relationship in several countries is a close one, and it is safe to predict that the lands with the richest folk material will develop their serious music most quickly. Already that is true of Mexico and Brazil.
The deep Indian strain in Mexico is part of the consciousness of every serious composer, no matter in what style he writes. Similarly, the Brazilian composer possesses a wealth of material in the Negro, Portuguese, Indian and Spanish folkways that go to make up the racial amalgam of that
fascinating country. None of the Spanish-American nations are so fortunate. Paraguay and Bolivia have hardly begun to exist on the serious music plane. Only a few Cuban composers have taken advantage of the incredibly rich popular music that the casual visitor hears on every side. In countries like Chile and Columbia, where Indians live a life apart, as do in our country, serious music is still closely allied in spirit to its European counterpart.
Thus, the musical scene in each country is quite distinctive. It should be evident, however, that a too easy acceptance of folk materials as a basis for art music carries with it its own severe limitations. It may well be that countries like Argentina and Uruguay, where musical activity and the general, cultural life  is intense, but where there exists no rich native folk expression, may one day develop an art music stronger than any other in South America, because it will be free of the dangers of provincialism.
As I wrote in Our New Music, "all portents seem to indicate that we are going to be busy for the next few years familiarizing ourselves with a host  of strange-sounding names of composers and their compositions." Personally, I am of the opinion that much good may come from an interchange of musical experiences of every kind. Just as French composers like Chabrier, Debussy and Ravel established a tradition of enriching their musical palette by borrowing from typical Spanish sources, so I see no reason why we shouldn't hope for similar inspiration from Ibero-American sources.
Up to now, we have both been facing in the direction of Europe for musical sustenance. Now the time has come to turn about and face each other. If the nineteenth century was able, in a remarkably short period, to add Russia as a revivifying element to the musical scene, there is every reason to expect that the twentieth century will mark the entrance of the countries of the Western Hemisphere into the concert of musical nations.
________________________________
*Historian Vivian Perlis, co-author of The Complete Copland, explains that Copland's travels were sponsored by the State Department (Committee for Inter-American Relations) for more than four months in 1941 and that he returned in 1954 and again in 1957 for the First and Second Festival of Contemporary Latin American Music. She writes it is interesting to note that these later trips followed a period of the Cold War and his appearance before Senator McCarthy's House Un-American Activities Committee (HUAC) hearings.