SchoolBook
As Thompson Refuses to Concede, So Does the Teachers Union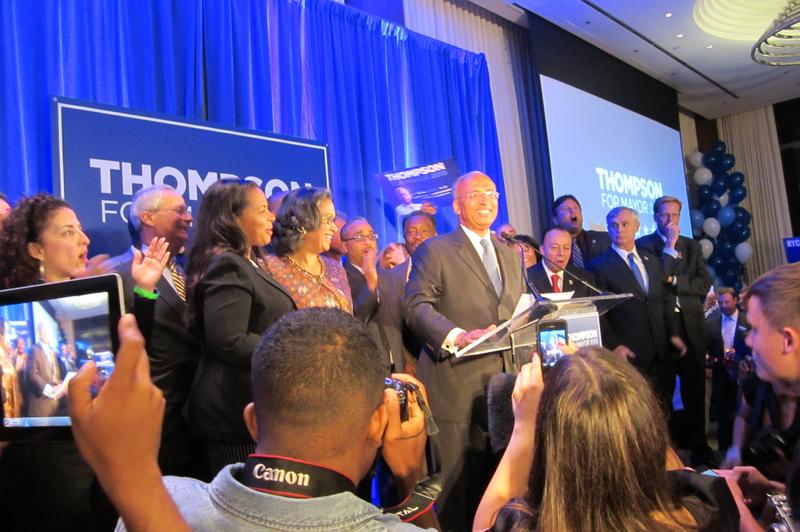 The teachers union spent a lot of political capital by endorsing Bill Thompson's in the Democratic primary race for mayor. It hasn't endorsed a mayoral candidate since 2001. But with rival Bill de Blasio the clear winner of Tuesday's vote, the union is now in the awkward position of hoping for the next best thing: a runoff.
Thompson's hope all along was to get into a runoff with one of the candidates. But as de Blasio surged ahead of the pack in recent weeks, the goal was to stop him from hitting the 40 percent needed to avoid a runoff. The Board of Elections will now determine the final tally.
One day before the primary, United Federation of Teachers President Michael Mulgrew was asked by WNYC if de Blasio's lead was a sign that his union had picked the wrong candidate. His response: "We don't pick winners we make winners."
Late Tuesday night, Mulgrew wasn't in the mood for much conversation as he left Thompson's campaign headquarters at a hotel near Penn Station. An aide said he was rushing to see Scott Stringer, who had just defeated Eliot Spitzer in the Democratic primary for Comptroller.
"We're waiting for every vote to be counted and clearly that has not happened at this point," Mulgrew said on his way to the elevator. When asked if he was pleased with his candidate's performance, he said, "We're very comfortable right now."
He also added, "In the end we're going to make that winner."
But the union doesn't have a great track record in mayoral races. In 2001, the U.F.T. backed candidates who went on to lose in the Democratic primary, the runoff and the general election. It then stayed out of the next two mayoral races, declining to back Fernando Ferrer's bid to unseat Bloomberg in 2005 and Thompson's candidacy in 2009.
On Tuesday, former U.F.T. president Randi Weingarten - who now heads the American Federation of Teachers - put a more positive spin on the current situation.
"What's happened is people are shocked that Bill Thompson came in second," she said adding that she looks forward to a three-week campaign that's not a "slug-fest" like the last debate.
"At the end of the day there's always an issue when you have so many candidates," she went on to explain, the difficulties facing Thompson.
American Federation of Teachers president Randi Weingarten, at Thompson's campaign headquarters Tuesday (Beth Fertig/WNYC)
The teachers union said it made 380,000 calls to its members, both live and automated, since September 4. It organized phone banks and about 1000 teachers were said to have canvassed neighborhoods before and after school on primary day. The union's political action committee also spent over $1 million on Thompson.
But not all teachers embraced Thompson. Several told WNYC they preferred de Blasio or Comptroller John Liu.
There weren't many teachers at Thompson's headquarters Tuesday, most likely because it was a school night. One who attended, and who declined to give her name, said she strongly supported Thompson. But she was glad that both de Blasio and Thompson would take a different approach to education from Bloomberg.
When asked if it was a poor reflection on the union that Thompson was about 15 percentage points behind de Blasio, Weingarten said, "There are many people that put a lot into this."
In the end, she said, she looks forward to a runoff between the two candidates. She also noted that people dismissed Thompson in 2009, when he ran against Mayor Michael Bloomberg, but he wound up losing by just 5 percentage points despite being vastly outspent.