Lhota Wins One Election, Lays Out His Message For The Next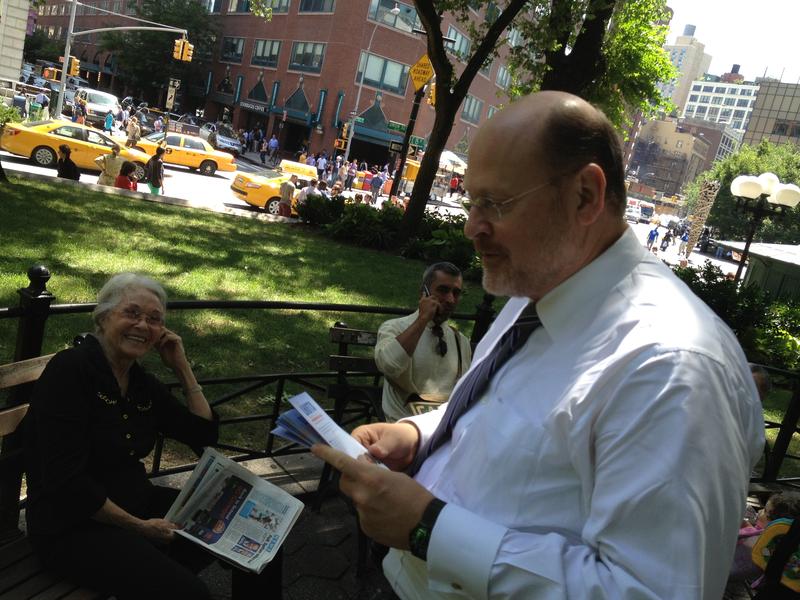 Former MTA Chairman Joe Lhota won the Republican primary for mayor last night, beating out billionaire businessman John Catsimatidis and Doe Fund founder George McDonald. And by the end of the night, he had already begun campaigning against the first place finisher in the Democratic primary, Public Advocate Bill de Blasio.
Showered by confetti, and serenaded by Tom Petty's "I Won't Back Down," Lhota came out swinging against de Blasio. Lhota said his campaign would be about unifying the city, not dividing it along class lines.

"I'm hearing an awful lot coming from the other side about a Tale of Two Cities and how they want to tear down the progress that's happened over the last 20 years," he said. "This tale is nothing more than class warfare."
Lhota, who also served as Deputy Mayor for Operations under Rudy Giuliani, touted his experience in government, and warned of sliding back into an era when the city was riddled with crime and on the verge of bankruptcy. Lhota said he, not the Democrats, had the experience and vision to prevent that from happening again.
It was a message that resonated with supporters gathered for a celebration in the ballroom at a midtown Hilton. Attorney Joseph Borrero praised Lhota's experience shepherding the city through the aftermath of 9/11 and reviving the transit system after Hurricane Sandy. He said he worried about a return to the bad old days of the 1980s and was counting on Lhota's steady hand to move the city forward.
"He's the only candidate that's prepared in case there's an emergency," he said. "He's been there and knows what we need to do to build on the legacy of Bloomberg and Giuliani."
Catsimatidis, who trailed Lhota 53-41, said he called his opponent to congratulate him on his win and thanked his staff and supporters. "Next time I'll try harder," he said.
Hear the story by clicking the audio button above.