SchoolBook
Back to School 2013 is One of Firsts, and Lasts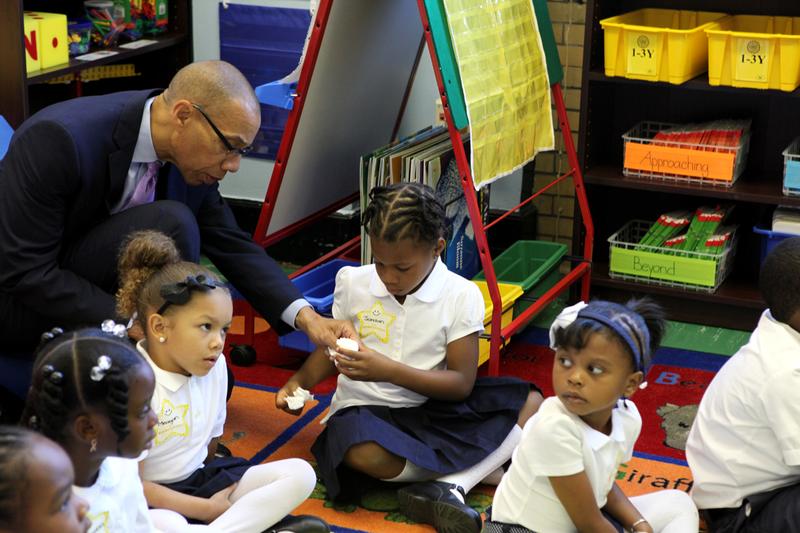 For New York City students it was a beginning. But for Mayor Michael Bloomberg it was his last chance to observe the start of the school year after almost 12 years running the nation's largest public school district.
Bloomberg spoke at Gregorio Luperon High School for Science and Mathematics in Washington Heights Monday morning. He teased the kids as he often does when visiting schools by asking them to guess what year he graduated high school (1960). He was met with blank stares. Luperon serves English Language Learners and earned A's on its annual report cards, which Bloomberg said was a testament to his core philosophy of education reform: "if we raise our expectations the students will meet them."
He urged the students to work hard: "I can tell you this, the work isn't easy, it's not supposed to be. But I believe in you and your teachers believe in you."
But for some of the students, the first day of school just made them nervous. Maikel Ruiz, a sophomore, said he was reluctant to talk to new people.  
"I feel good, but I didn't want to come today because of all the new people," he said. "I don't go and say hi right away."
The school, which is also 100 percent Hispanic, was the first stop on the final five-borough school tour by the mayor and Schools Chancellor Dennis Walcott. Unlike previous years, the mayor declined to take any questions from reporters.
After leaving Washington Heights, Walcott visited a building in the Bronx that houses two schools:  P.S. 93 and the Icahn Charter School 7. Co-located schools like these have been controversial in some communities.
Walcott defended the city's support for charter schools, saying they offer "a quality option" for families.  "For any candidate to talk about choking off that type of choice is truly unfortunate," he said, referring to mayoral candidates who have proposed limiting the growth of charter schools in the city.
Several Democrats said they would like more community input before co-locating schools in the same building, or opening charters in district schools. And a few have suggested charging charter schools rent for space in district schools. Walcott dismissed those ideas as politically driven.
"Having parent support or community input in deciding, you're the leader," he said. " You put the Chancellor in place to be the leader in to work with different communities and make difficult decisions and not put your finger up in the air and see which way the political winds are blowing."
In a kindergarten class at the charter school, students gathered on the multi-colored rug or slumped in bean bag chairs, brainstorming a list of first-day feelings. The teacher heard answers like, "tired," and "hungry," and "shy," offering her the perfect segue for her book of the morning, "First Day Jitters." 
First day of school feelings chart at Icahn Charter School 7 in the Bronx (Stephen Nessen/WNYC)
Sneezes from one kindergarten student prompted the chancellor to make his way through the children like he was stepping through a flower bed to hand her a tissue and then swap the used tissue for a fresh one before he came outside to answer reporters' questions.
Asked about complaints that some teachers had not received the new Common Core-aligned textbooks, he said he expected all the materials to arrive soon. 
"I know just about 99.9 percent of the schools have it, and probably that 1 percent will have it by the end of the day or tomorrow," he said.
Walcott also thanked custodians for a "mammoth undertaking" over the weekend to accept deliveries of new textbooks and getting ready for primary day with hundreds of voting machines to set up in the schools.
Next stop, the Academy for Careers in Television and Film in Long Island City, Queens.
The school is in a new building with views across the East River of the Empire State Building and the United Nations. After poking his head in a middle school class, and a shiny new auditorium, the chancellor made his way to the roof where film students were practicing dolly shots on an actual track.
The students had fun with their visitors, filming Walcott and his entourage striding toward Manhattan as if they had the wealth and power to add and remove buildings from the skyline.
The final stops on his last tour as chancellor -- Walcott announced recently he would step down in December -- included P.S./I.S. 48 on Staten Island and P.S./I.S. 30 in Bay Ridge, Brooklyn. 
School's Chancellor Dennis Walcott and other city officials posing for a scene shot by students at the Academy for Careers in Television and Film in Long Island, City, Queens (Stephen Nessen/WNYC).