SchoolBook
City Refutes Union's Charge that Teaching Materials are MIA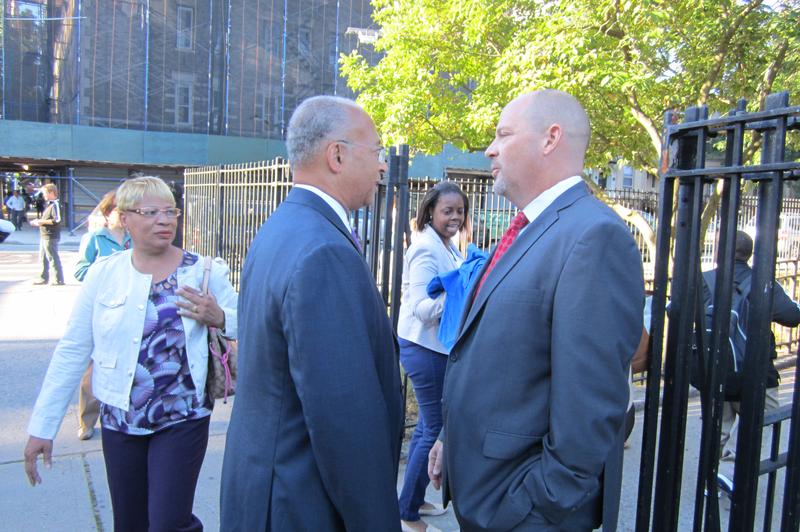 Despite concerns from the teachers union about late materials, education officials insisted Monday that the books teachers need to teach the new Common Core standards are either delivered or a day away. 
"The department is making the largest delivery of new textbooks for students in city history," said Department of Education spokeswoman Erin Hughes.  She said that 1.58 million new textbooks will be in elementary and middle school classrooms this fall, including over 1.5 million already delivered to schools.  
"All outstanding textbook deliveries – less than one percent - will be finished by tomorrow," she said.
Hughes said some schools ordered late in the summer and, "we had to expedite their deliveries and that's why there are some that are getting them today or got them over the weekend." She said that was a "very small number though."
Still, United Federation of Teachers president Michael Mulgrew said he heard "rampant" complaints from teachers around the city as recently as this past weekend.
"I cannot believe after all the public discourse on curriculum and proper support for schools that were entering the school year in the same shape we did last year," he said during a visit to P.S.-I.S. 262 in Bedford Stuyvesant with mayoral candidate Bill Thompson who has the union's endorsement. 
City schools had the option of choosing materials selected by the D.O.E. and the New York State Education Department. The city chose Houghton Mifflin Harcourt's "Go Math" program for elementary students, and Pearson's "Connected Math Program 3" for the middle grades. For English, the D.O.E. selected Pearson's "ReadyGen" for K-5, and Scholastic's "Codex" for grades 6-8.
A selection of city-approved curriculum materials to go with the Common Core standards (Beth Fertig/WNYC)
Schools could also opt to use their existing materials, adapting them for the new learning standards that demand more critical thinking  and which incorporate fewer subjects in math each year that are taught in greater depth. However, the D.O.E. said most schools did order its approved materials.
The D.O.E. said all publishers, with the exception of Scholastic, made their materials available online over the summer for planning purposes. But it said all Scholastic materials were delivered in early August. The city also offered training sessions over the summer.
Nonetheless, many teachers said that was still too late. Camille Eaddy, a UFT representative for District 16 in Brooklyn, said she didn't understand how teachers could write their lesson plans for the first day of school and meet the demands of the Common Core standards without having enough materials to work with over the summer.
"For the new teachers and teachers new to the curriculum it's a big deal," she said. "Especially since we have to meet the demands of the teacher evaluation, we want to be the best prepared that we can be."