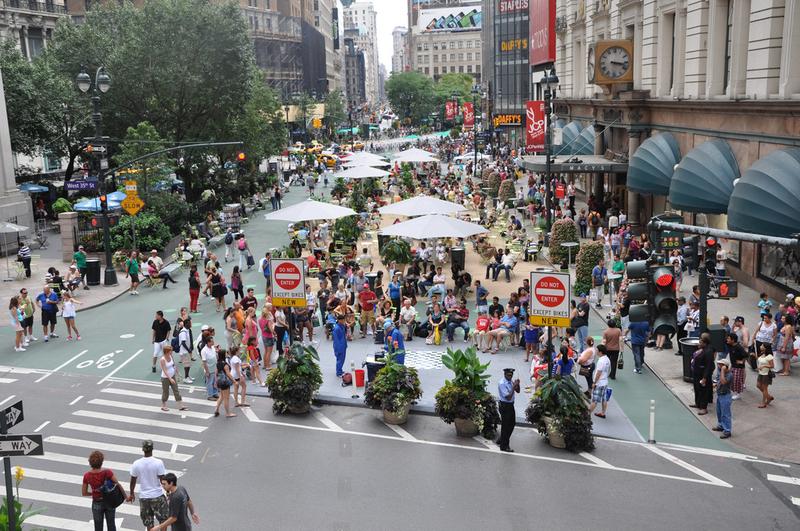 Most like bikes and buses, but they're iffy on bike lanes. Some have clearly defined transportation platforms, while some don't even mention it on their website. One candidate even wants a monorail system. Here's where the top mayoral candidates stand on transportation.
To varying degrees, all the the leading Democrats latched on to early anti-bike lane sentiment, interpreting it as an expression of community rage against what they saw as Mayor Michael Bloomberg's high-handedness.  Bill de Blasio called Janette Sadik-Khan a "radical," opposed the Prospect Park West bike lane, and voted against congestion charging while a city council member.   He once sent out a press release praising a decision not to install a bike lane in Bay Ridge.
Christine Quinn thought bike lanes were so controversial that she put them ""in the category of things you shouldn't discuss at dinner parties," and as Council Speaker, has consistently supported legislation making it easier to park a car in New York City.  And Thompson, who has had the least to say on transportation issues, advocated ripping out the Grand Street bike lane when he last ran for mayor.  He supported congestion pricing, but opposed Richard Ravitch's 2009 proposal to impose tolls on East River Bridges to bail out the MTA. (Ravitch is now endorsing Thompson.)
But now, perhaps responding to what John Stewart calls "Big Wheel," all of the candidates have moderated their bike lane position (see below), embraced bus rapid transit, and just love ferries and bike share.  In the recent debate, none of them talked transportation much, though Christine Quinn did raise the subject of the city's infrastructure. And all of them said they didn't favor East River bridge tolls.
As for the Republicans, John Catsimitidis has said he'd rip out the Times Square pedestrian plazas. And "God Bless them if they want to drive!" he said of motorists earlier this year. "It's the American dream."  Joe Lhota, the former head of the MTA, has expressed caution about pedestrian plazas, and is judicious when talking about bike lanes.
Of course, no one will ever surpass Anthony Weiner's rhetoric, who once famously told the New York Times: "When I'm Mayor, I'm going to hold a bunch of ribbon cuttings and rip out all your f***ing bike lanes."
DEMOCRATS
Bill de Blasio, Christine Quinn and Bill Thompson

Transit:
De Blasio wants 20 new Select Bus Service lines and more outer-borough transit options (like more Metro-North service to the Bronx). He also wants to limit Madison Square Garden's permit to ten years (down from the current 15) so that Penn Station can be expanded.
Quinn wants every New Yorker to have commutes of less than an hour by 2023. She wants to add 10 new SBS lines over the next four years, and provide ferry service for all five boroughs. She also wants mayoral control of the MTA. Other ideas: above-ground MetroCard vending machines and subway countdown clocks.
Thompson wants more SBS service in Queens and Staten Island. He has also proposed funding transit through weight-based vehicle registration fees. The local Transit Workers Union is endorsing Thompson, with whom he's campaigning with as I write this.
Bicycles
All the Democrats support expanding bike lanes with varying degrees of enthusiasm -- even though in the past Christine Quinn has put bike lanes and de Blasio once called DOT commissioner Janette Sadik-Khan "a radical."
But that was then. Now, Bill de Blasio and Christine Quinn say they would increase the number of bike lanes; Thompson says he wouldn't take any out (and would expand them in consultation with his transportation commissioner and the public). All three are careful to say they'd call for community support in determining how bike lanes should expand. " The City still hasn't come around to proactively engaging those who are concerned by them," said de Blasio recently. "They put them in and then they talk to the community after the fact. That's not the way it should have gone," said Thompson in May. "The Department of Transportation has implemented them without consultation with communities and community boards," Quinn said in January.
In terms of bike share: De Blasio says he wants to expand Citi Bike uptown and to the outer boroughs. Quinn supports bike share and would expand it "after we consider projected demand and community issues." Thompson says he'd like to expand bike share to other boroughs as well, but says the city needs to study the safety of bike share in communities that lack bike lanes.
Safety
De Blasio is calling for 'vision zero' -- a future with no pedestrian deaths, a stance which won him the endorsement of StreetsPAC. De Blasio also says he'd  replace Ray Kelly as police commissioner and order the NYPD to crack down on dangerous behaviors like speeding. He also wants home rule on speeding cameras and red light cameras -- issues that Albany ultimately has control over.
Quinn calls for reducing pedestrian, cyclist and driver fatalities 50 percent by 2021; to achieve this, she'd convene a working group drawn from across various city agencies like
Thompson says he would make sure traffic laws are enforced, especially those pertaining to speeding and failure to yield to pedestrians.
Congestion Pricing:
Quinn is for it, de Blasio voted against it, and Thompson wanted it in 2008 but now is calling for other revenue streams for the MTA, like a commuter tax.
REPUBLICANS
Transit:
Lhota is the former chair of New York's MTA and won wide acclaim for his performance during Sandy. Currently, though, he's on the defensive for saying he wouldn't have stopped B & Q trains for kittens. ("I love pets, I grew up with cats," he said Sunday.) In terms of an actual transportation platform, however, he's been fairly quiet. He would like mayoral control of the MTA. In terms of concrete transit proposals, he wants to build a subway to Staten Island and increase the number of park and ride lots at subway stations.
Catsimatidis criticized the Second Avenue Subway at the most recent mayoral debate, calling it a "tragedy" that has put local merchants out of business. He's also said that he would not raise transit fares, which currently aren't controlled by the mayor. What he does want: monorails, which he calls "aboveways," running down the middle of some streets.
Both Republican candidates have said they'd reconsider some pedestrian plazas, and both would move cautiously on installing new ones. "Any plans to eliminate precious road space must be incorporated in an overall transportation strategy," said Lhota last month.
Bicycles:
Joe Lhota is a supporter of bike lanes, "with community input." Meanwhile, Catsimatidis actively dislikes them, and used a conversation about them earlier this year to defend the rights of drivers. "God bless them if they want to drive, that's what America is all about!" he told WNYC's Andrea Bernstein at a mayoral forum in May.
Congestion Pricing:
Catsimatidis is opposed to it. Lhota wants to reduce the number of cars coming into the city, referring to his park and ride proposal (see above).
Want more information about transportation and the mayor's race?