After Harassment Allegations, Lopez Runs For City Council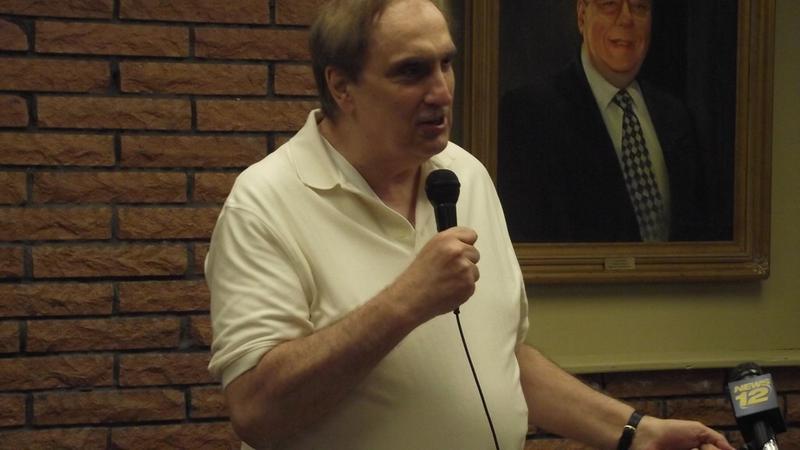 Former Congressman Anthony Weiner and former governor Eliot Spitzer aren't the only scandal-stained politicians staging a comeback this fall. Vito Lopez — who resigned from the Assembly this spring after a series of sexual harassment allegations — is running for City Council.
Near the foot of the Williamsburg Bridge, a group of men were hunched over a game of dominoes. Dimitri Morales said he doesn't know much about the mayor's race, but he's strongly supporting one candidate on primary day.
"Vito Lopez," he said. "I'm going to vote for him. Because he's the best for the neighbors."
Morales, who lives in a section eight apartment, said Lopez was a champion for affordable housing. "He fights for us," he said.
As for the women who said they were propositioned, told not to wear bras and keep their skirts short, Morales said he doesn't pay attention to those things.
"I'm going to vote for him no matter what," he said. "My wife, too. And my son, too."
On the day Lopez resigned from the Assembly last May, he stated his intention to run for the 34th District in City Council, which covers Williamsburg and Bushwick in Brooklyn and Ridgewood in Queens.
He's running against a home health aide named Gladys Santiago and a college admissions officer named Humberto Soto. But most of the attention has focused on what's seen as a David-and-Goliath-type fight between the longtime power broker and a string-bean sized council staffer named Antonio Reynoso. Reynoso talks about it that way himself. "I'm running against a 28-year incumbent, pretty much. And what I'm trying to do is work against that," he said.
But Reynoso also has some serious advantages. Born and raised in the district, he was the chief of staff to the current council member, got the nod from the New York Times, and has been endorsed by a dozen unions and several mayoral candidates. A few days ago, he was making the rounds with Council Speaker Christine Quinn. Together, they knocked on doors and introduced themselves to voters, giving Reynoso a chance to discuss his plan to increase incentives for affordable and middle class housing, and his nascent coalition of education activists
Lopez, on the other hand, has kept a low profile, with no website and few public events. "My job is not to create a media circus," he said. "I'm running and campaigning for votes"  
He said he's running on a record of getting resources for the community, including passing 536 bills, helping to build 6,000 units of affordable housing, and reducing the number vacant buildings in the area from 1,800 to 12.
What he doesn't want to talk about are the female staffers who accused him of intimidation, harassment and unwanted advances. Lopez says it's simply not true; that's what his supporters think, too, he said.
For example, Aida Gonzalez, who teaches belly dancing at one of the senior centers Lopez founded, said she's met Lopez lots of times, and that makes her skeptical about what she's seen in the news. "I don't believe half of the stuff they're saying. I really, really don't," she said. "He's been for the community. The people. I just don't see it. I think he's the man. I think he has done so much for us."
Still, there are those who say they're done with the longtime Brooklyn boss. Connie Leocata and Rose Carbone are sisters who have lived in Williamsburg their whole lives. They said they used to be big supporters of Lopez, that everyone was.
"Vito Lopez did a lot for the community at first, when he was younger and everything. But now we're hearing all these things. We don't know. We don't know if we can trust him anymore," Leocata said. This time, she said, she and her sister will be throwing their support behind Reynoso instead.