An Art Director's Critique of Campaign Mailers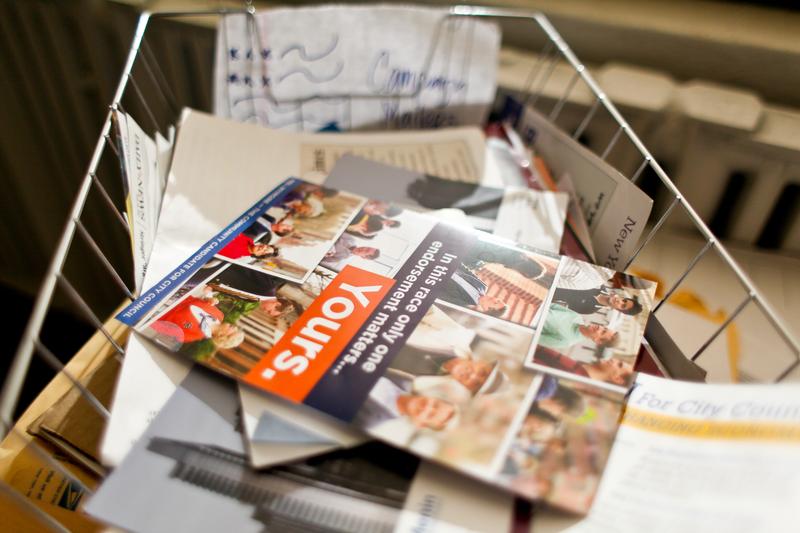 With a crowded democratic mayoral primary and several relatively unknown candidates in other races, mail boxes are being bombarded with campaign flyers. Despite the importance of a robust social media presence direct mail is still a major component of any campaign.
Campaign strategists hope people will engage with these flyers for 15 to 20 seconds. Art director Casey de Pont, who works at a major ad firm in the city, said she finds them mostly a nuisance that rarely grab her attention. 
So, what's the problem?
WNYC recently handed her a random stack of flyers sent out over the last month. De Pont, a former graphic designer for WNYC, pulled out a mailer from Comptroller candidate Eliot Spitzer. At the top of the flyer is a Rottweiler with a mouth full of hundred dollar bills and the words: "We need a real watchdog as New York's next Comptroller."
"I think honestly the only thing people are going to look at is the dog with the mouth full of hundred dollar bills, which is strange, and hilarious," de Pont said.
It catches her eye at least. But will she read it?
"They've used a serif font as their headline font, which makes it really hard to read, especially because it's condensed into this giant block of text," she said.
De Pont thinks this is actually a problem on a lot of candidate's mailers; packing too much text into a small space.
Next she examines a flyer for Spitzer's opponent, Manhattan Borough President Scott Stringer. De Pont notes the stark image of a black man being frisked by a police officer with her gun visible on her waist, and the text in bold: "Only Scott Stringer Wants True Reform."
"That's very antagonistic," de Pont said. "I guess in terms of information hierarchy he's really going with attack first."
Jeffery Plaut is a Democratic strategist and partner at Global Strategy Group and said bold headlines are key for capturing the attention of a busy voter with a short attention span.
"The window, it's a sobering window of voter attention that direct mail has," Plaut said. "But when you do it right you can expand the viewing from about the 2-3 seconds on first glance to a look, which is why the headlines, which drives the message point, are very important."
Plaut says in the past campaigns mailed massive packages full of materials and posters. Now, strong images dominate what are usually single sheet mailers, and that despite the prevalence of social media, direct mail is still the best way to target specific voter demographics.
De Pont reaches into the collection of mailers and scrutinize one from City Council Speaker Christine Quinn's mayoral campaign. De Pont likes the the long skinny shape of it, which stands out in a bundle of bills and magazines. As for the five photos of Quinn layered on top of each other like a pile of snapshots, she said the layout is "pretty cheesy."
De Pont does approve of the choice to put Quinn's first name all lowercase. "I guess that makes her more approachable," she said. De Pont notes how Quinn just drops in icons for Twitter and Facebook, but doesn't write our her user names.
She isn't impressed with Quinn's opponent, Public Advocate Bill de Blasio's flyer, but notes, at least he spelled out where people can find him on social media.
Political strategists says the social media component is key to mailers these days. Anything that will get voters online where the campaign can hit them with multiple messages is a success. That is if they don't dump the mailers in the trash first.