Spinning on Air
Adventures In, um, ah, Autobiography: Nature Theater of Oklahoma's "Life and Times"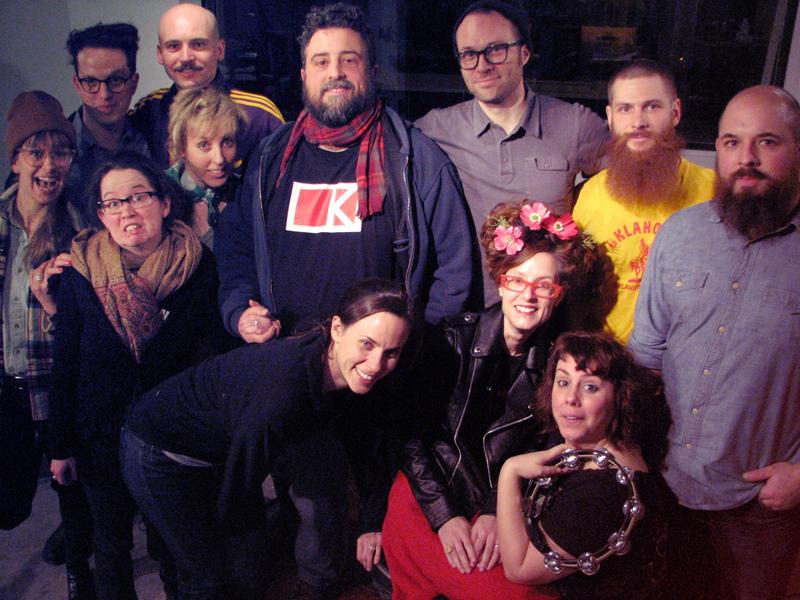 Nature Theater of Oklahoma is a New York-based performance group whose recent "Life and Times Episodes 1-4" at The Public Theater was called "a masterpiece," and "a phenomenal experience" by The New Yorker. In The New York Times, Charles Isherwood called the piece "ambitious, brilliantly executed...one of the most unforgettable adventures of my theater-going experience."
"Life and Times Episodes 1-4" runs 10 hours, and is just a portion of the planned ten-episode presentation of the first-person life story of Kristin Worrall, a member of the ensemble. Kristin hasn't lived a particularly extraordinary life, but Nature Theater of Oklahoma has found extraordinary ways to perform her story. Using a script that's a verbatim transcription of Kristin talking on the phone, complete with ums and ahs and other hesitations of natural speech, each Episode utilizes and confounds different theatrical traditions. According to their mission statement, OK Theater (as they refer to themselves) hopes that "through extreme formal manipulation, and superhuman effort, we affect in our work a shift in the perception of reality that extends beyond the site of performance and into the world in which we live."
Episode 1 is in the form of a musical, or sort of folk opera, full of disorienting charm. David Garland, a long-time fan of OK Theater's work, has invited the cast of six singers and three musicians to the WNYC Studio to perform two extended excerpts from this portion of "Life and Times." OK Theater's co-directors Pavol Liska and Kelly Copper also join in to talk about their work, and the thoughts and process behind it. This program first aired March 3, 2013. See below for information about the ensemble's performances of "Life and Times" episodes 4.5 and 5, on September 20th and 21st in New York City.
Some of the conversation with Nature Theater of Oklahoma had to be edited to fit the hour. Here are all those comments and insights
Introduction with co-directors Pavol Liska and Kelly Copper
More with Liska and Copper, plus interviews with performer Anne Gridley and composer Robert M. Johanson
Interview with Kristin Worrall, whose first-person narrative is the text for "Life and Times"
Influence the course of "Life and Times!" In this show Pavol Liska invites listeners to imagine what a performance of "Life and Times" might look like, based on this radio performance. He says, "We will use that information to produce further episodes." Describe how you picture the costumes, setting, or any other aspect, in the comments below!
Nature Theater of Oklahoma "Life and Times Episode 1" first portion on WNYC's Spinning On Air
Nature Theater of Oklahoma "Life and Times Episode 1" excerpt on WNYC's Spinning On Air