SchoolBook
State Measures Positive Growth for Teachers, Even With New Tests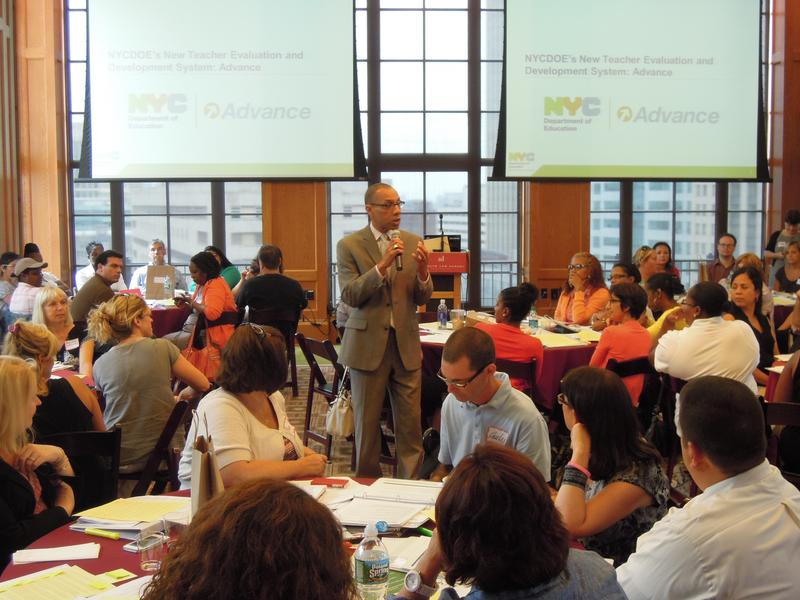 Editor's note: This story has been corrected to reflect that the city released the growth scores after getting them from the state.
Even though fewer than 30 percent of the city's elementary and middle school students were proficient on their state math and reading tests, state data indicate that 89 percent of city teachers would have received good ratings if student growth alone was a factor in their evaluations.
New York City released this analysis of the growth scores Thursday, after receiving the data in August from the state. The report, which took student demographics like poverty and special education status into account, analyzed how students actually scored this year compared to how well they were expected to score.
The state used new and more difficult tests in 2013 aligned to the Common Core learning standards, but Albany officials said they had a system for comparing last year's scores to this year's. The growth scores only apply to elementary classroom teachers in 4th through 6th grade, and to middle school math and English teachers.
But the growth scores only count for 20 percent of the teacher's final evaluation, with the rest determined by classroom observations and other local tests. The system is being used by other districts statewide, and parents will be able to see how their child's teacher scored. But this system will not be used in New York City until next summer, after the second round of Common Core state exams.
Nonetheless, Schools Chancellor Dennis Walcott was pleased that so many New York City teachers got high growth scores. A statement from the Department of Education said:
"New York City's teachers not only received higher growth scores this year than last, but also demonstrate stronger growth scores than those in the rest of the state.  New York City has twice as many highly effective teachers and almost half the number of ineffective teachers as the rest of New York State.  In 2012-2013, 89 percent of New York City's teachers received "Effective" or "Highly Effective" ratings compared to 80 percent in the rest of the State.  Further, in New York City schools, the number of "Effective" and "Highly Effective" teachers rose by 5 points in 2012-2013 over 2011-2012, while the percentage of "Developing" or "Ineffective" dropped."
United Federation of Teachers President Michael Mulgrew issued this response: 
"Our teachers worked hard — without the support or curriculum they were supposed to have last year — and their hard work needs to be recognized. So while it is nice to see these trends going up, the fact is that scores alone — particularly those based on a single exam — are not a good measure of either students or teachers."
More information about the growth scores can be found on page 5 of this state report.
The city's growth scores were released by the Department of Education just as it released its annual New York City School Survey. The city said a record number of 985,771 parents, students and teachers participated in the 2012-13 school year and expressed high levels of satisfaction. Ninety-five percent of parents said they were satisfied with the education their child received last year.
When asked where they would like to see more school improvements, 24 percent said they wanted smaller classes — the most popular choice. That was followed by 17 percent requesting more preparation for state tests. This compared to 2 percent who wanted less preparation for state exams. Fourteen percent said they wanted more hands-on learning.
Among teachers, 27 percent said they were satisfied with the Schools Chancellor, the lowest number since 2011 after the brief appointment of Cathie Black. Last year, 35 percent of teachers were satisfied with Chancellor Walcott.
Only 26 percent of teachers were satisfied with the Panel for Education Policy, the body responsible for opening and closing schools. In 2010, as closings were just starting to heat up, 46 percent were satisfied.