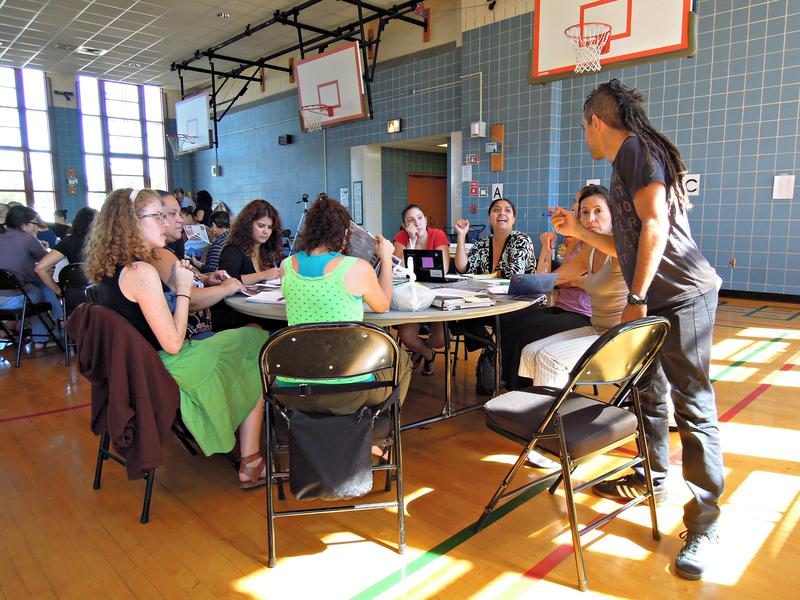 School staff have been back at work, readying classrooms, finalizing class lists and delving into professional development workshops before their students stream through school doors on Monday. WNYC captured "the week before" at an elementary school in in Sunset Park, Brooklyn.
At P.S. 24, Principal Christina Fuentes did a thorough walk-through of the school on Wednesday, checking on the condition of the building and making sure everything was "clean and tidy."
She remarked on how impeccably custodial staff scrubbed the school kitchen and cafeteria. And how the vast majority of her teachers, who officially reported to work on Tuesday, had spent the week before setting up classrooms and gathering materials.
"If we calculated all the volunteer hours, it would be astounding," she said.
(Principal Christina Fuentes and the school's community associate, Tamara Estrella, examine class rosters.)
Fuentes set up workshops on incorporating social emotional learning in the classroom -- a long-standing component of the school's culture -- like conflict resolution and problem-solving. "That's powerful stuff that we need to have to start the year right," said Fuentes.
Susan Nunziante, a first-grade special education teacher, said the beginning of the school year always brings excitement -- and butterflies. 
"I never feel ready," she said with a laugh. "I've been teaching for 11 years now and there's always those nervous jitters."
Across the system, New York City schools are gearing up for a year that will include a new teacher evaluation system, new math and English curriculum materials at most schools and a leadership change at City Hall. (A senior deputy chancellor, Marc Sternberg, plans to stay at the Department of Education through the end of the school year to help with the transition to a new mayor.)
Students and teachers are returning to classes just weeks after learning students' individual scores on the new state tests administered in April. Citywide, less than 30 percent of students scored high enough on those tests to be considered at grade level.
P.S. 24, a Spanish dual-language school where about half of students are English language learners, performed lower than the citywide average on state tests.
"We will not let the scores define us as educators or define our students as learners," said Fuentes.
But in an era of increased testing and accountability, educators must work a little harder to keep test pressure at bay.
Leslie Ramos, a fifth-grade teacher at P.S. 24, said it is increasingly difficult to make sure students are "excited about learning when you're on a testing grade."
But she said she works to set an encouraging tone from day one.
"A big thing in the beginning is that classroom environment," she said. "That it's safe, that it's a learning place. No judging, no blaming. Just an environment where we work together."