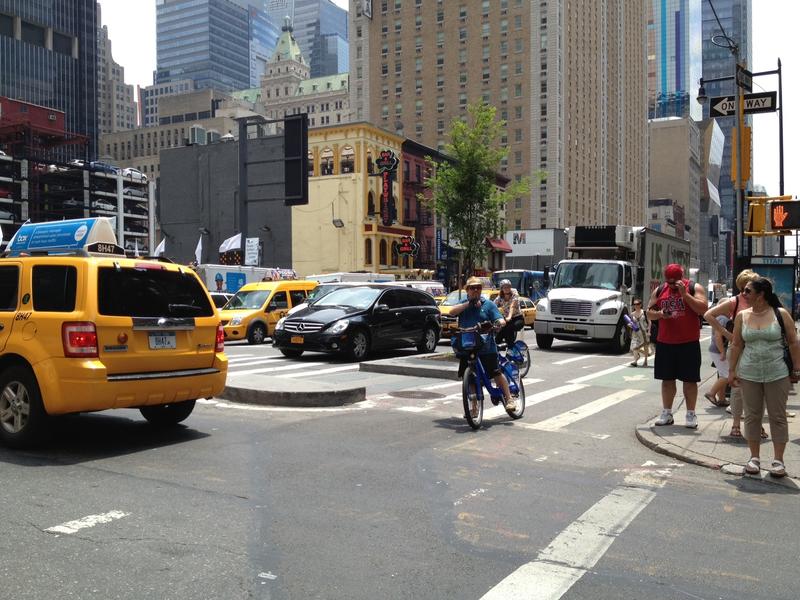 Redesigning New York City streets to be more pedestrian- and cyclist-friendly doesn't hurt car travel times. That's according to a new report quantifying the streetscape-changing efforts of the Department of Transportation.
To put it in other terms: transit ridership is up, traffic is down, and there's been a 58 percent increase in cycling since 2008.
That data is laid out in the latest 2012 Sustainable Streets Index, an annual report released by the NYC DOT tracking transportation trends.
The report also uses crash data; vehicle, cyclist, and pedestrian volumes; transit ridership; and travel times (largely tracked through taxi GPS data) to measure the effectiveness of the city's street alternation projects.
Transportation Commissioner Janette Sadik-Khan recently told WNYC: "Our street designs, our safety programs, and our education campaigns have helped reduce traffic fatalities by more than 30 percent in the last ten years."
That hasn't come at the expense of vehicle traffic. According to the report, average taxi speeds increased in Manhattan's Central Business District (the area south of 60th Street) up to a swift 9.3 m.p.h. in 2012—a slight increase over 2011's average of 8.9 m.p.h.
(The city's speed limit is 30 m.p.h. But that's not the point.)
"There are notable increases in safety for all road users, including motorists, as a result of traffic calming," said Veronica Vanterpool, the executive director of the Tri-State Transportation Campaign a group that advocates for safer streets. "And it has positively impacted the flow of traffic. For critics who believe that traffic calming measures exacerbate congestion, the data in this index refutes that."
Another notable marker: bus ridership was up .08 percent in 2012—reflecting the first such increase since 2008 and demonstrating ridership is slowly rebounding after the massive 2010 MTA bus service cuts.  (For the past two years, the MTA has restored some of that slashed bus service).
The report notes "subway and bus ridership has resumed pre-recession growth while auto traffic remains essentially flat."
Other highlights:
The intersection of Seventh Avenue and West 23rd Street has experienced a 61 percent decrease in crashes with injuries since new pedestrian islands were installed and traffic patterns were changed 
Since 2003, transit ridership is up 9.5 percent while citywide traffic has declined 3.9 percent
Transit ridership in Manhattan's Central Business District is up 11.3 percent in the same time period
In downtown Flushing, crashes with pedestrian injuries are down 30 percent while travel times have also decreased by up to 37 percent during peak hours
Winter cycling has increased 86 percent since 2008
Read the full report below.