De Blasio's Atlantic Yards Support Helped Old Ally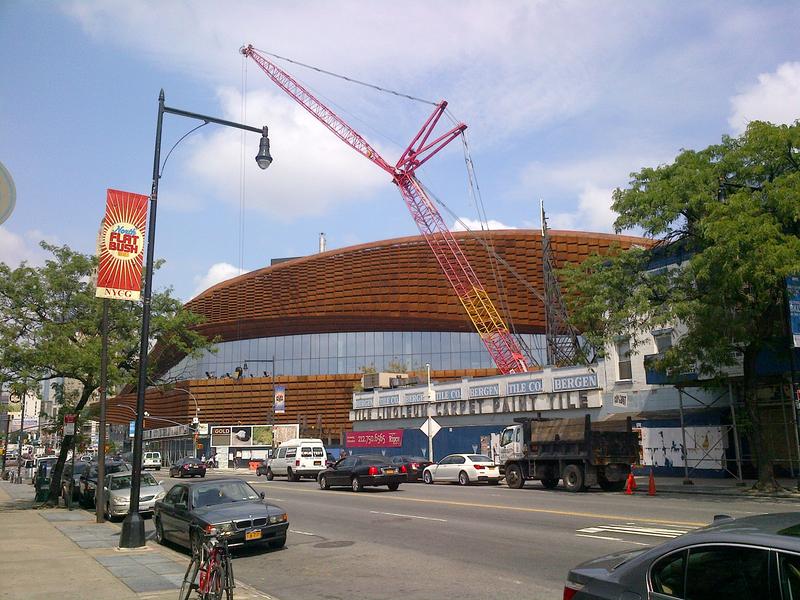 At a public hearing in August 2006, Bill de Blasio, then a City Council member, came out in favor of Atlantic Yards, the massive apartment complex in the center of Brooklyn that would also include a sports arena. He praised an agreement that the developer had signed with community groups promising affordable housing, job training and other benefits. But he also assigned himself, and his colleagues in government, the job to police that pledge. 
 "It's the responsibility of all of us, and especially of we elected officials, to ensure that it is scrupulously adhered to," he told the raucous crowd, which included both supporters and detractors.
Now the public advocate, de Blasio is polling ahead of his Democratic opponents in the race for mayor. He is campaigning in part on a promise to create more affordable housing: 100,000 new units, about half of which would be built by real estate developers in exchange for the right to build taller buildings in certain places.
But his handling of Atlantic Yards raises questions about whether he has been able to push developers to keep their promises.
De Blasio's support for Atlantic Yards was a tricky political move at the time: many voters in his brownstone Brooklyn district opposed the huge skyscrapers that Atlantic Yards would bring nearby. But de Blasio had roots in the affordable housing field — he had worked as New York regional director at the U.S. Department of Housing and Urban Development — and in particular had long-standing ties to New York ACORN, the organization that crafted the Atlantic Yards housing deal.
ACORN wasn't just a housing organization. In the late 1990s, it helped found the Working Families Party, to support pro-union, pro-grassroots candidates and confer on them a sort of progressive seal of approval. In 2001, ACORN was supporting de Blasio in his first run for City Council. But he was in a six-way race. His leading rival was a well-liked champion of the poor, Steve Banks, a lawyer at the Legal Aid Society.
"We liked both of them," recalled Bertha Lewis, who was then executive director of New York ACORN. "It's always hard when you have two folks you really, really liked, but I do have to say, Bill edged out Steve."
Many members of the South Brooklyn Club of the Working Families Party, the district where the council race was taking place, felt the opposite. When the club voted on which candidate to endorse, Steve Banks got 50 votes, according to one tally. Bill de Blasio got none. But then, the state-wide Working Families Party reviewed the endorsement.
"When this got to the executive committee, the executive committee overturned that recommended endorsement," said Dorothy Siegel, the club chairwoman at the time. 
ACORN, as well as other labor unions with strong ties to de Blasio like SEIU 1199, pushed back on the South Brooklyn Club's recommendation, she said. 
"We almost blew up over that," remembered Siegel, who is nevertheless supporting de Blasio in the current mayor's race. "But we came to an amicable milquetoast solution." The party ended up making no endorsement in the race.
Siegel said the Working Families stalemate may not have helped de Blasio, but an endorsement for his opponent would have hurt him. De Blasio ended up beating Steve Banks handily.
When ACORN convinced the developer of Atlantic Yards, Forest City Ratner, to adopt its affordable housing plan, some affordable housing advocates thought the scrappy organization had sold out. But ACORN considered its price to be sufficiently high: a commitment to build 2,250 apartments for low-, moderate- and middle-income households, half of the total rentals slated for the project.
De Blasio was one of the skeptics who came to ACORN to get more information after the deal was announced in 2005. But Lewis, the former executive director of NY ACORN said she never twisted any arms. She said she said, "How you can help us is, as a City Council person and as public advocate, you need to make it clear that you will use your office to make sure that the commitments that you made are fulfilled."
Eight years later, ACORN has been rechristened New York Communities for Change, Lewis is head of a different organization, The Black Institute, and the Atlantic Yards project is still far from a reality.
The basketball arena is finished, but none of the affordable apartments have been completed. The first residential building, with 181 subsidized units, is scheduled to go up next summer.
Meanwhile, some opponents and critics of Atlantic Yards say de Blasio has done little to fulfill the pledge he made in the 2006 public hearing – that he would make sure the community benefits agreement is fulfilled. In fact, in June 2011 Bruce Ratner, CEO of Forest City Ratner, had co-chaired a 50th birthday fundraiser for de Blasio.
"He just says things like, 'Government must make sure there is accountability,'" said Norman Oder, a journalist who has chronicled the project on his blog, The Atlantic Yards Report. "And I'm thinking, what is he? Chopped liver? I mean he's government as well. He has a bully pulpit."
Letitia James, a city councilwoman from Brooklyn who opposed the project, has tried to rally other public officials to support measures like a special board to oversee the project, but she said de Blasio has given her little support.
"So many elected officials gave to that project and were instrumental in getting it financed," said James, now a Democratic candidate for de Blasio's job, the public advocate's office. "Not one has made any comment with regard to the fact that New Yorkers and taxpayers were basically duped. And that includes the current public advocate, Bill de Blasio, and others."
At a campaign stop in Brooklyn this week, de Blasio said he has pushed for the Atlantic Yards affordable housing. When asked, de Blasio wouldn't comment on the fundraiser.
"I've talked to the developer consistently about the need to get the affordable housing done," de Blasio said. "And when they came along with the idea of the modular construction as a way to speed the affordable housing, I supported it because I thought it was important to innovate any approach that would get us the affordable housing online."
For the full story, click on the audio above.