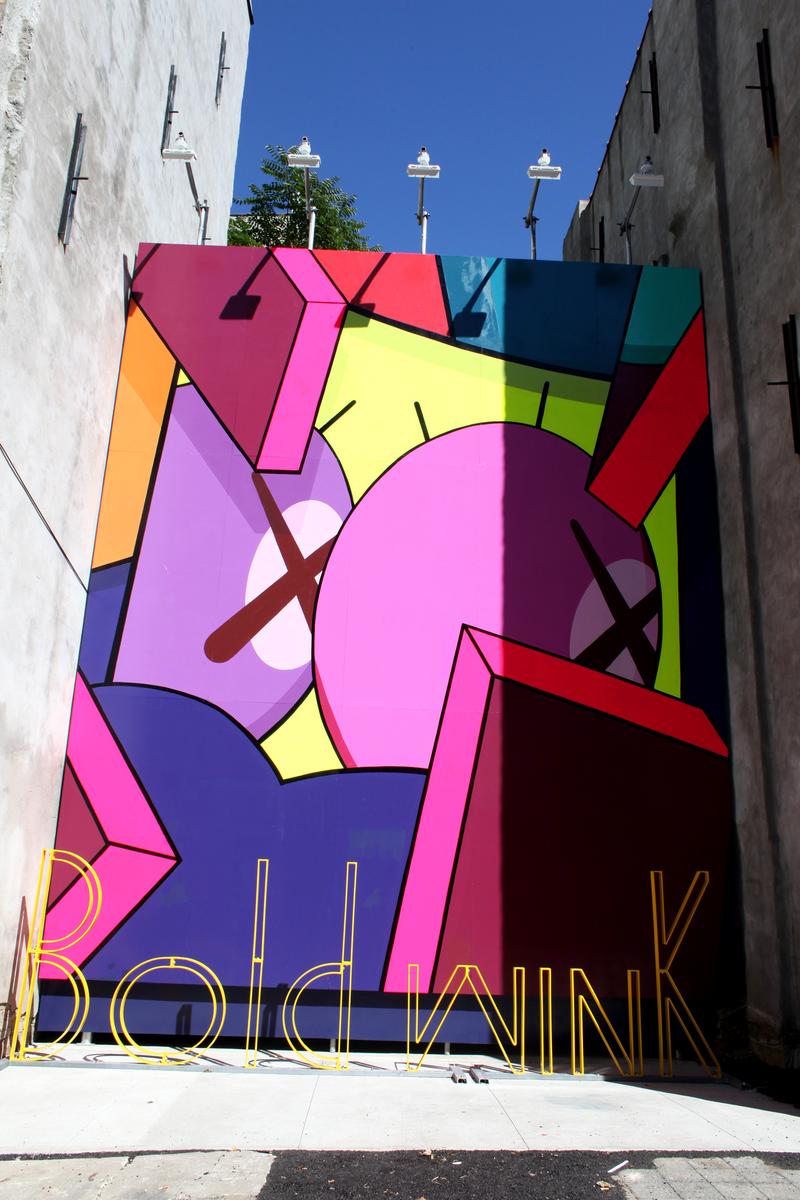 Biking to BAM? Lock up your wheels on the newest invention in the David Byrne Alphabet. The musician/writer teamed up with a local artist to create a bike parking area unveiled Wednesday at the Brooklyn Academy of Music.
The KAWS/BAM/Byrne bike park (may we respectfully suggest calling it KABARYN) is located on Lafayette Avenue, across from BAM's Peter Jay Sharp Building. The Byrne-designed yellow rack features the musician's nonsensical phrase "Bold WinK."
"BAM is at the center of a neighborhood that is brimming with bike activity, so this inspiring new bike lot will be an additional amenity for our audience, and the community," said BAM's president Karen Brooks Hopkins.
The rack sits in front of a newly unveiled mural KAWS mural. "It's very similar to what I was doing on the street 15 years ago," the artist said. "I like to have a nice communication with people not expecting to see art."
KAWS also recently redesigned the Moonman award statues used at the MTV Video Music Awards.
KAWS is the first artist to be featured on the 20 -by 24-foot high wall. The graffiti artist Barry McGee has already laid claim to the wall at the Mark Morris Dance Center parking lot. KAWS says he's pushing to get a Todd James mural somewhere in the area.
"Bold WinK" is the third bike rack David Byrne has designed for BAM. The other two -- "PiNk cRoWN" and "MicRo Li" -- are located on the other side of the street. According to BAM, the Byrne bike racks "allow the creation of only certain letters in the alphabet, creating a special 'Byrne Bike Rack Alphabet.'"
Byrne, an avid cyclist, is the author of Bicycle Diaries.
Hopkins said the rack can fit up to 20 bikes.
The bike parking area across from the Peter Jay Sharp Building at BAM. (Stephen Nessen/WNYC)
The artist KAWS standing in front of his mural at the Brooklyn Academy of Music. (Stephen Nessen/WNYC)
The David Byrne created bike rack at the Brooklyn Academy of Music. (Stephen Nessen/WNYC)