SchoolBook
Advocates Call for New Approach to School Safety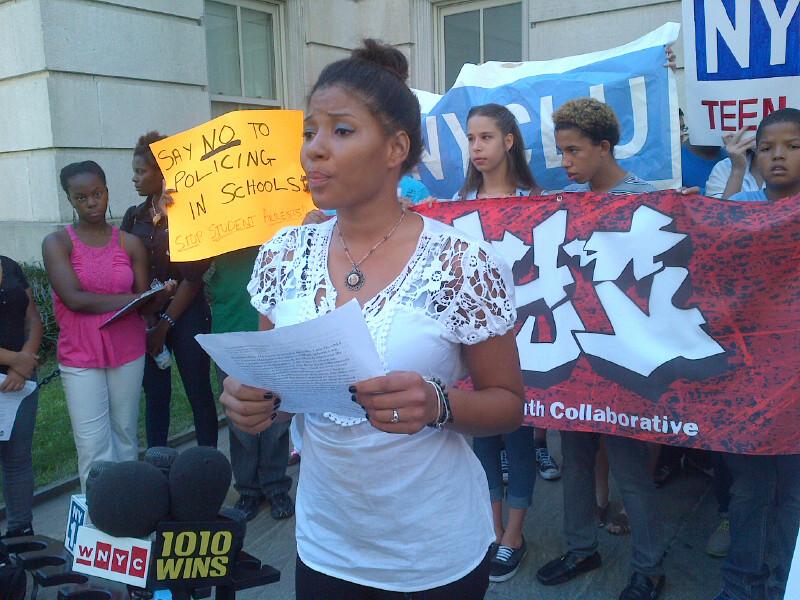 After years of disagreements with City Hall over the NYPD's handling of schools safety, a coalition of children's advocates and the New York Civil Liberties Union called for the next mayor to scrap the current system and give educators a greater role over school discipline.
Members of the Student Safety Coalition, which consists of 13 different groups, held a press conference outside the Department of Education Wednesday outlining their goals.
"Across New York City schools, students are being targeted and disrespected by school safety agents," said Cheyanne Smith, 16, a senior at the Bushwick School for Social Justice and a member of the community group Make the Road NY. "Students are being handcuffed and restrained for noncriminal misbehavior."
Another student, Jessica Morillo of Bronx International High School, recalled a confrontation that occurred when she tried to enter the school building after a dentist appointment. She said she got into an argument with a safety officer. "I lost my manners," she admitted, but she said the reaction seemed out of bounds.
"Over 10 officers were holding me down. It was painful, I cried so much," she said.
In 1998, the police department took over school safety from the old Board of Education. The Bloomberg administration has said the NYPD's supervision of safety agents, and its use of metal detectors, has contributed to a big reduction in school crime. From the 2000-2001 to the 2011-2012 school year, the Department of Education said major crime is down by 48 percent, violent crime is down by 37 percent and total crime is down by 37 percent.
But critics see a heavy-handed approach that's alienated students, teachers and families. They note there are approximately 5200 safety agents in the schools - double the number of guidance counselors. During the 2011-2012 school year there were more than 69,000 suspensions in the public schools. Black students, who made up 28 percent of public school students at the time, accounted for more than half of these suspensions.
The coalition presented nine "guiding principles" for reforming school safety, starting with giving principals a much bigger role in settling discipline matters.
"In 99 percent of the situations and 99 percent of the time we need to understand that what goes on in schools, including student behavior, or perceived misbehavior, is an educational issues that belongs under the authority of the educators," said Donna Lieberman, executive director of the New York Civil Liberties Union.
"Our educators need the training and how to manage their classrooms, and how to manage misbehavior. But the way to deal with that when it happens is not to give it to the police department; it's to make sure they are only involved in the rarest of circumstances and only in collaboration and under guidelines that involve educational approaches."
The coalition's other recommendations include letting principals, teachers, students and other community members have a voice in deciding whether metal detectors belong in their school. The advocates also want school safety officers to receive training in areas of youth development, positive discipline techniques, and cultural sensitivity.
Schoolbook reached out to all of the major candidates running for mayor to see if they support any of these recommendations. Below are excerpts from those that responded.
-Sal Albanese (Democrat): "Police action should be a last resort, not the first step in reining in a student. But when a student crosses that line and flagrantly breaks the law, we obviously need law enforcement to step in."
-Bill de Blasio (Democrat): "The Student Safety Coalition has developed a series of common-sense proposals that will create an effective school discipline system in our Schools... Under my administration, schools will adopt a Graduated Response Protocol to resolve student misbehavior at the school level, and I will require better integration between School Safety Agents and school administration teams."
-John Catsimatidis (Republican): "If disruptive and unruly students could be controlled by educators School Safety Officers would have never been introduced into our schools in the first place... I would maintain the school safety policies that currently exist."
-Christine Quinn (Democrat): Has supported keeping police in charge of school safety, but also proposed giving educators, principals and parents power to intervene in students' disciplinary matters. "The vast majority of school discipline matters can and should be handled by educators, not by law enforcement officers and the courts."
-Bill Thompson (Democrat): "Bill Thompson agrees with many of the recommendations put forth by this coalition and others to create fairness and ensure safety of our students and school personnel. Thousands of children are facing unnecessary suspensions and arrests, overwhelmingly children of color and a high percentage of children who are in special education. He supports the need to reform school safety measures and doesn't want to see young people arrested."