The Jersey Shore's Summer That Wasn't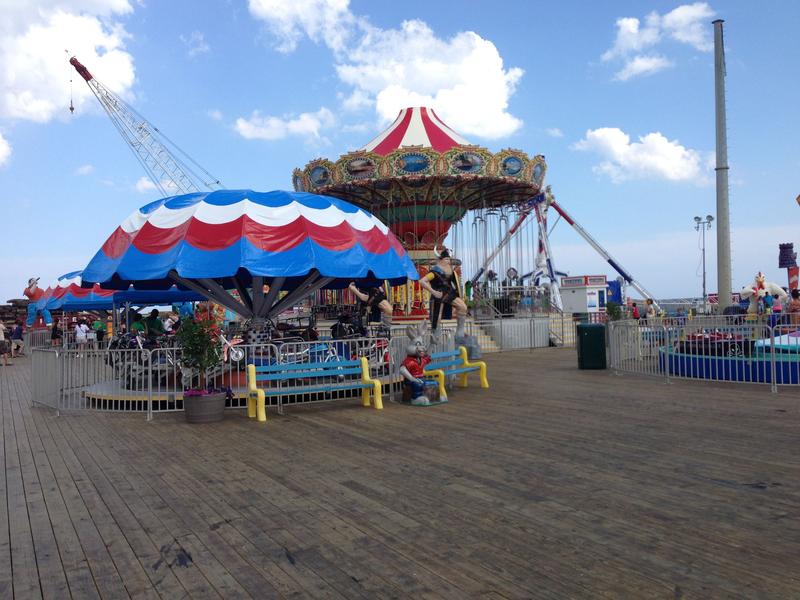 Seaside Heights, New Jersey —
Despite $5.57 billion in federal disaster assistance to New Jersey survivors of Sandy, Seaside Heights and other nearby towns experienced a 40 percent drop-off in tourism-related businesses this summer.
After Sandy, the Seaside Heights boardwalk was reduced to a rickety pirate's plank that had to be torn down and rebuilt.  An oceanfront roller coaster ended up in the sea and sat for months, like a broken shrine to summer. It was officially retired and demolished. But by late August, more than a dozen rides at the boardwalk amusement pier were up and running.
"There were no lines, we got parking, no problem," said Angela DiCostanzo, who brought her kids down to Casino Pier for the day from Holmdel, N.J. "We went to the water park, it was empty."
"We knew business would not be normal [this summer], but we didn't expect things to be off the way they were," said William Akers, Mayor of Seaside Heights, NJ.
The Mayor blamed the soft season on a number of factors, including poor weather, but said most of the businesses are struggling because many homeowners in Seaside and surrounding towns don't qualify for government assistance and therefore have yet to rebuild.
"In the towns between Ortley Beach and Point Pleasant, there are approximately 5,000 vacant homes. That's a lot of people who normally would come down to the boardwalk for the night, spend money on rides and games, and we're not seeing them," said Akers.
About a mile north of Seaside Heights in Ortley Beach, many houses are still empty after their first floors got flooded during Sandy.
"My business is off 80 percent, which is a record," said Frank Ingata, owner of The Beach Shop in Ortley Beach.  
Ingata used to sell beach chairs, towels and other vacation essentials at his shop, which is a block from the beach. He rebuilt with his own money after Sandy flooded his store with 6 feet of sea water. But the beaches near him remained closed, and many of the modest cottages that would normally be rented out all summer did not take in renters.
"Nobody came here, because there's no homes for the people to stay in," said Barry Ingram, a friend and neighbor of Ingata's.
Many of the apartments and cottages that were rented out to families on a weekly basis were second homes, so their owners do not qualify for most government grants.  This could be what has slowed down the rebuilding process. 
 "We haven't yet seen a big upsurge in housing permits in affected cities, which you'd expect to see from rebuilding," said Charles Steindel, Chief Economist at the New Jersey Department of Treasury. He expects the permits will increase as residents find the funds to rebuild. 
Points south of Atlantic City expected to do well, picking up stray tourists who found their beach town still rebuilding after the storm. But business was off an average of 20% percent.
"We did not have the season we expected," said Diane Wieland, Director of Tourism for Cape May County, N.J. "Spending habits have changed," she added.  She blamed the economy and poor weather for the off season, and is hoping that a seasonably warm fall will draw tourists to visit the shore into November.