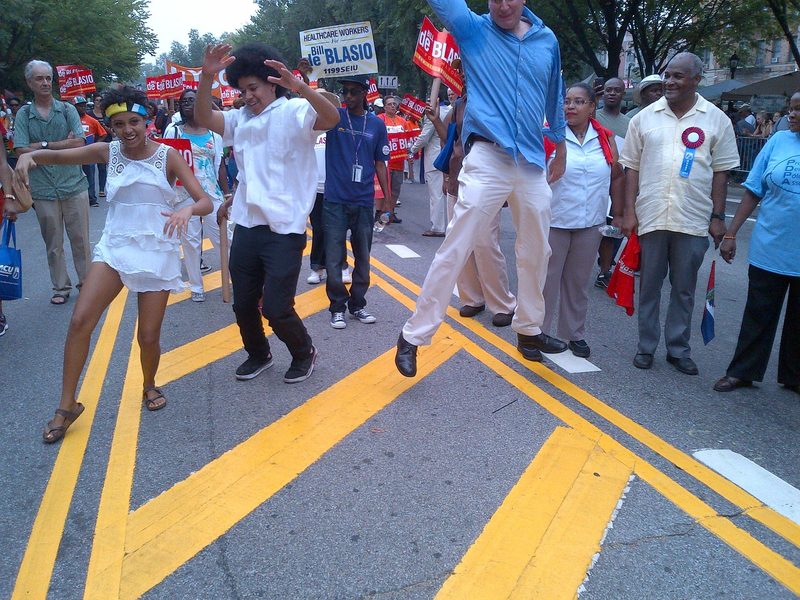 Bill de Blasio, who once applauded a move to halt a bike lane in Brooklyn, has won the endorsement of a prominent lobbying group that represents cycling advocates and other street safety concerns. 
StreetsPAC announced Tuesday that it was backing de Blasio in the upcoming Democratic primary for New York City mayor. 
Although de Blasio has been critical of New York City's pro-bike transportation commissioner Janette Sadik-Khan—he once called her "a radical"—earlier this summer he released a transportation policy statement criticizing the NYPD for writing far more tickets for tinted car windows than for speeding violations.
And that caught the attention of safe streets advocates.
"Bill has gone on the record in support  of a number of policies that advocates have been seeking for quite a while," said Eric McClure, a StreetsPAC founding board member. "His pledge that he would replace Ray Kelly as police commissioner and instruct the NYPD to really crack down on the most dangerous driving behaviors, like speeding and failure to yield, was a statement that none of his rivals have made."
[See transportation policy statements from various candidates here.]
Another deciding factor for StreetsPAC: de Blasio's embrace of Vision Zero, a safety target that seeks to eliminate traffic deaths entirely. 
In a statement on his website, de Blasio—who is currently the city's Public Advocate—said "we'll make sure New York City remains an innovator of ways to make biking, walking and public transit safer and more accessible to every single New Yorker."
The StreetsPAC endorsement is yet another boost for de Blasio, whose candidacy has been gaining momentum in recent days. A newly released poll now says he has support from 43 percent of likely voters—more than the 40 percent needed to avoid a runoff.
"The all-powerful bike lobby should not be underestimated," joked McClure.
Want to know more about the NYC mayoral race? Check out WNYC's Election 2013 coverage.