Leaps, Sharp Elbows, and Some Sorrow at West Indian Day Parade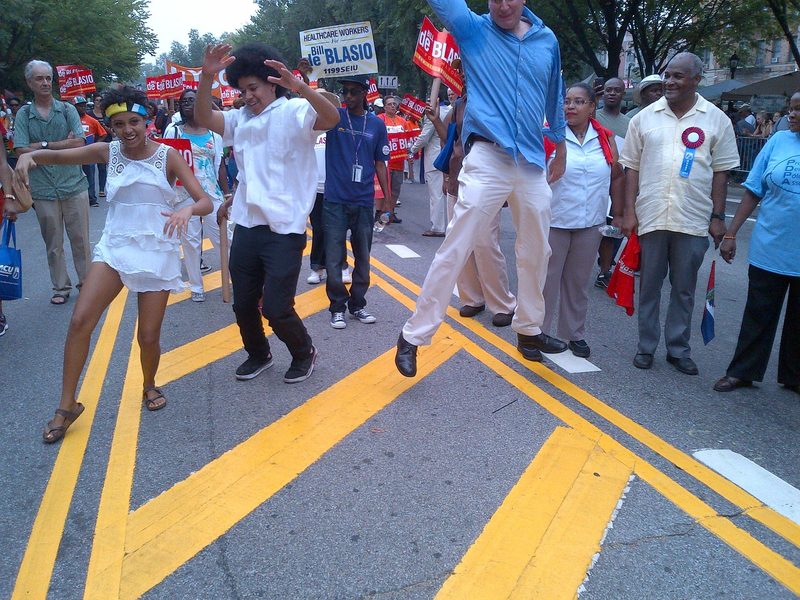 Bill de Blasio literally danced his way into the final week of the primary at the West Indian Day Parade, a Labor Day tradition characterized by revelry, indulgence, and gaudily-dressed dancers.  Former City Comptroller Bill Thompson also marched with a sizable contingent, but the energy swirled around the de Blasio family -- Bill, Chirlane, Dante, and Chiara --  as the quartet leaped their way down Eastern Parkway.
Two friends did enthusiastically great City Council Speaker Christine Quinn.  "No one's really focused about poverty, homeless," said Wisvic Odige.  But his friend Lionel Lorquet interjected "She's not giving any solution.  She talk about it. Everybody can come and criticize but what's the solution?"
"No, no, no" Odige retorted. "I'm for Christine.  Hundred Percent."  But Lorquet said he was still choosing between "the Bills" -- Thompson and de Blasio.
Resident Beth Clarke said she'd already made her choice of Bill -- de Blasio. "We want him to win. He's  a good guy.  Thompson's played out."
Council Speaker Christine Quinn also worked the crowd at the West Indian Day Parade. She rode part of the route atop a float for Brooklyn Borough President Marty Markowitz, who introduced her from the on-bound sound system. 
"The one and only Christine Quinn," boomed Markowitz. "Time for a woman mayor! We guys have had enough, right?" Quinn got a polite reception as she greeted parade-goers.
The day's festivities began on a more muted note, as candidates reacted to the news of the shooting death of a 1 year-old Brooklyn boy on Sunday evening. The top Democrats running for mayor were united in their call for expanded community policing efforts, but that didn't stop them from criticizing each other.
Unlike Mayor Bloomberg, Bill Thompson, Bill de Blasio, and Christine Quinn said improved community-police relations is the proper response after the fatal shooting death – and not continuing stop and frisk in its present form.
But the candidates focused on where they differ. De Blasio criticized Quinn's willingness to keep Mayor Bloomberg's police commissioner, Ray Kelly.
"Christine Quinn has offered only contradictions," he told reporters at the political breakfast before the parade. "She says she wants to reform stop-and-frisk, but she wants to keep the architect of stop-and-frisk. It makes no sense."
Quinn, in turn, was asked again about Ray Kelly – and she turned the question back to de Blasio.
"I know we can keep this the safest big city in America without doing unconstitutional stop-and-frisks, and that is what my police commissioner will have to do," she said. "But let's talk for a minute about the public advocate for a second."
Quinn went on to accuse Public Advocate Bill de Blasio of hypocrisy, because the names he's floated for his police commissioner include supporters of stop-and-frisk. 
To hear host Amy Eddings' conversation about the West Indian Parage with WNYC reporter Brigid Bergin, click on the audio link above.