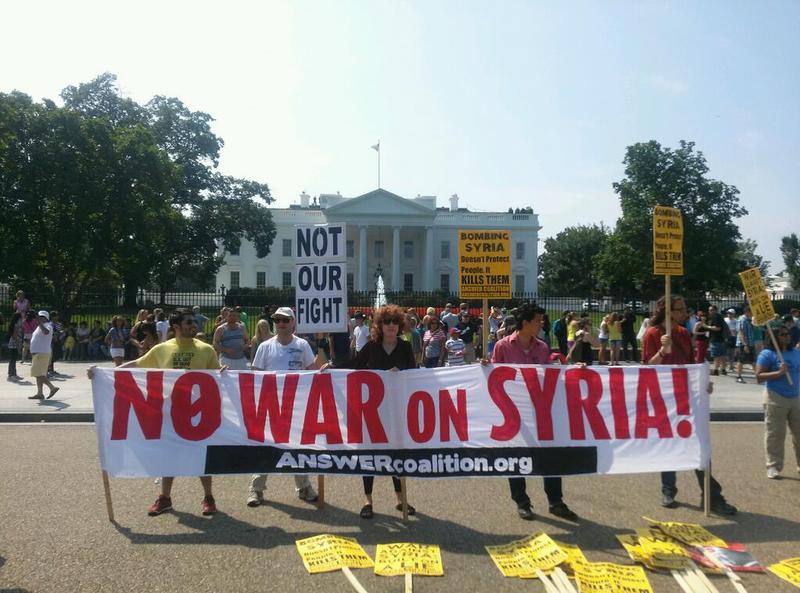 Over the last two years more than 100,000 people have died in the Syrian civil war, which has entered a new phase as violence escalates around the country.
Last week, U.S. Secretary of State John Kerry confirmed intelligence information that found 1,429 people were killed in a chemical weapons attack in suburbs outside of the Syrian capital of Damascus, including at least 426 children.
"This attack is an assault on human dignity. It also presents a serious danger to our national security," President Barack Obama said from the Rose Garden on Saturday. "Now, after careful deliberation, I have decided that the United States should take military action against Syrian regime targets."
The military option the Obama Administration hopes to pursue would not be open-ended or require boots on the ground.
"Instead, our action would be designed to be limited in duration and scope," the President said. "But I'm confident we can hold the Assad regime accountable for their use of chemical weapons, deter this kind of behavior, and degrade their capacity to carry it out."
The U.S. military has positioned assets in the region, and the Chairman of the Joint Chiefs of staff says the United States is prepared to strike.
Until it can do so, however, the people's representatives must weigh in. All four congressional leaders have agreed to schedule a debate and vote over U.S. military intervention in Syria at some point after the legislative session resumes on September 9.
"While I believe I have the authority to carry out this military action without specific congressional authorization, I know that the country will be stronger if we take this course, and our actions will be even more effective," President Obama said Saturday. "We should have this debate, because the issues are too big for business as usual. And this morning, John Boehner, Harry Reid, Nancy Pelosi and Mitch McConnell agreed that this is the right thing to do for our democracy."
Joining The Takeaway to discuss the next steps for the U.S. Congress and the vote on U.S. military action in Syria is Frank Pallone, Democratic Congressman from New Jersey's 6th congressional district; Gregory Meeks, a Congressman representing New York's 5th congressional district; and Tom Cole, a Republican Congressman representing Oklahoma's 4th district.
Lara Setrakian, journalist and founder of Syria Deeply, joins the program to discuss the implications of action in Syria and the humanitarian crisis on the ground there.
David Sanger, Chief Washington Correspondent for our partner The New York Times, fills us in on what to expect around the capital.