Christine Quinn Touts, and Has to Explain, Her Long Record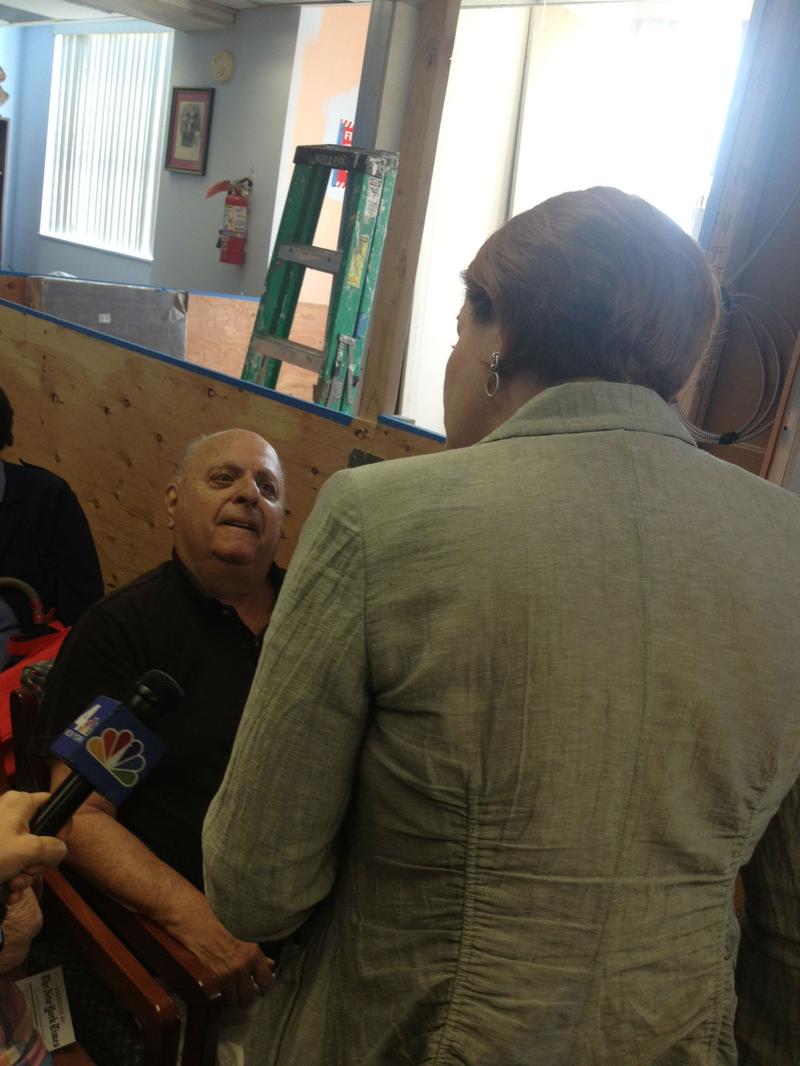 After seven-and-a-half years as the Speaker of City Council, Christine Quinn is  running on a long record — but that's opened her up to vitriolic protests. On the campaign trail, her command of policy minutiae is clear, but as she adjusts her strategy from that of a one-time frontrunner to a politician campaigning from behind, her positions might take too long to explain.
The day starts on a tree-lined walkway to the Spuyten Duyvil Metro-North station, overlooking the Harlem and Hudson Rivers in the Bronx. Quinn is there to greet commuters, who come in waves timed to the Metro-North schedule.
Within about 10 minutes, a woman passes by who spits out a complaint about Quinn's position. Within minutes, she returns to the narrow platform to pass out anti-Quinn fliers.
A stream of commuters passes her and some stop to shake her hand.
"Council Speaker Christine Quinn is here!" shouts a Quinn supporter from the Bronx by way of introduction.
"She overturned term limits, don't support her!" a protester shouts right after.
Quinn is the only candidate who's been dogged by these kinds of protests on the campaign trail. Her staff tries to keep her schedule private in order to foil protester's efforts to show up.
The protester, Jill Weitz, tells me she lives in Spuyten Duyvil and just keeps the fliers handy in her bag.
Quinn ignores Weitz, though there's fewer than 10 feet separating them, and stays focused on the other passing voters.
But she doesn't just talk to the ones who with agree with her. For example, one woman confronts her about stop-and-frisk.
"I don't feel safe with what you've done. I just don't feel safe," the woman says to Quinn on her way to the train. "When you made it so kids could sue just because they were stopped and frisked."
"No, no," Quinn corrects her. "If they were racially profiled. It's different"
 "That's not how it's going to play out in the court," the woman says. "It's going to cost a lot of money."
"You can't sue for money on this. That was taken out of the bill," Quinn responds.
"So what's the point of it?"
 "If people think they've been stopped in an incorrect way, they can get changes in policy," Quinn says. 
 This, in a nutshell, is Quinn's awkward position at this stage of the campaign. She is , she was defending a bill that she didn't personally support, but because it passed council, she is also embracing it as part of her record of achievement.
We load into a black suburban, with two police officers in the front, a press aide and campaign assistant in the back, and Quinn and me in the middle.
As we drive to a senior center, I ask her about the broad dynamics of this election, whether after Bloomberg, she thinks New Yorkers are looking for a change or want to continue on the same path.
"You know, it's interesting, because I think it's both. I think there are things about which people are satisfied, and there are things about which people are dissatisfied and want things to change or get better," she says. "So I think it's a unique election, in a way."
This is a tougher sell than frontrunner Bill de Blasio's message, which boils down to "Unhappy with the status quo? Vote for me."
Quinn is counting on the hope that voters are more concerned with competence. "I think that matters to New Yorkers, even if it's on an issue where you're not thrilled with what I may have delivered. You want a mayor who can get things done," she says.
She pops a lozenge into her mouth, acknowledging a sore throat from allergies and too much talking, but her voice is full-throated as she criticizes Public Advocate Bill de Blasio with one of her many shots at him during the day.
She says she's all for politicians letting their positions change and evolving with new information, but her attacks on de Blasio try to paint him as an opportunist.
"But that's different than deciding to say one thing out of one side of your mouth, and another thing out of the other side of your mouth, based on who you want  to get votes from," she says.  
She points back to 2005. She and de Blasio were both vying to become the next Speaker of  City Council. He told council members he'd be open to extending term limits then, and now criticizes Quinn for endorsing Bloomberg's third term, a move that remains very unpopular with voters.
Our next stop is the Hebrew Home, a sprawling senior housing complex in Riverdale.
She's met by a very friendly crowd of more 100 seniors and staff members, who close in to hear her stump speech.
Two things happen right at the start. An elegant older woman in a wheelchair shouts that Quinn is very pretty while the director touts Quinn's commitment to funding senior services.
This happens at each stop while I'm with Quinn. People tell her she's younger, thinner, or better looking than what they see in the papers. And someone thanks her for help directing council funding their way.  
She goes from this senior center to another one, where she's joined by her father-in-law Anthony Catullo, the father of her wife Kim Catullo and Larry Quinn, her 87 year-old father. Both men are widowers – Quinn and her wife lost their mothers as teenagers.
As Quinn prepares to speak to reporters, she urges her dad to sit in a chair. He resists.
"If you don't sit, it'll be wasted work. This child brought it out for you," she playfully snaps.
This is part of their shtick on the campaign trail – the playful squawking back and forth. But each time her father sits or stands, Quinn is either right there holding his arm or watching like a hawk, to make sure the assigned staffer is doing it right.
She tells me she and her father have always been close, but when she came out, it was "not great."
"He actually said, don't ever say that again. And we had a couple of months that were rocky, and that passed," she says.
Quinn married her wife last year, but they've been a couple since 2001. They moved in together within six months of their first date. "Classic stereotypical lesbian relationship in that regard," Quinn says with a smile.  
When asked, Quinn will talk about the history-making potential of being the city's first LGBT and woman mayor, but she bats away questions about how her gender is affecting this race.
It comes up with voters, though, like Aurora Ruiz in the Bronx. "She's a woman, and I know women are more sensitive to what people's needs are. And men aren't," she sums up with a laugh.   
But polls show Quinn isn't doing better with women than other candidates. In some surveys, Quinn has more support from men than women.
Before the day is out, a new poll comes out that shows Quinn trailing Bill de Blasio by double-digits, and statistically tied for second with Bill Thompson, the former comptroller. Only two candidates move on from the primary to a run-off.
So the candidate who spent months at the top of polls is now in the position of dismissing their importance. "You know, these polls are going to go up and down," she says. "This wasn't particularly a surprise to me."
At her last public stop of the day, Quinn loads up a car of donated food for Rosh Hashanah at a Jewish nonprofit in Queens. Here she is among friends, with more shout-outs about  council funding as she stands in the center of assembled volunteers and politicians.
She loads a few boxes into a volunteer's sedan in front of cameras, and then she takes off for an evening of private events, which includes a fundraiser for a runoff campaign.
She wants to have the runoff money ready, even as a top-two finish in the primary is no longer so assured.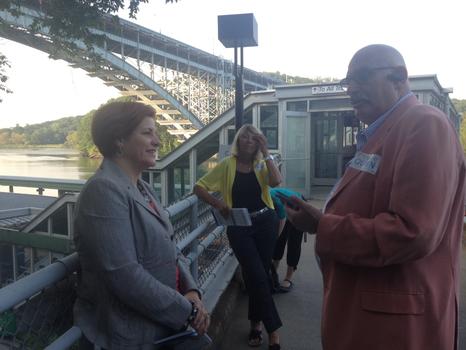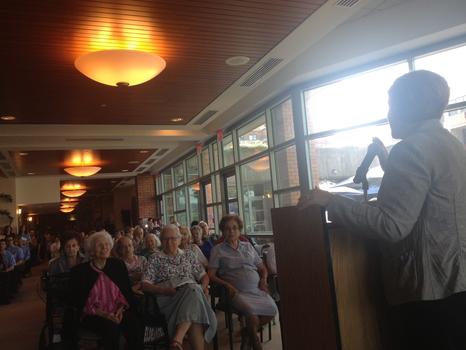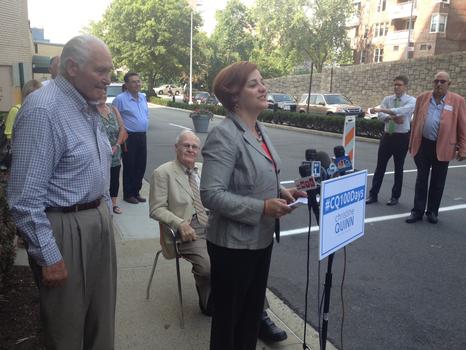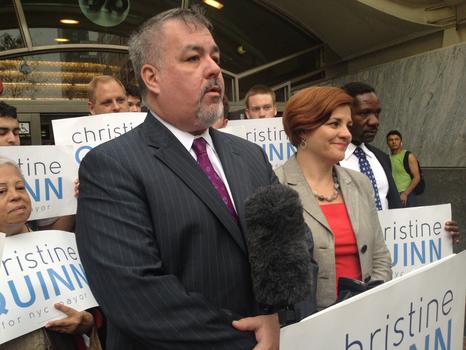 of