Last Chance Foods: Stalking Panther Edamame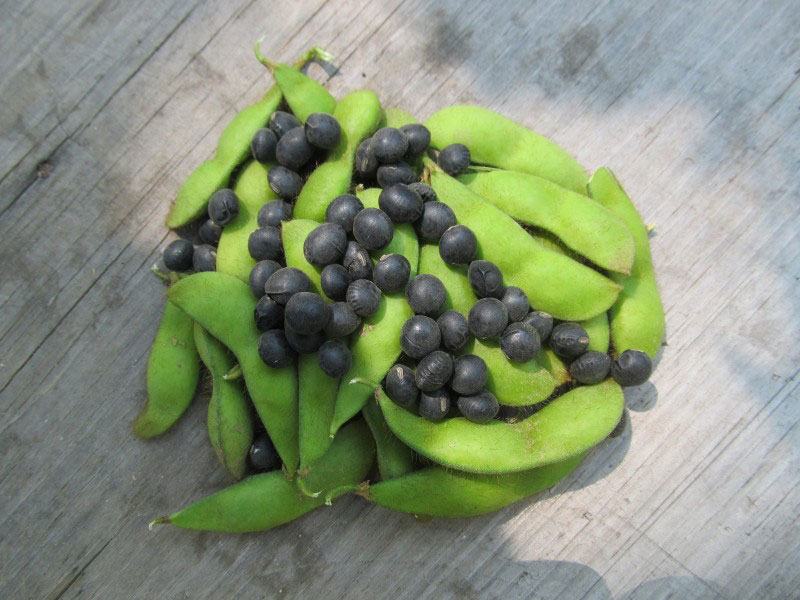 Clear skies, full bellies, can't lose — maybe that should be the Friday Night Lights–inspired motto for panther edamame, a variety of soybean that's currently growing at the Hudson Valley Seed Library in Ulster County, N.Y.
The plant isn't named after the fictional high school football mascot of Dillon, Texas, sadly. "The soybean, when it's actually fully mature to harvest for seed, is black," explained Seed Library founder Ken Greene. (So much for wishing for a hard-hitting Riggins runner bean.)
Panther-like in color when mature, the soybean in its fresh, edible stage is a more typical pale green color, added Greene. That stage comes earlier. Only later, when it's dried on the plant and ready for seed, or for use in making tofu or soy milk, does it turn pitch black.
Greene remembers the first time he tasted it in that early appetizer-green stage. "We were kind of amazed, because we thought, it's edamame, it's just going to taste like all other edamame," he said. "But the richness and the nuttiness of this particular variety — it's a more intense flavor, and it has a little more diversity within the flavor."
In addition to being tasty, the soybeans also fit with the Hudson Valley Seed Library's mission to popularize and preserve heirloom and open-pollinated seeds from this region. The panther edamame seeds were originally donated to the library from farmer Jack Algiere of Stone Barns Center for Food and Agriculture in Pocantico Hills, N.Y.
"He'd been growing them for 10 or 12 years before he told us about them and donated some seeds to us," Greene said.
Photo: Panther edamame seed pack with artwork by Jessica Pollak/Hudson Valley Seed Library
Knowing the provenance of the seed is particularly important to the Seed Library. Greene explained that panther edamame in not quite an heirloom variety because he can't trace its history back 60 to 100 years, even though it may have been around for that long.
"We do know that it's open pollinated, which means that it hasn't been hybridized and that it's not genetically engineered seed," Greene said. "And, of course, soy is one of the most genetically engineered crops in the world, and we think that makes it even more important for us to preserving this variety and making sure that we can pass this on to other gardeners and other farmers."
The good news for those on the receiving end of panther edamame seeds is that they are very easy to grow. The seeds (mature beans in this case) are also easy to save for the next season and pass on to a friend or family member.
"You can direct sow it," Greene said. "You don't have to start it early. It's not fussy. And they're also really easy to harvest because [with] bush beans, unlike pole or runner beans, the pods ripen all around the same time.
The means the plants will have fresh, edible edamame ready for harvest about 100 days after being planted. Greene explained that the harvest window, which is right now for this year's crop, is about two weeks.
He advised steaming and serving them with salt, the way many restaurants do, or freezing them for later use. Greene, who is a no-recipes type of cook, likes to make a concoction he calls "edamamus." It's a riff off of hummus, and the approximate recipe is below.
Edamamus
by Ken Greene, Hudson Valley Seed Library
1 1/2 cups shelled edamame (still green and tender)
1/4 cup tahini
1 lemon (about 3 tablespoons), juiced
3/4 teaspooon salt
5 tablespoons extra-virgin olive oil
1/2 cup chopped fresh flat-leaf parsley and/or cilantro or papalo
2 carrots in chunks
1. Boil the beans in salted water for 4 to 5 minutes.
2. In a food processor, puree the edamame, tahini, lemon juice, carrot, salt, until smooth while drizzling in 4 tablespoons oil. If this it thicker than you want it drizzle in water slowly until you reach the consistency you like.
3. In a mixing bowl stir in the parsley and add remaining oil.
Note: If you're using edamame that you froze, steam for 5 minutes, then shell the beans.