Still Struggling in Sandy's Wake, Rockaway Sheds Half Its Summer Beach-Goers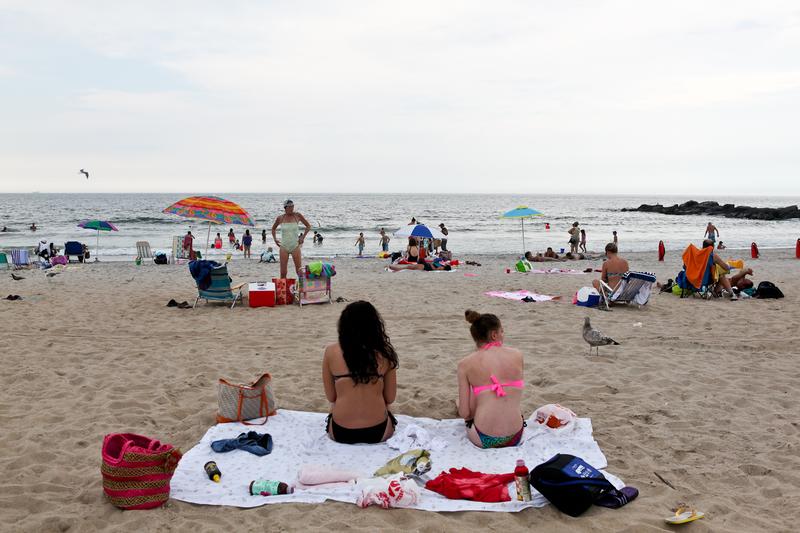 At the start of summer, the Rockaways looked more like a construction zone than a beach destination. Its popular concession stand was still being renovated. The boardwalk that spanned most of the neighborhood's 6.2 miles was washed away. Work trucks and trash littered the beach.
The city raced to get the beaches ready for summer. And, despite the improvements, many residents feared no one would return to the seaside community that was slammed by Sandy.
"It's actually nicer, the beach, believe it or not," said Howard Beach resident Dawn Ruggia. The 39-year-old said she comes to the Rockaways every week with her 4-year old son.
Businesses and residents say the beach crowds have been steady this season. But the Parks Department numbers paint a starker picture. Last year it estimates 7,789,950 people visited Rockaway Beach. This year, heading into the Labor Day weekend, it put the numbers at 3,237,660.
And there are still glaring reminders of the deadly October storm.
Concrete pilings are sunk into the sand where the boardwalk once linked miles of beach. Homes with facades sheered away loom over the shoreline. And parts of the beach remain obstructed by orange construction netting – behind which Caterpillar bulldozers move around mounds of sand.
Every day, the Parks Department puts out a white board noting which stretches of beaches are closed for construction.
The city plans to keep nearly a mile of beach closed over the Labor Day Weekend, including the popular beach at 116th Street.
"The beaches are open and they're closed — those decisions seem to change day by day and hour by hour," said Ken Mahoney, 62. He's lived in the Rockaways for more than 20 years. "This beach just opened an hour ago. There are no lifeguards in the chairs yet."
Near the beach on 93rd Street, Rob Signer, 47, points out a home where workers are ripping the roof off and tossing the debris into dumpsters.
"The morning after the storm, there was a lamppost sticking thought the wall of this house," Signer said. "The boardwalk was inside their living room."
He said he approves of the beach restoration but feels the Rockaways are still lacking basic amenities like grocery stores and supermarkets, which have remained shuttered since the storm.
Along the area's commercial strip at 116th Street, one of the first businesses to re-open after Sandy was M and L Hair and Nail Salon. As a result, owner Michael Badalove has been a barometer for how the local, non-beach economy, has been faring.
"No good," he said during a recent visit. "Nobody come back yet."
Badalove received a new front window from the city's Department of Small Business Services. He said a new store front sign is coming too. He thinks it might help spur business, but in the meantime he's doing anything to draw in customers, including dropping prices. He used to charge $18 for a men's haircut. Now, he's charging $10.
Still, some vow they are seeing signs of recovery.
"It's as if nothing changed," said Robert Wagner, a manager at the popular Rockaway Taco who says the eatery has been busier this year than last.
"Yeah, no boardwalk, but it doesn't stop people coming to the beach."
The boardwalk under construction with trap bags at Rockaway Beach 89th Street (Stephen Nessen/WNYC).
Homes under construction at 93rd Street Rockaway Beach (Stephen Nessen/WNYC).
Farther down the peninsula in Belle Harbor, where the homes are bigger and the neighborhood is more suburban the biggest difference on this beach is the presence of a mile-long baffle wall. The concrete wall is connected to 22-foot deep pilings and extends four feet above ground. A few kids clamber on and off black sand bags neartly piled in front of it.
Lifelong Belle Harbor resident Kim Green said the wall is reassuring. "I don't think it'd stop a storm like Sandy, but it'll certainly keep the regular hurricane season away, I think," Green, 48, said.
Green's home was destroyed in Sandy, so now she's renting a home, even closer to the ocean. "Fingers crossed for what's coming, hope for the best. And just know, there's no fighting mother nature," she added.
Kids playing on trap bags at Beach 127th Street in Belle Harbor, Queens (Stephen Nessen/WNYC).
Closed section of beach at 91st Street (Stephen Nessen/WNYC).
A daily white board at 116th Street noting which beaches are closed each day (Stephen Nessen/WNYC).
A new skate park at Rockaway Beach along Shorefront Parkway (Stephen Nessen/WNYC).
Bass player and local resident Simon Chardiet, 54, plays at the concession island at 86th Street. (Stephen Nessen/WNYC)
New bathrooms installed at Beach 116th Street Rockaway Beach, Queens (Stephen Nessen/WNYC).
Section of Rockaway Beach closed for dredging (Stephen Nessen/WNYC).