SchoolBook
Teens Design Tools to Combat Sexual Cyberbullying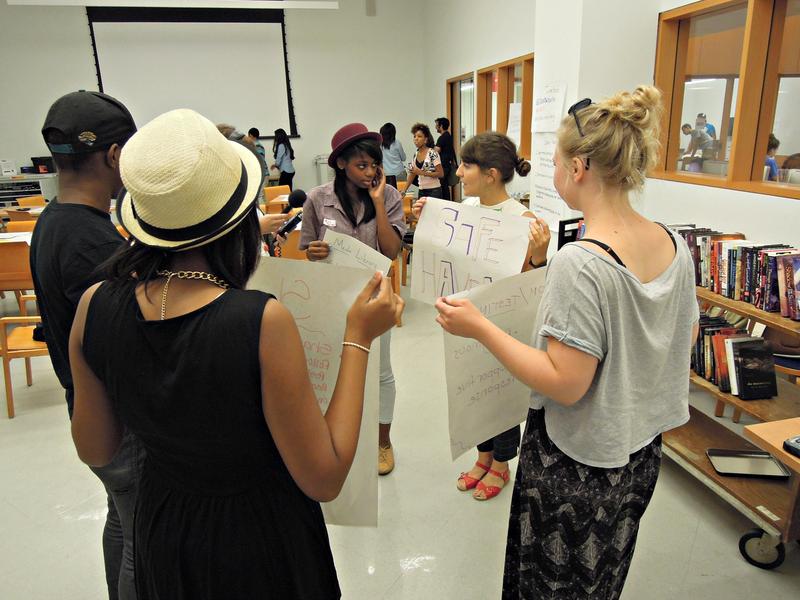 With cash prizes on the line, about 25 teenagers spent one of their last days of summer diving into the issue of sexual cyberbullying, or "slut shaming," and designing digital tools to combat it.
Students worked in groups at the Central branch of the Brooklyn Public Library for a tech design competition called "That Could Be Your Sister," hosted by WNYC's Radio Rookies and the organization Global Kids. Participants were tasked with creating digital antidotes to sexual cyberbullying, such as raising awareness of the issue or offering support for victims through tools like websites, apps or games.
Many students at the event said that seeing teenagers, and sometimes their own classmates, involved in sexually explicit photos or videos on social media -- and the outspoken moral judgment by peers, known as "slut shaming" -- has become a regular part of their digital lives, though  it's rarely discussed.
"It's a growing problem each day, and people don't realize how serious it is," said Matthew Morris, 15, a student at Urban Action Academy in Brooklyn. 
Another participant, Graciela Garcia, 16, a student at The Nightingale-Bamford School, described how young people are normed to this kind of online content.
"Teens see this constantly," she said. "And if they're not the ones bullying others they're the ones watching it or maybe sharing it or 'liking' it. Some might not even say anything."
Garcia also noted that students who actually want to report inappropriate content often face barriers from Facebook. She said that generally only victims who are directly affected by sexually explicit posts may ask to have content removed.
A recent Radio Rookies story, by reporter Temitayo Fagbenle, explored sexual cyberbullying and the idea of "slut shaming." You can hear the full story below.
The story spawned a Facebook page called "That Could Be Your Sister" and Twitter hashtags like #StopSlutShaming and #unslut.
It also spurred live events, like a teen town hall meeting, and Thursday's design competition. Students began the day listening to a portion of Fagbenle's piece, and then brainstormed how to combat the problem with tech tools.
Groups presented their ideas to a panel of judges and offered similar ideas for an online "safe space," where victims of bullying could share their stories and receive support, and for spreading the word about sexual cyberbullying.
The winning group's webs design included an advocacy campaign to get social media websites to better police explicit content related to teenagers, complete with live events like fundraisers and support groups for victims.
Each member of the winning group walked away with $50.