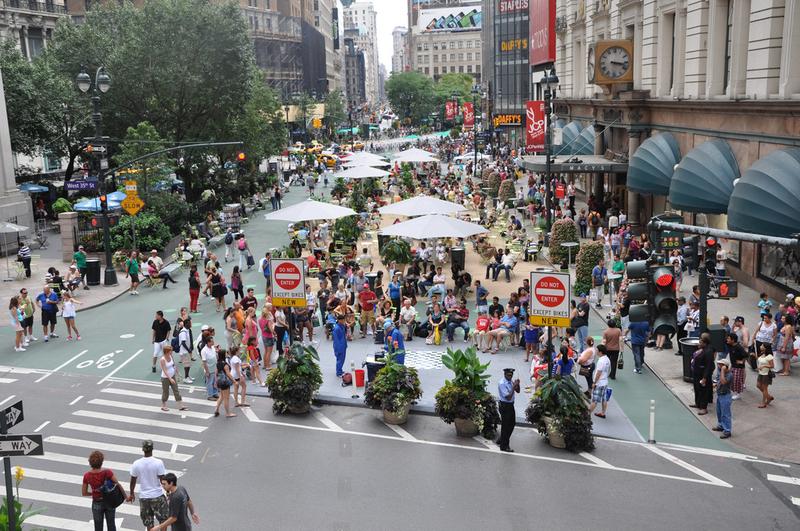 When the Republican candidates for NYC mayor gathered for a televised debate Wednesday night, they took three different stances on Mayor Mike Bloomberg's preference for pedestrians and plazas. 
Former MTA Chief Joe Lhota said he would study whether the pedestrian plazas in Times Square and Herald Square should be removed, but he held a neutral line, neither endorsing nor criticizing Bloomberg's pedestrian-first approach. 
Instead, Lhota focused on methods, offering a common criticism of Bloomberg's Department of Transportation as it applied to 34th Street. "Macy's will tell you, they didn't have a whole lot of conversations with the City of New York," Lhota said. He added that Bloomberg did not solicit enough community input for his street redesigns. "Nobody in the City of New York had any idea of what the vision was on the part of the mayor and his transportation commissioner," he said.
Lhota said that if he were mayor,  "What we need to do is explain what needs to happen with our roads, making sure we enhance mobility, not decrease mobility. make sure traffic moves while lights aren't in sync. There are lots of things we need to focus on to mitigate the traffic problems in New York." He didn't say what those are. 
Gristedes owner John Catsimatidis was more direct in criticizing the mayor's transportation policies. "I don't agree that when traffic goes down Seventh Avenue or goes down Broadway, or any of those areas, that you go down in one lane. It doesn't make any sense," said Catsimitidis.
The reduced number of lanes around those plazas could be a public safety concern, he argued. "If you have an emergency situation and you want the fire engines to get through, you want the police cars to get through, or if one of our grandmothers or grandfathers is an ambulance, you can't clog up the streets," Catsimatidis said. 
He took the opportunity to offer up assurances to outer-borough car owners, a disproportionately Republican demographic. He is against congestion pricing tolls on the East River bridges, he said. "I don't believe we should punish the outer boroughs any more than we are," Catsimitidis said.  
The third candidate, George McDonald, was alone among Republican candidates in broadly endorsing Bloomberg's transportation policies. First, McDonald said he would not re-open Herald or Times Square pedestrian plazas to car traffic. Then he shifted unprompted to bridges: "I've endorsed Gridlock Sam's fare toll program where we would actually congestion price the bridges." By contrast, the Verrazano-Narrows bridge is overpriced, he said. "Having a $15 toll, it's ludicrous," because Staten Island isn't a central business district. 
Staten Island is heavily Republican and an important constituency for Republican candidates. Transportation to the island is a perennial Republican campaign topic — Mayor Rudy Giuliani made the Staten Island Ferry free in 1993, an election year.