Political Roots Keep Thompson On Message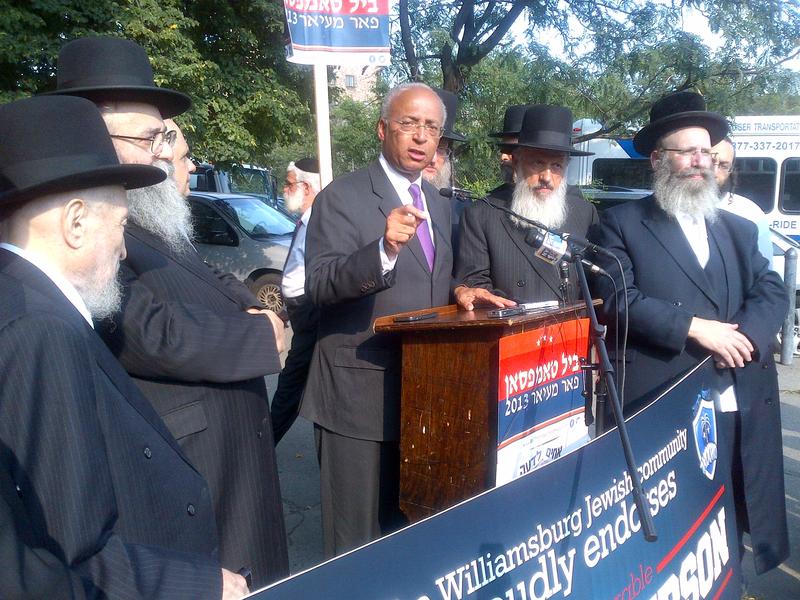 It's close to 7:30 a.m. on a windy, cloud-covered morning, as Democratic mayoral candidate Bill Thompson arrives to greet voters at a subway stop on the Prospect Heights side of Flatbush Avenue in Brooklyn.
As he shakes hands and introduces himself, voter Clarice Mathews, 57, charges towards him with three dogs: Grumpy Norris, Friendly Buddy and Mean Little Ritchie, whom she describes as her "aggressive, 10 pound dog."
Thompson leans in to pet one and Mathews snaps, "Oh, they're not friendly." Then Mathews, a New York City Police Department Retiree,  tells him to convince her. "Tell me why I should vote for you," she says. "I don't want to hear about your mother and father. Tell me why I should vote for you, sincerely."
Thompson's political roots do run deep. His father was in the City Council and in the state senate and he became an appellate court judge. Thompson himself was president of the Board of Education and served two terms as City Comptroller. But at this point in the race, voters want more than his biography.
After narrowly losing to Mayor Michael Bloomberg in 2009, Thompson thought he had a pretty good shot for mayor this time around. He has the roots, the resume and rarely strays from polished talking points. Yet voters keep asking this seasoned candidate what kind of mayor he'll be.
For one day, the Thompson campaign let me join him on the trail to hear how the candidate is answering that very question.
Teachers On the Stump and the Trail
Thompson secured the teacher's union endorsement in the spring and that endorsement came with a pledge for resources to help get out the vote. This Tuesday morning, several of the volunteers wear blue United Federation of Teachers t-shirts as they hand fliers to morning commuters. So it almost seems like a set-up when science teacher Joshua Paris is the first voter to really talk to the candidate. He has only one question: "I'm wondering about retroactive pay. What's the story?" Paris asks.
"I'm sure that you are," Thompson laughs, before settling into a careful answer about bringing union leaders to the table and not negotiating in public. Teachers have been without a contract since 2009 and many hope the next one includes those pay raises they've gone without.
"Being the former education czar here, we thought we'd get a little preferential treatment for the UFT," Paris says, hoping for at least a wink and a nod. But Thompson pledges no more than getting contracts done, using the careful, measured prose of a practiced politician.
Cautious Communicator
In his tan Chevrolet Suburban SUV, Thompson divides his time between his Blackberry and his iPhone, so I ask what apps he has on it. Even then his answer is reserved. He says news, Politico, weather, some music and, "a couple of ridiculous games."
"What ridiculous games?" I ask.
"A couple of ridiculous games, and we'll leave it at that," he says.
"Come on, are you a Candy Crush kind of person?" I press.
"Yeah," he says finally, "Candy Crush, along with a couple of other dumb games." He shows me the icon on his phone.
But in the race for Mayor, the matching game is harder to play. Thompson is the only African American candidate in the race. Yet he finds himself competing for black voters with Bill de Blasio, a very tall white man who has been buoyed by his photogenic, mixed-race family. On this topic, Thompson remains reserved.
"There is no taking for granted that any vote belongs to anyone," Thompson says, clearing his throat. "There is no, 'just because I'm black, people are going to vote for me.'" 
But the tone changes at a breakfast meeting in the steamy basement of the First Calvary Baptist Church. An urgency seeps through as he reminds the crowd of about 60 how wrong the polls were in his last mayoral election.
"With two days to go, they said it was going to be a blow-out. They said I was going to lose by 20 points," Thompson bellows, sounding more like a preacher than a politician. He reminds them that he only lost to Bloomberg by four and half points and argues that's because people stayed home.
"Polls never measure things accurately. They don't," he says, adding, "If you've been polled, raise your hand. I'll be impressed."
The room chuckles and nods in agreement. This race, he says, is all about who comes out and votes.
Getting Out the Vote
The final public event of the day is an endorsement by a group of Hasidic Jewish leaders in Williamsburg. Loudspeakers are set up so that people around the neighborhood can hear what's happening on this sunny, bright street corner.
Rabbi David Niederman, a leader within the Satmar Hasidic sect, says he and others in the community selected Thompson after meeting with all the candidates. The endorsement is a big deal, since the community is known for voting as a block. That could mean thousands of votes for Thompson.
But the event gets interrupted by a protester who is also Hasidic. A group of men at the press conference surround him, knocking off his black hat and dragging him down the sidewalk, then forcing him into to a storefront on Lee Avenue. Reporters follow the action while Thompson's aide tries to bring us back to the main event.
Back in the car, I ask Thompson about what happened. "There was a little distraction for a moment there," I say.
His driver Ray chimes in, "That was no distraction. They dragged my man. They said nah come on, you gotta go."
This does not please Thompson, who reminds him, "I'm being interviewed. Thank you, Ray."
When I describe what happened, Thompson says he only saw the sign that protester was carrying and some people shouting. I ask if this type of scene would make him worry about intimidation in the community.
"There is no intimidation," Thompson says, noting he's worked with people in the community for years.
He and the team are back on message, keeping his comments in check. It's even true as they drop me off on the Manhattan side of the Williamsburg bridge.
"Careful getting out over there," Thompson tells me, "Take care."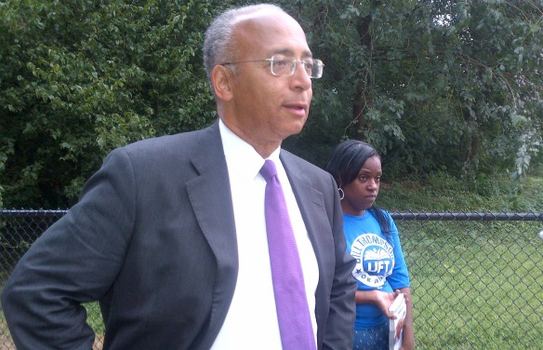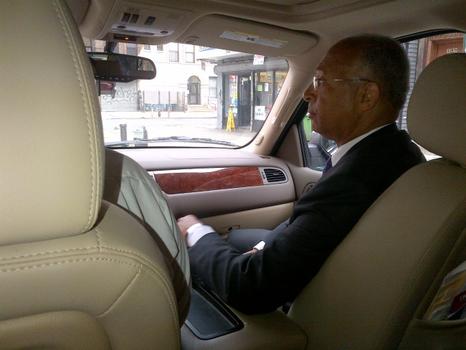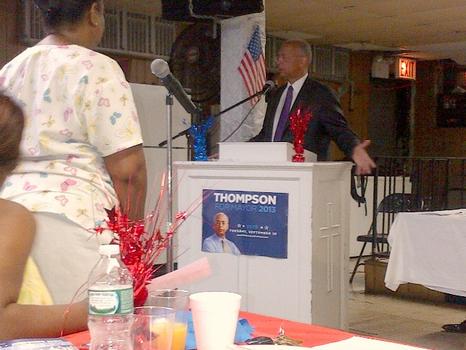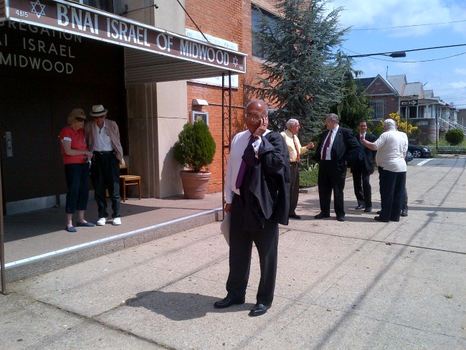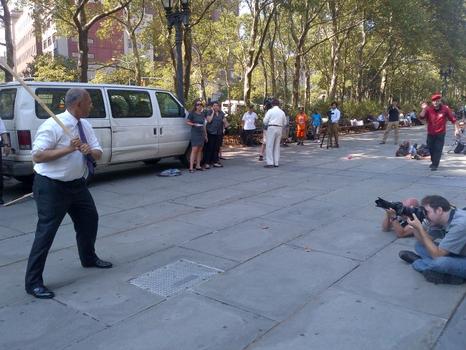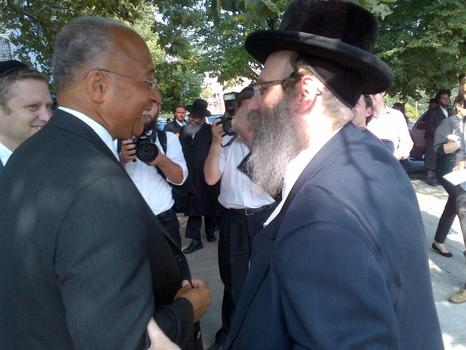 of