5 Things to Watch at the 2013 U.S. Open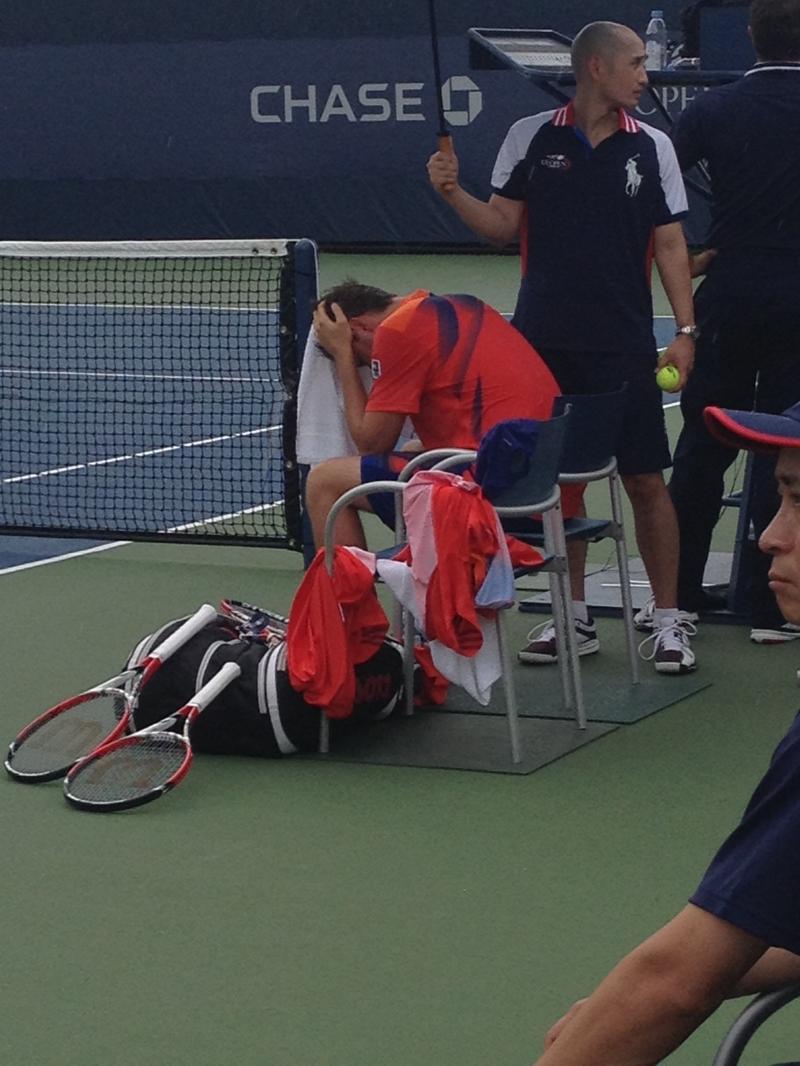 The last grand slam event of the tennis season began Monday right here in New York City.
WNYC host and tennis aficionado Amy Eddings went to Flushing Meadows, Queens, to experience the excitement of the U.S. Open. She served  up her recommendations for navigating the 15-day tournament.
Here are her top five.
1) Farewell to James Blake
This is the last time to see U.S. tennis player James Blake play professionally. He announced Monday that he will retire from tennis after a 14-year career. The 33-year-old reached a career high of No. 4 in 2006; just two weeks ago in Cleveland he beat Jerzy Janowicz of Poland, a top 20 player. Blake will take on the big serving, 6 feet 10 inches tall Croatian Ivo Karlovic in his first round match.
2) Who can stop Serena Williams, No. 1 in the world?
Serena Williams is the big favorite to take this championship. She is dominating the women's tour. She had a 34-match winning streak until Wimbledon, when she was defeated in the 4th Round to runner-up Sabine Lisicki.
Williams is expected to beat 2010 French Open champion Francesca Schiavone during her first round. Schiavone is better on clay than on hard court, and she's lost in the first round in three of her last four Grand Slams. But look for a strong challenge to Williams from this year's Australian Open winner, Victoria Azarenka of Belarus. The No. 2 seed beat Williams two weeks ago in Cincinnati, and hard court is her favorite surface.
3) Sloane Stephens: Serena without the mean streak?
Keep an eye on American up-and-comer Sloane Stephens, seeded 16th. She's a giant killer, most recently beating world No. 3 Maria Sharapova at Cincinnati, prompting Sharapova to fire her brand new coach, Hall of Famer Jimmy Connors. Stephens defeated Mandy Minella of Luxembourg in her first round.
4) How far will Roger Federer go?
He's a five-time U.S. Open winner, and he says his passion is "sky high" for the game. Bet he seems to be having a hard time bringing his game face. He had a second round loss at Wimbledon, and grass courts are his favorite. He's seeded 7th in this tournament. The big question is whether he will join defending champion Andy Murray, Novak Djokovic and Rafael Nadal in the semifinals or finals.
5) Rafael Nadal: Tearing up the courts
The King of Clay, with eight French Open titles, is bringing his reign to the hard courts. Nadal, who won the U.S. Open in 2010, is undefeated on hard courts — 15 and 0 — this season. And this is after an ongoing knee injury kept him away from the tour for most of last year.
During his first round, Nadal beat American wild card Ryan Harrison, who has been compared to the hard serving retired American great, Andy Roddick.
To listen to Amy Eddings' full interview with WNYC host Janet Babin, click on the audio link above.