In the Mayor's Race, the Cat Man Cometh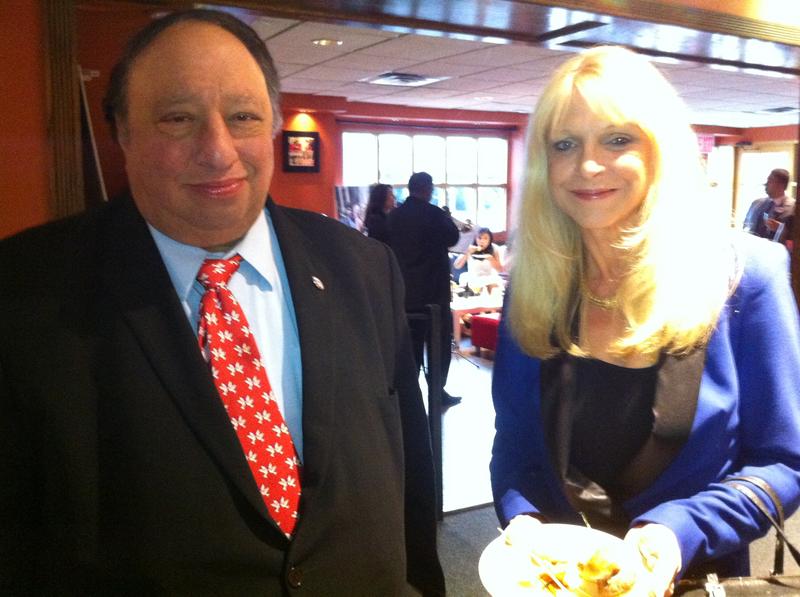 Gristedes owner and philanthropist John Catsimatidis is running against former MTA chairman Joe Lhota and Doe Fund founder George McDonald in next month's Republican primary for mayor. It's been an unconventional path to politics for the Greek immigrant-turned-billionaire grocer. 
The writer Frank Rich recently tweeted that if you want to know what the candidate would be like as mayor, just walk into your local Gristedes. It wasn't a compliment. But Catsimatidis says he hasn't been involved in the day-to-day operations of the chain for years. And — as one of the richest people in America — he says he must be doing something right.
The Merchant Running for Mayor
Catsimatidis kicked off a stop on the campaign trail on a recent morning by saying he's all about jobs and promoting small businesses. His Mercedes pulled up next to two dump trucks with giant signs that read Joe Lhota's Tolls Killing Staten Island.
Local business owners upset about those tolls spoke at a press conference endorsing Catsimatidis. One of them was Steve Margarella, who owns a construction business in the borough. He said he's angry abut the price hike on the Verrazano Bridge while Lhota was MTA chairman. Though Lhota's campaign has said he's made lowering tolls a priority as mayor, Margarella doesn't believe it, and he's thrown his support behind Catsimatidis. "He's the only person in the field I can identify with as a job maker, as a person that's had to make payroll, as a person that's had to be responsible to his customers," he said.
Next, Catsimatidis embarked on a tour of Sandy-damaged stores in Stapleton. He walked into Pat Barbado's electronics shop and steadied himself on the floor, which is still warped by flood waters. Barbardo said he hadn't received any money from insurance or the government.
"That's wrong," Catsimatidis said. "As a longtime store owner, I feel your pain."
A "Republican Liberal"
Catsimatidis — a former Democrat — calls himself a "Republican Liberal." His daughter married Richard Nixon's grandson, whom she met through Democratic Rep. Carolyn Maloney. And it's hard to figure out where some of his ideas fall on the political spectrum. For instance, take his plan to host a World's Fair in every borough, or the monorail he envisions running alongside the Long Island Expressway, or the petting zoo for retired carriage horses that he imagines in Central Park. At an event that evening near his first home in Harlem, Catsimatidis said he has always dreamed big. "I've been a leader for 44 years. I'm a visionary. I keep an open mind. I create," he said.
The Three Billion Dollar Man
Later that night, at the Santa Rosalia festival in Bensonhurst, a group of supporters waved and cheered as Catsimatidis and his wife marched past the sausage stands and funnel cake.
Two bystanders, Erik Korbel and Mike Greco, watched as the politicians passed by. "I really don't know much about him to be honest with you," Korbel said. Greco said the same thing. "Maybe I'll vote for him, because I don't know much about him, maybe that's a good thing," he said.
Name recognition is only part of Catsimatidis' challenge. Some people who do know who he is have said he doesn't have enough political clout to be mayor — he's just comic relief in an already zany race. But Catsimatidis said he has a message for his critics:
"I made three billion dollars. What did you do?"
 With that, Catsimatidis dropped a $20 into the collection box at the shrine of Santa Rosalia, who was known for her miracles. A recent poll had him six points behind Lhota and he could use a little luck.
For the full story on a day in the life of John Catsimatidis, click the audio above.