Schoolbook
Walcott Gives Advice on Reviewing Students' Test Scores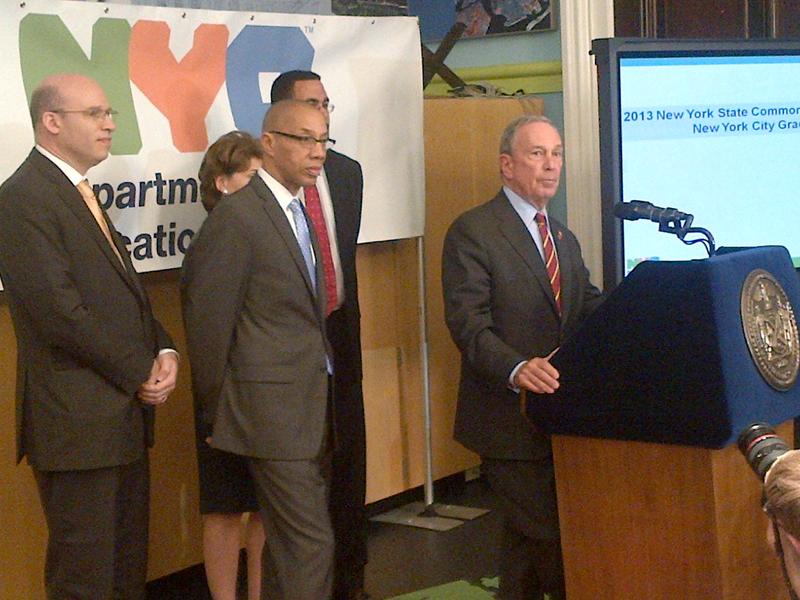 On the same day that parents of New York city public school children can see how their child performed on this year's state math and reading tests, Schools Chancellor Dennis Walcott gave this bit of advice to WNYC's Brian Lehrer show listeners about comparing this year's scores to last year's: "It's not a fair comparison because these scores represent a new higher, tougher standard.
Walcott and Chief Academic Officer Shael Polakow-Suransky also took calls from listeners, including Maya, a Bronx student who said she is entering 6th grade after attending P.S. 24. Maya said she started preparing for the tests as a fifth-grade student in January.
"I would like to know, like, why do we have to take so many practice tests? Because the practice tests repeat doing the same things over and over again?"
Suransky thanked Maya for making an important point and said the goal was to get kids to do "really interesting stuff" in class so that they are prepared for high school and college.
"Sometimes practice tests can be helpful, but the real help comes from practicing your writing and practicing how you defend your ideas when you read," Suransky said.
Walcott asked the sixth grader if she did a lot of reading in school and told her the goal is to make sure students get a wide range of books that can challenge them to think critically. "So hopefully it's not just about the testing but about the type of teaching," he said.
WNYC's Brian Lehrer then asked Maya if that took away from being able to do other things in school.
"Sometimes yes," she said, "because we're not learning more new things but we're practicing the things we already know."
That's when Walcott jumped in to explain why practice is sometimes a good thing.
"The ability to understand, to debate your point, to be able to write your point and having a way of sustaining the information on a long-term basis is part of our goal," he said.
Walcott also tried to allay concerns of students applying to competitive middle and high schools who saw their test scores fall. He said all students were in the same boat, essentially, and that student scores would be compared to each other and not compared to last year's results.
You can hear the whole segment by clicking play on the link at the top of this page. The segment also includes questions from parents and teachers.
And for more information on checking out individual scores, click here.