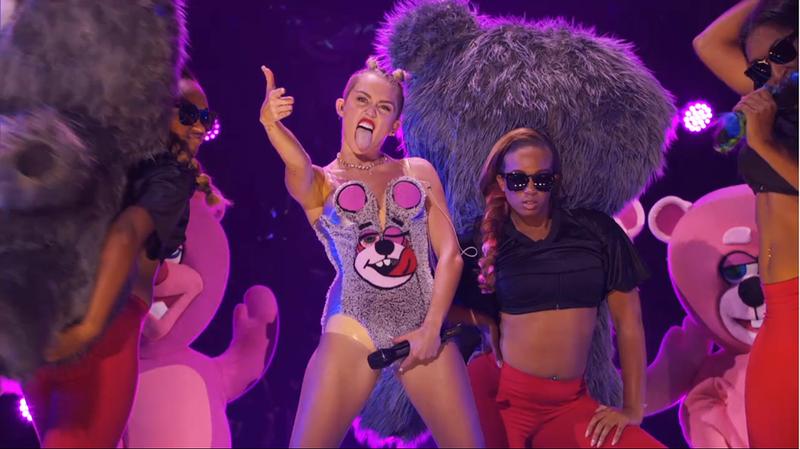 If you, like me, are one of those people given to saying "I remember when MTV actually played music videos," then you're probably too old to be watching the VMAs. So I watched last night's Video Music Awards on MTV in the company of three people young enough that they don't know MTV for anything other than reality shows and this annual award thing. 
Dramatis Personae:
Bella: Daughter of your humble narrator. Age: 18.
Daniel: Bella's childhood friend. Age: 17.
Audrey: Daniel's sister. Age: 23.
John: Reluctant VMA watcher. Age: none of your damn business.  
Lady Gaga's version of "Applause" is surprisingly restrained for her, at least for a performance with that many costume changes. The song goes back to a theme she's mined since "Paparazzi," namely, songs about stardom and celebrity.
Miley Cyrus, on the other hand, provokes skeptical comments for her twerking and shimmying.
Audrey: What is she doing?
Me: Trying too hard.
All: (Laughter)
Best Pop Video award goes to Selena Gomez for "Come And Get It." I begin the night thinking Robin Thicke's ubiquitous "Blurred Lines" is simply not that original a video and am prepared to say so when he walks off with an armful of statues. By the end of the night though, I'm feeling aggrieved on his part as he is completely shut out.
Kevin Hart ("I'm not hosting this") calls out Kendrick Lamar's controversial verse on the recent Big Sean song "Control," where he claims to be better than New York's best rappers.
But Jared Leto's intro of Kanye makes no impression as no one seems to know who he is. "Well, he's an actor who also leads a band," I lamely explain.
Kanye's twilit performance is deemed just okay.
Taylor Swift wins Best Female Video for "I Knew You Were Trouble," and Bella immediately asks, "Is Kanye going to come up?"
All of us are unsure where the commercials end and the show resumes. And as the show goes on we are also unsure what's live and what's lip synched.  When Justin Timberlake makes his entrance -- after being called "The President Of Pop" by Jimmy Fallon -- going up the escalator and down the hall at the Barclays Center singing "Take Back The Night," another possibility occurs to me: Was this recorded earlier?
Audrey points out that Timberlake's medley is working backwards, chronologically, so when he reaches "Cry Me A River," she says "N Sync is next!" 
And at 10:10 p.m., the worst kept secret in pop materializes: A brief but ecstatically received reunion of 'N Sync.
All: Why couldn't you get us tickets?
Me: And which of you would be John Schaefer when you went to pick the tickets up?  Because there's no way I was going to this.
Audrey: Now all we need is for Jay Z to come out.
But Jay Z, perhaps sensing that an appearance here, after the reunion, would simply be an add-on, does not come out. 
Vampire Weekend gives the award for "Best Song of the Summer." And the award goes to... One Direction?!? For the comically-named "Best Song Ever"? Stony silence fills the room – and apparently, the Barclays Center as well.
Daniel: They look embarrassed to be up there.
Me: I don't know this song.
Daniel: I just heard it last week.
Bella: I just heard it now.
A$AP Rocky makes a brief presenting appearance and I suddenly realize that the bourbon I've been sipping has made me so drunk I can no longer distinguish human speech. That is, until Bella turns and asks, "Is that English?"
Jennifer Hudson joins Macklemore, Ryan Lewis and Mary Lambert for the song "Same Love," which won the clumsily-named Best Video With A Social Message. I like the idea of a song about same-sex marriage being performed in front of the American flag. What could be more American than the idea of inclusiveness? 
Generation Gap Alert: After Drake's performance we see Will Smith and his son Jaden in the audience. 
Bella: OMG he IS attractive…
Me: Which one?
Bella, as if to an idiot: Jaden Smith!
Bruno Mars' song "Locked Out Of Heaven" takes Best Male Video, over both Kendrick Lamar and Robin Thicke to a chorus of "Omigods" and "WHAT?!?"'s. He then gives a great, and apparently live, performance of "Gorilla," which I suspect is only a fair-to-middling song.
Video of the Year goes to Justin Timberlake, who dedicates the song to his grandparents, and mentions that his grandfather passed away in December. Yes, it's Timberlake's world and we just live in it, but this was just another example of how incredibly likable he is.
Katy Perry wraps things up with a performance in a boxing ring in what appears to be Brooklyn Bridge Park. It also appears to be lip-synched. 
The song ends, the show seems to end, but then there's Gaga again, and we realize they've started their rebroadcast as seamlessly as they segued in and out of the commercials. But sweet, blessed relief is at hand, in the form of the OFF button on the remote.