De Blasio, a Practiced Critic, Confronts New Role of Frontrunner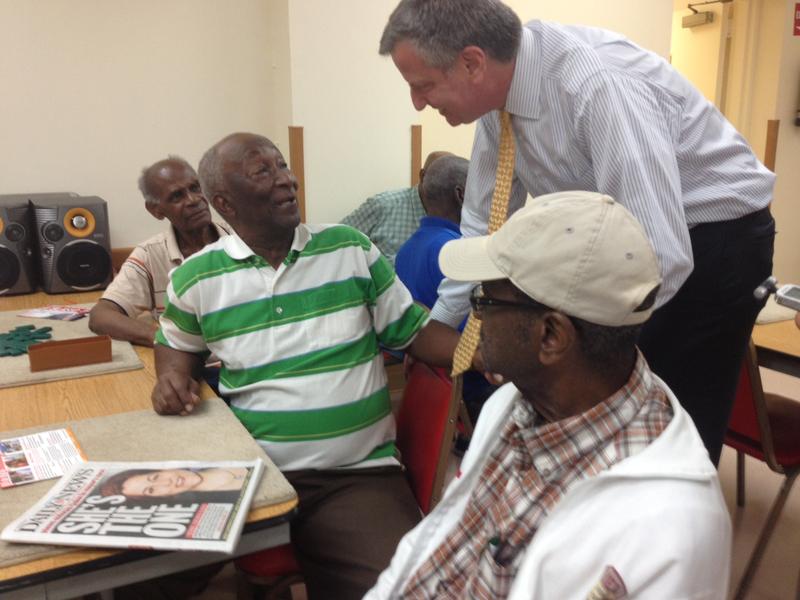 For three and a half years, Bill de Blasio has been the city's official gadfly. As Public Advocate, his job has been to point out where the city's fallen short. And that's been the primary message of his campaign, up until the last few weeks, when he catapulted to frontrunner status in polls. Now, he's trying to show voters he also knows how to run things.
The Critic, with Strategist Roots
Since de Blasio was elected Public Advocate in 2009, his primary tool for change has been a microphone-filled podium on the steps of City Hall. He was there one day last week, leading a press conference to praise council for overriding the mayor's veto on two bills that would bring more oversight to police.
De Blasio is not a natural schmoozer. His 6-foot, 5-inch frame requires a lot of awkward bending, and his booming voice can sound like one-part academic, one-part scold. But he is practiced at emceeing press conferences. He speaks first, then invites up speaker after speaker to underscore his point, answers reporter's questions, and it's a wrap.
Once he steps away from this podium of microphones, his focus shifts to strategy as he walked off with a supporter.
"That more elaborate Jay-Z and Harry thing, first of all, that ain't going to happen," he told a supporter as a campaign aide and I walked beside them. De Blasio looks up and sees I'm still there, with my recorder. "Hold on, are we recording here?" 
This is de Blasio, campaign operative. The guy who was a political strategist for years before deciding to become a candidate himself. The aide tells me they'll see me at the next stop. 
De Blasio's Political/Personal Life
Candidate de Blasio is back an hour later, visiting a senior center in Prospect Lefferts Gardens. The crowd of mostly black Caribbean American seniors is listening politely as the introductions start, but they start murmuring when a teenager in blue t-shirt, basketball shorts, and sneakers makes his way to the front of the room.
"There appears to be a TV star here!" de Blasio said, by way of introducing Dante, his 15 year-old son. Dante has appeared in both of the campaign's television ads so far. He is a hit with this crowd, who lavish him with praise for his poise on camera and the upkeep of his Afro.
De Blasio visibly softens with his son by his side. The two sneak smiles at each other as they work the room, with father occasionally draping his long arm around son.
"Is this your son?" Vincent Lewis, a retiree from Brownsville, Brooklyn asks de Blasio as they pass. "Your real son?"
Before de Blasio showed up, Lewis told me he had decided to vote for Bill Thompson, the only black candidate in the race. After meeting the candidate and his family, though, he tells me he's reconsidering.
"I didn't know who he was. I didn't know he had a black wife with black kids, you know" Lewis said. It made him reconsider his certainty about Thompson. "I might think about it. He seems to be all right with what he says he's going to do."
De Blasio's mixed race family is a central part of his pitch to voters. It's also a core part of his identity, one he made for himself as an adult.
"I had to learn how to be a father," de Blasio told me. Bill de Blasio was raised William Wilhelm. He changed his name to de Blasio, his mother's maiden name, in his 20s, but he was seven when his father left. "For me, I knew him, unfortunately, almost always drunk. I knew him as an alcoholic."
Just as de Blasio fashioned a new name for himself, he also built a new family centered around politics, with his wife Chirlane McCray, whom he met while they both worked for Mayor David Dinkins.
"It's always been a part of who we are. I think the fact that Chirlane and I met in City Hall, that our earliest discussions were about, you know, both of us searching for a way of creating a family that we had not found to that point and also our social commitment. And we knew the two were going to be intertwined. For us, there isn't a separation," he said. "The personal is political." 
That's also the case when we talk about his home life and how he relaxes. He likes baseball, and The Good Wife, the television show about the life of a politician's wife after her husband's sex scandal. He's also a fan of The Wire, the HBO show about crime, corruption and government in Baltimore. I asked his favorite character.
"I love the aide to Carcetti. That's a brilliant and very realistic character," he said. Not the mayor himself. Or the crusading police commissioner. De Blasio picks the mayor's aide, a character whose name he can't remember.
It's fitting, because before de Blasio was ever a candidate for city office, he was that guy. As Hillary Clinton's Senate campaign manager, under Andrew Cuomo when he was Clinton's Housing Secretary, and with David Dinkins, the last Democrat to run the city.
'A Mixed Bag' under Dinkins
Republicans and business interests like to broadly describe the city under Dinkins as the bad old days. I asked de Blasio how he describes the tenure of Dinkins, his former boss.
"He was a good mayor," he said. "I think as part of the administration, I think we did some good things, made some mistakes. It was definitely a mixed bag."
That was all a long time ago, before the Clintons and Andrew Cuomo reconstructed unconstructed liberalism. So I asked de Blasio, the former strategist, if the most progressive candidate in the race can really govern New York City today.
"I call myself a progressive because I think it's the right phrase. I'm someone who is, all my life, fiscally conservative and cautious. I understand government has to function well for people. I understand we have to drive a hard bargain in our dealings with labor, all those types of things," he said. "But I think what is missing is a progressive believes government can be used to protect the public's interest." 
But those hard questions about balancing different public interests don't always make for great fodder on the trail, like when a group of police officers stop and ask de Blasio for a picture on his way out of a mayoral forum in Brighton Beach.
"Just remember the word retro!" one shouted as a playful parting jab.
"Retro, key word retro," laughed de Blasio in response. "He doesn't mean fashion either!"
The cop means retroactive pay, since police, like all the city's major public service unions, are working on an expired contract.
After the joking, De Blasio paused, seeming to consider this could actually turn out to be more than playful banter. "A little negotiation going on in the street," he said to himself.
Then the former campaign hand turns to his young staffers, and the matters at hand.
"Thank you very much. Good briefing guys."
And with that, de Blasio gets into the black SUV to head to the next campaign stop.
For the audio version of a day in the life of Democrat mayoral candidate Bill de Blasio, click on the audio player above. Slide show below.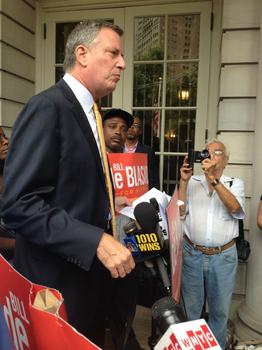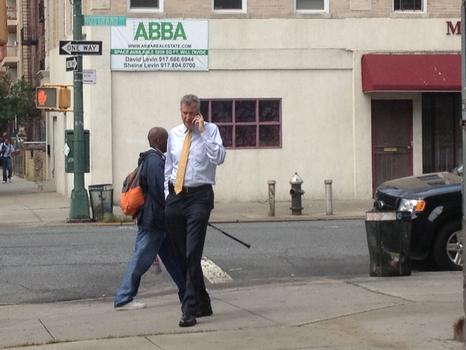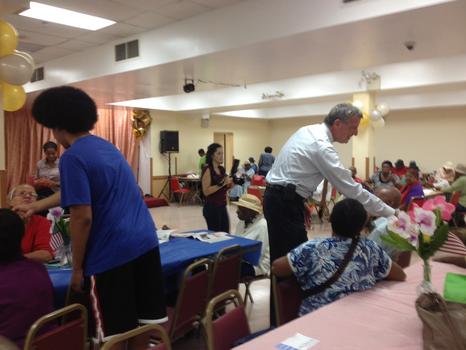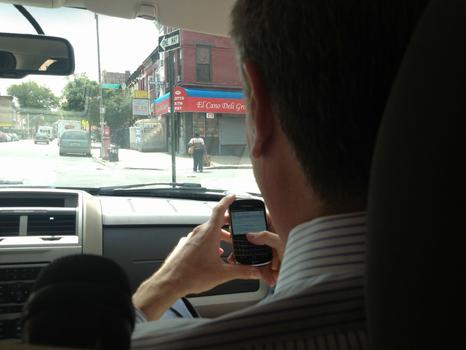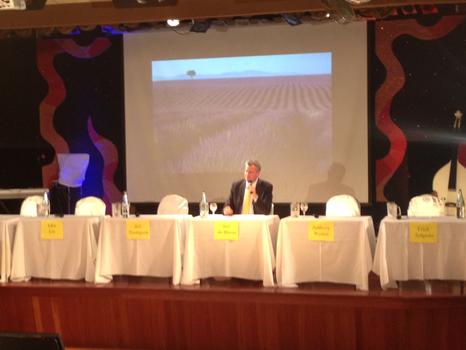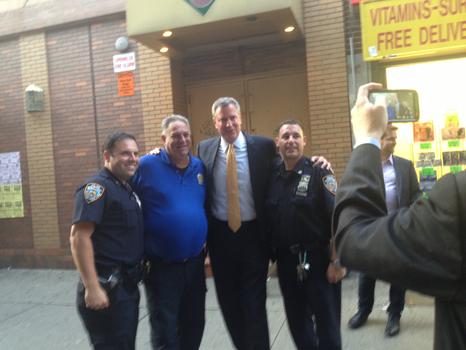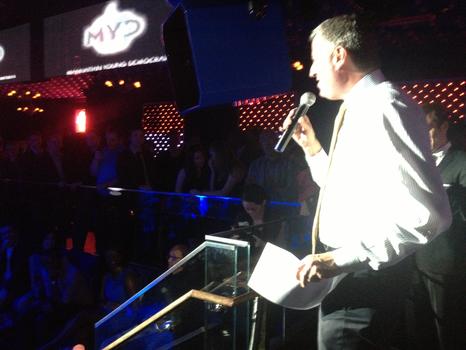 of