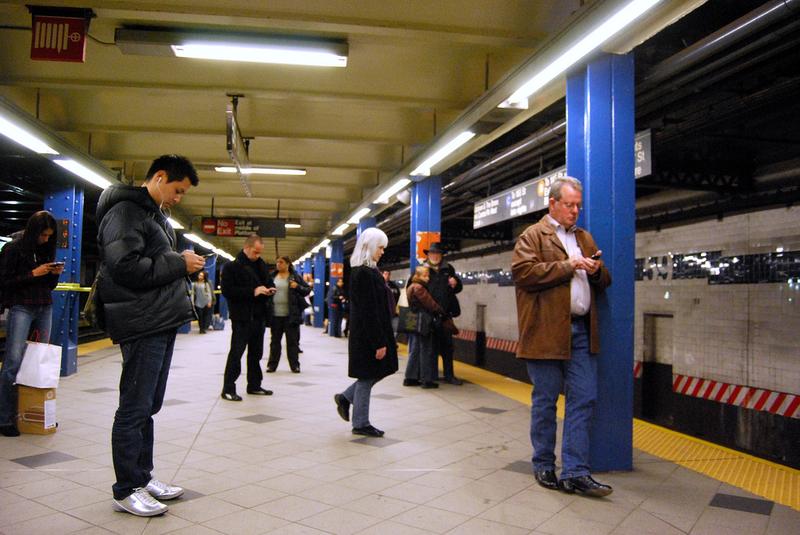 This week, Verizon became the last of the major cell phone carriers to ink a deal to deliver cell service to the NYC subway system. But that doesn't mean all the platforms will be buzzing with incoming calls. 
Wiring the full 277 stations will take at least until 2017. For now, 30 stations in Midtown, Chelsea and the Upper West Side have cell service (36 if you count each line separately in a station like Times Square). Another 40 platforms will be added early next year in Midtown and around Queens.
The NY MTA has partnered with a company called Transit Wireless on the $200 million project that will roll out in seven phases. The MTA expects to earn more than $3 million a year from the contracts — when it's all up and running. 
We're still in phase one now. The final platform will be wired up in 2017, right about the time the Second Avenue subway is scheduled to start rolling. 
Here's a map of where you can dial out from underground, and the list of stations with cell phone service and wi-fi is below. Tweet at us from a subway platform if you're reading this on one right now. @TransportNation Or use the tweet button above. Tell us how good the connection is. 
| | | |
| --- | --- | --- |
| *1 | 23 Street – 8 Ave. | CE |
| *2 | 14 Street – 8 Ave. | ACE |
| *3 | 14 Street – 7 Ave. | 123 |
| *4 | 14 Street – 6 Ave. | FM |
| *5 | 14 Street – 8 Ave. | L |
| *6 | 14 Street – 6 Ave. | L |
| 7 | 96 Street | BC |
| 8 | 86 Street | BC |
| 9 | 28 Street | 1 |
| 10 | 18 Street | 1 |
| 11 | 81 Street-Museum of Natural History | BC |
| 12 | 72 Street | BC |
| 13 | 79 Street | 1 |
| 14 | 23 Street | 1 |
| 15 | 96 Street | 123 |
| 16 | 66 Street-Lincoln Center | 1 |
| 17 | 72 Street | 123 |
| 18 | 57 Street | F |
| 19 | 47-50 Streets-Rockefeller Center | BDFM |
| 20 | 57 Street-7 Ave. | NQR |
| 21 | 28 Street | NR |
| 22 | 50 Street | 1 |
| 23 | 50 Street | CE |
| 24 | 23 Street | NR |
| 25 | 49 Street | NR |
| 26 | 5 Ave.-53 Street | EM |
| 27 | 59 Street-Columbus Circle | 1 |
| 28 | 59 St-Columbus Circle | ABCD |
| 29 | 7 Ave. | BDE |
| 30 | Times Square-42 Street | 123 |
| 31 | Times Square-42 Street | NQR |
| 32 | Times Square-42 Street | 7 |
| 33 | Times Square-42 Street | ACE |
| 34 | Times Square-42 Street | S |
| 35 | 5 Ave.-59 Street | NR |
| 36 | 86 Street | 1 |