For Stringer, A Dash For Dollars -- Not a Coast to the Finish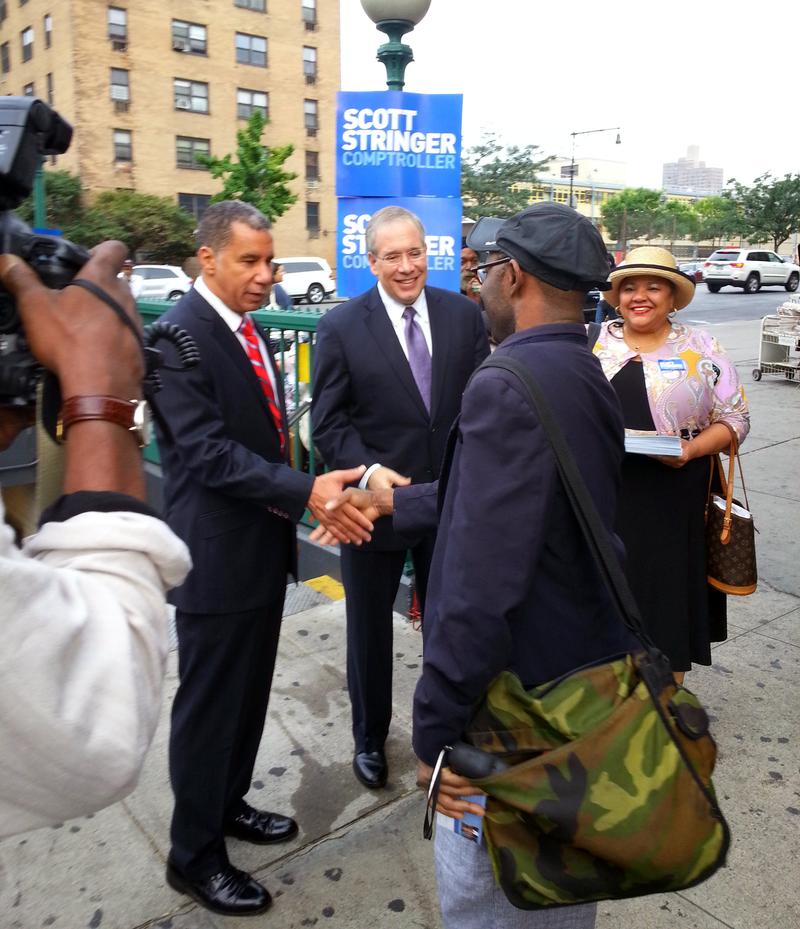 Scott Stringer isn't spending his August the way he'd imagined -- gliding to victory in the Comptroller's race. His staff doesn't get to take vacations. What seemed like a race he could win at a gentle jog has become a sprint as Stringer rushes to raise funds and pack in campaigning after a much more famous opponent - Eliot Spitzer - upended the race. 
On a recent morning, Manhattan Borough President Stringer greeted commuters in Harlem, with an ally at his side: former Governor David Paterson. People lit up when they realized they were talking with the state's first black Governor. But several seemed to be confused about who Stringer was, and who his opponent is.
One woman said she felt bad for Huma (Abedin, Anthony Weiner's wife), another asked about Weiner's attacks on Stringer.
Weiner is running for Mayor, not Comptroller.
"Well first of all that's the problem in this two ring circus. I'm not running against Weiner. I'm running against the other one. Spitzer," Stringer explained to one man. Then he rattled off a list of accomplishments, from ethics investigations to laws against domestic violence.
If you're running for a job that's not mayor, if you don't have scandal attached to your name, it can be tough to make your case.
But Stringer has another problem: money. Eliot Spitzer is rich and self-financing. Stringer is participating in the public financing system, and has less money to spend.
Eleven hours passed between Stringer's morning appearance in Harlem and the next event on his public schedule, an outdoor concert in the evening, in Brooklyn.
"Well you know there's some things I gotta do. I gotta raise some money, man," Stringer said, when asked by a reporter where he had been.
As he worked the crowd, Stringer tried to turn this to his advantage.
"I got a billionaire on me, so I need some help here," Stringer said, to a mainly black, mainly female crowd, which had gathered to see Gladys Knight sing.
Stringer seems to genuinely like meeting people. He's folksy, without seeming fake. But there's another way to get known that's at least as important: advertising. And raising money to pay for ads seems to be taking up more of the time he could be spending courting voters in person.