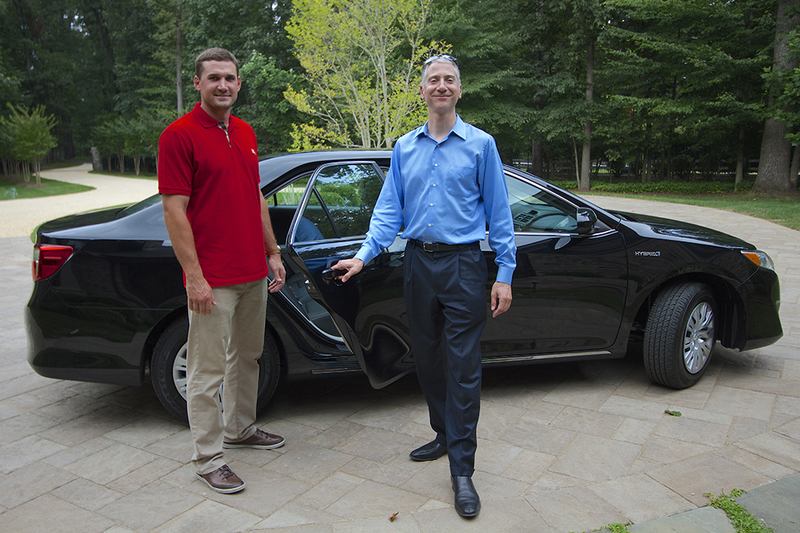 Two weeks after launching a new taxi service in Washington, the popular tech start-up Uber says regulators are shutting it down because the cars are too small.
As we've reported before, UberX was designed to compete with D.C.'s regulated taxicab industry. Its drivers pick up passengers in midsize hybrid vehicles and charge fares comparable to a metered taxi based on mileage calculated using the driver's smart phone.
But the D.C. Taxicab Commission says UberX cars can't do that unless Uber uses larger cars. 
Last year D.C. created a new category of for-hire vehicles that are allowed to operate without meters called a sedan class. Think of it as a luxury livery service you have to arrange in advance. The cars have to be big though, 95 cubic feet or larger, which amounts to SUVs or large town car sedans. 
These larger (and usually luxury) livery cabs and limousines get an "L tag" registration and that's what allows them to be for hire vehicles without a meter. Smaller cars, like a Toyota Camry hybrid, don't qualify and shouldn't get an L tag, according to the D.C. Taxicab Commission. 
Uber is using Camry hybrids and other similarly sized cars with UberX service. So, the Commission says, those cars should be using meters, and be regulated like regular meter cabs or it's unfair competition.
"There is no reason Uber can't comply with present regulations as others are doing, other than Uber's desire to use unregulated vehicles to compete against the same vehicles operating as regulated taxis," says Ron Linton, the chairman of the D.C. Taxicab Commission.
Linton insists the commission is not picking another fight with Uber, which fought for close to a year to ensure that its popular sedan service could operate freely in the city. "The D.C. Taxicab Commission does not fight with the people it regulates," he says.
Matt Mitchell, an economist at the Mercatus Center, calls this regulatory capture. "In this case, consumers are clearly served by these new innovations, but rather than embracing them, the Taxi Commission is far more concerned with the threat these innovations pose to the DC taxi industry."
Linton says Uber is trying to revise regulations to suit its own purposes. Still, Linton may have to make his point to the D.C. Council, as yesterday Council member Mary Cheh tweeted her displeasure with the commission's regulations. "It isn't the job of DC Government to stifle innovation & limit consumer choice by passing unfair regulations," she wrote.
Will UberX pull its cars off the streets? Rachel Holt, Uber's D.C. general manager said, "We will have to make a determination about what makes sense at that time," she says.
For the latest D.C. transpo news, follow Martin Di Caro on Twitter.