SchoolBook
Thompson Supporters Cite His Savviness as Board of Ed President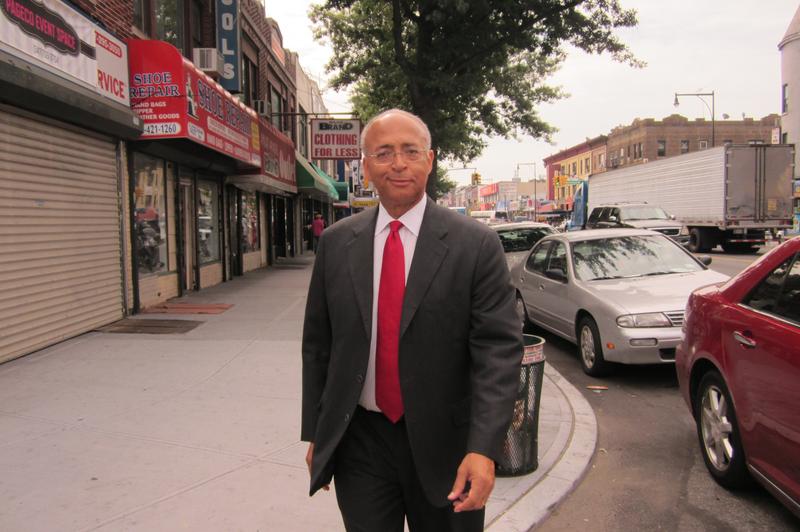 Before Mayor Michael Bloomberg persuaded the state to give him control over the city schools in 2002, the Board of Education was its own entity across the river in Brooklyn. That independence frustrated mayors, especially Rudolph Giuliani in the 1990's, who wanted more control over the schools. Mayoral candidate Bill Thompson was president of the board then, and powerful players in the education world, including the teachers union, say they're supporting him now largely because of the political savvy he demonstrated, knowing when to side with the mayor and when to challenge him -- but always coming out on top.
Hit the rewind button and go back to the summer of 1996 when Bill Thompson took part in a coup at the Board of Education that surprised even longtime observers. The board's president had gone on vacation, expecting to be re-elected upon her return.  But she came home to learn she no longer had the votes.
"To me it was a dastardly political deed done in the old club-house style," said Jill Levy, who was executive vice president of the union representing city principals at the time. 
But others recall a board president, Carol Gresser, who had lost the support of then-chancellor Rudy Crew and Mayor Giuliani, prompting the search for a replacement who was less contentious.
"It wasn't a question of stabbing anybody in the back," Thompson said when asked about the incident. "It was a question of making it about the children."
A politic answer from a seasoned politician running for mayor for the second time. Interviews with colleagues from his Board of Education days revealed a man generally seen as likable but also effective, to a point.  
The selection of Rudy Crew as schools chancellor in 1995 is a classic example of Thompson's approach at the B.O.E.
Former Chancellor Rudy Crew with Reverend Johnny Ray Youngblood at the Board of Education (Rick Poll/Flickr)
At first, Thompson appeared ready to support the mayor's choice for a replacement, Kingsborough Community College president Leon Goldstein. But Goldstein was investigated amidst allegations of patronage and resume padding. As complaints about him mounted, three other board members rallied behind someone they thought was more qualified, angering Giuliani. Thompson held out, causing some people to question his independence from the mayor.
Goldstein withdrew his name from the chancellor search before there could be a vote. Looking back on the chapter, Thompson explained his perspective.
"I was not looking for someone who is going to be at war with the mayor coming in," he said. "At the same point I wanted a strong educator, I wanted somebody who would have an educational vision. And somebody that we possibly could compromise on. That person became Rudy Crew."
Thompson points to Crew's success in creating a chancellor's district for low performing schools, something Thompson still sees as a model. The teachers union agreed to work a longer day in these schools for higher pay, and their test scores began to rise.
"It was a win, win, win situation," said former teachers union president Randi Weingarten.
The detente with City Hall ended when Crew refused to go along with the mayor's plan to grant publicly funded vouchers for students to attend private schools. By January of 2000, Crew was gone. This time, instead of offering a compromise or supporting the mayor's candidate, Thompson got enough board members to approve his own choice: Harold Levy.
A Wall Street lawyer and member of the state's Board of Regents, Levy said Thompson showed "masterful skills" in persuading his fellow board members to side against Giuliani. Throughout his two and a half years as chancellor, Levy said he relied on Thompson to win the support of politicians, the unions and especially the other board members in setting education policies such as summer school and a new math program.
"There was a one-vote majority and there was always a board member who wasn't quite in agreement," he recalled. "And Bill made sure that on every, every item that mattered there'd be a majority."
Several observers said Thompson was also the one who helped Albany give the chancellor more control over the school system's 32 superintendents, which paved the way to mayoral control of the schools. But Thompson's detractors are skeptical about how much he really did behind the scenes. They view Thompson as just another politician who knew how to work the system in order to advance himself.
Eric Nadelstern, a professor at Teachers College and a former deputy chancellor who worked in the Bloomberg administration, said Thompson's five years leading the board didn't add up to much.
"When Thompson became board president, the graduation rate in New York was 50 percent give or take a percent or two," he said. "When he left in 2001 it was 50 percent give or take a percent or two."
Today, the four-year graduation rate is over 60 percent. But polls show most New Yorkers do not think the school system has improved very much, despite mayoral control and Bloomberg's overhaul of its management structure.
As Thompson makes his second run for mayor, pledging to make a difference in education, the question is whether voters will see his experience at the helm of the old system as an asset or a liability.