Soundcheck
Players On Players: Songwriter Erin McKeown Meets Football Player Wade Davis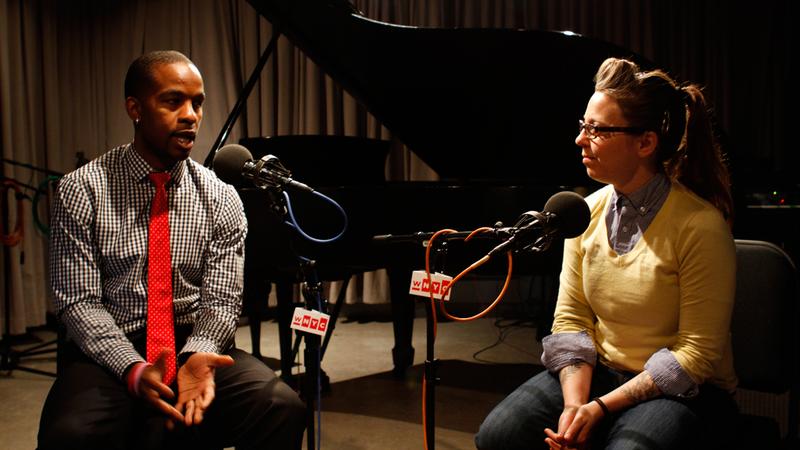 Here at Soundcheck, our conversations about music often incorporate politics, pop culture, and occasionally, cats. But when the conversation turns to sports, musicians often speak more passionately about a favorite athlete than they do about a brand-new album.
That got us thinking. Perhaps athletes would rather talk about a hot new artist than about, say, their career stats? We wondered would happen if we paired a musician who loves sports with an athlete who loves music – and turned on the mics.
For the next two days, we're asking you to sample an experiment from the Soundcheck test kitchen called Players On Players -- and tell us what you think. 
For the first installment, we introduced singer-songwriter (and Soundcheck contributor and guest host) Erin McKeown to ex-pro football player Wade Davis, whose career in the NFL ended in 2003. Last year, he revealed that he is gay and began talking publicly about his experience as a closeted athlete. 
Sexuality emerged as the big topic in McKeown and Davis' conversation. They spoke just days after NBA player Jason Collins became the first active player in one of the four major American sports to come out of the closet. However, their discussion about Collins eventually veered into more personal territory.
"Music has always played a role in me being okay with my sexuality," Davis told McKeown. "Like the fact I like to sing Beyonce or dance to Gaga or do all these things that the stereotypical straight man won't let himself do."
Davis also shared a touching-yet-funny story about a Whitney Houston song that plays a key role in his own sexual identity. (Take it from us, you just have to hear it.)
For McKeown, who was on the field hockey, tennis and swim teams in high school, playing sports plays a role in her creative process.
"My best days are when I spend all day working on a piece of music… and maybe it doesn't go well," McKeown reflected. "Then I go play softball at night and just want to hit the crap out of the ball."
Their conversation traveled to places no one expected -- hair care and Southern accents, for example. In addition, Davis played a guitar for the first time and McKeown learned the proper way to tackle a person. A sing-along took place.
Listen to the full episode here, then tell us what you think. You can email us (soundcheck@wnyc.org), leave a message at 866-939-1612 or post your comment below.
MORE ABOUT THE PLAYERS
Singer, songwriter and producer Erin McKeown released her first album while she was still a student at Brown University. Since then, she has released eight studio albums, toured like crazy and hosted her own online TV show, "Cabin Fever." She has appeared on Late Night with Conan O'Brien, Later with Jools Holland, NPR, BBC and has placed her songs in films, TV shows and commercials. She has even written a song via text message with her friend Rachel Maddow, which appears on her latest record, Manifestra.
Former NFL defensive back Wade Davis was drafted by the Tennessee Titans in 2000. For the next four years, he played for the Titans, Seahawks and Redskins while keeping his sexual orientation a secret. After he retired, Wade announced that he was gay and now speaks widely about closeted athletes. He also works with LGBTQ youth at the Hetrick-Martin Institute in New York and launched the YouBelong Initiative sports camp.
The Players on Players production team includes Joel Meyer, Jacob Kramer-Duffield, Rebecca Lehrer and Chris Bannon.