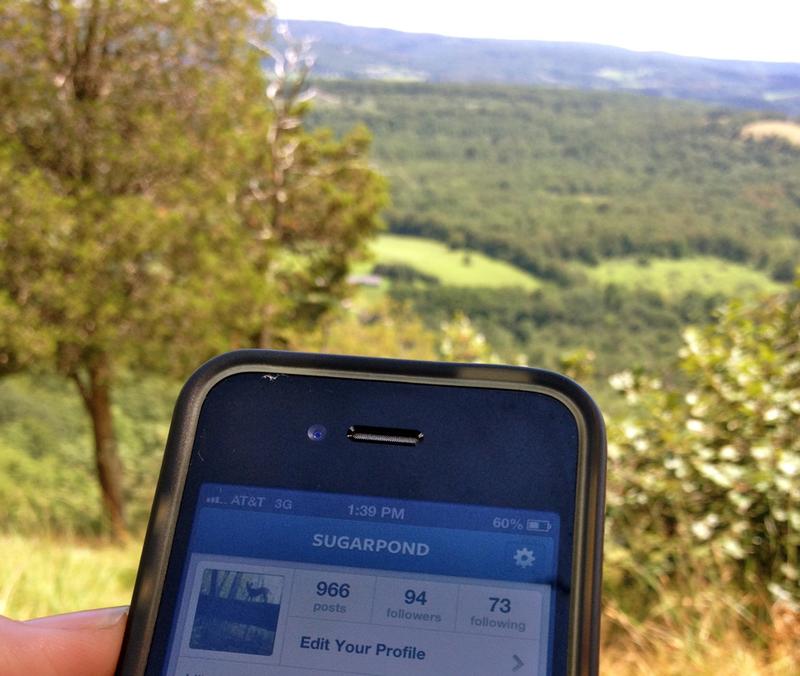 The blog post is by WNYC videographer Amy Pearl. 
In August, life is supposed to slow down. But in the city, things never seem to let up. So I thought, why not get away from it all? Go out into the woods and hike the Appalachian Trail for a couple days with just my dog Cola for company. Totally unplugged. Well, almost.
The AT passes through some of the most densely populated areas of the United States, dipping into towns and crossing roads. I was joining up with it near Pawling, New York in Dutchess County.
I parked the car and put on my pack. I got Cola into her pack, too. I could see the big white blaze marking the trail and we started walking.
I knew I would run into other hikers and I wondered how they stay connected while trying to get away from it all.
I could still hear the road when I ran into three people, a group of thru-hikers attempting to complete the entire 2,180-mile trail in one go, a feat that takes about six months. They were Northbounders, heading from Georgia to Maine. By the time I met them, they'd been hiking for about four months. 
To my surprise, every one of them was carrying a cell phone. Including Smiley. That's not his real name by the way.
"It's a trail name," Smiley told me. "We don't generally use our real names out here. It's sort of a different persona I guess."
There was also Argo, from Cleveland: "I do a lot of Facebook, a lot of blogging, photo editing, and I really think it helps people connect back home to know what I'm doing, to know that I'm safe."
Above: Argo, Jay Hawk and Smiley
Jay Hawk actually upgraded to an iPhone during the hike.
"It's actually my first iPhone. My first phone broke and I had to get a new one and I had an upgrade and this was like 99 cents."
Smiley told me that almost everone he met on the trail had brought a cell phone along.
I asked him if he was on the trail to get away from it all. His answer: "Not really." 
Blogging, photo editing, buying phones? This was a bit of culture shock. These hikers had been roughing it for almost 1500 miles — sleeping out, walking through the rain — yet they were comfortable having technology in the mix.
Buttercup from Seattle explained it this way: "A lot of people, when they go on a shorter hike, they just turn off their phones or they leave it in their car. But I think for such a long hike, my family would be worried about me."
She told me that she'd just been thinking how people who hiked the trail before digital technology would have had a hard time getting a hold of people.
Above: Buttercup and her dead phone
Down South, hikers can go for days without a signal, but up here cell service is pretty good. All the thru-hikers I met had their cellphones and they all used them to stay connected. And I met a lot of them: Nutella, Red Specs, Browntown, Crank. After all, as St. Croix explained to me, the trail may be more than 2,000 miles long, but it's only about three feet wide.
St. Croix (pictured below) is from Wisconsin, where he works as a heavy fabrication welder. He uses his phone mainly to contact other hikers.
"If it wasn't for the people you meet out here, it would just be a long walk somewhere," St. Croix said. "The people are what make it. It's awesome."
I saw that he had some kind of device attached to his backpack, so I asked St. Croix what other technology he had.
"I got the iPod, and I got a small rechargeable external speaker that I make music with out here," he told me. "I wouldn't say it gets monotonous, but having a little music to add to the soundtrack of life out here is pretty awesome."
A couple of hours later after setting up camp and making a traditional trail dinner of ramen noodles, I was lying in my tent and listening to the night sounds, when my dog started growling. I shined my flashlight out into the woods but couldn't see anything. I glanced at my phone and thought of something Nutella said to me earlier in the day about how she uses her phone on the trail.
Above: Setting up the tent
"Sometimes when I'm sleeping in my tent alone, I keep it by me. It makes me feel safe, but it's a false security because I don't really get signal a lot."
Suddenly my phone started ringing. It was my mom calling to check on me. We talked about the hike, and she told me about what she had for dinner. I felt like I was sitting on my couch back in Brooklyn. And I wasn't afraid anymore.
Above: The Metro-North train station where you can catch a train to the city on Saturdays and Sundays
Near Pawling, NY, the Appalachian Trail crosses the Metro-North train tracks. There's a roofed information shed with trail maps and flyers. I found Brain Damage and Big Spoon there, sheltering from the rain.
We talked about "getting away from it all" over the din of traffic from nearby Route 22, and they both told me they hadn't planned on bringing a cell phone prior to the trip.
"But, like, you definitely want to call your family. You want to stay in touch," Brain Damage told me.
Big Spoon added: "We're so close to roads every day. We cross a million roads every day. We're so close to town, I always have cell phone service."
Above: Brian Damage (left) is from Florida. Four months ago he thought he would quit in the first week or go all the way. Big Spoon is hoping to meet up with some friends in New York State.
Most of the hikers I met were in their twenties, and unplugging wasn't part of their plan. Maybe it was just a generational thing?
The rain let up for a bit, and I ran into Sticks, 65, and Four Trees, 67. Both men are from Rochester, Michigan, and they're hiking the trail in sections, doing a little bit each year. This year they planned to go from Pennsylvania to New Hampshire.
Above: Sticks and Four Trees 
I asked them about technology on the trail, and Four Trees shared an interesting anecdote about McAfee Knob in Virginia. It is an iconic spot. Its silhouette is on the Appalachian Trail license plate for the state.
"It's the most picturesque ledge on the AT. I get up there and there must be 20 people on the ledge," Four Trees said. "They are all sitting there texting their friends and I'm thinking, 'I just don't get it.' I would just sit — as I did — and just look at the valley and they're all on their iPhones and I thought 'OK, I'm a different generation.'"
Neverthless, the two friends do have an iPod, an iPod mini and a cell phone. They text their spouses, listen to music and read books. They even download movies to watch on rainy nights in the tent.
"Out here I probably use my iPod and Mini more than I do at home," Four Trees confessed.
The rain started coming down again, harder than ever, and even though my smartphone told me it wasn't even 5 o'clock, Cola and I started looking for a place to pull off the trail, set up the tent and dry off. I also had a voicemail from my mom — so I thought I should probably call her back.
As I walked along in the rain, I pondered the changes the culture of connection was bringing to my little walk in the woods. 
I was reminded of something Four Trees told me: "It's life. That's just the way things are and you're not going to change it. So you'll just learn to adapt."
When Benton MacKaye suggested the creation of the Appalachian Trail back in 1921, he wrote: "Life for two weeks on the mountain top would show up many things about life during the other fifty weeks down below."
So, on my second night getting back to nature in the woods on West Mountain above Pawling, listening to the rain on the tent, I snuggled up in my sleeping bag with my dog, leaned back against my pack and settled down to watch a movie on my iPhone until my battery ran out.