Trying Out Micro-Apartments at the Museum of the City of New York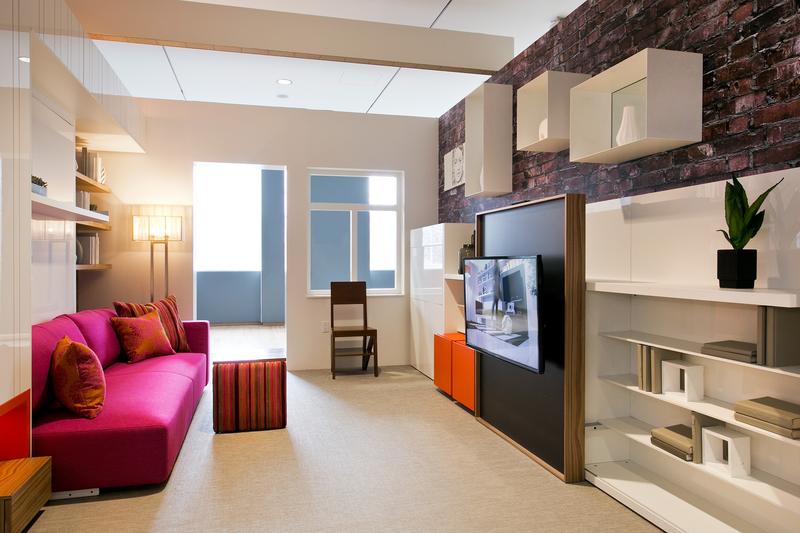 Some New Yorkers may soon be living in apartments roughly half the size of a city subway car. So the Museum of the City of New York decided to install one and have some New Yorkers try them out.
Over a four-day period this week, five locals are taking turns living in the micro-unit apartment that the museum set up back in January. That month, Mayor Michael Bloomberg had announced that the city's contest to find a micro-unit design of about  250 to 400 square feet had found a winner: Actors Fund Housing Development Corp, and nARCHITECTS will build the city's first 55-unit micro-apartment building in Kip's Bay.
The winning design, which is being showcased at the museum, has a bedroom, kitchen, dining room, living room and office. To maximize the space, the exhibition uses multipurpose furniture such as a bed that folds into the wall to become a couch and a bookshelf. 
Museum intern Taylor Jones is testing out the apartment by living in it with a colleague for 24 hours, from Thursday evening to Friday night. She said she could definitely see herself living in the micro-unit full time.
"I haven't encountered many challenges," Jones said. "Everything has been so easy."
The 20-year-old is currently living in a dorm suite at the Pratt Institute in Brooklyn. She said the exhibition's micro-apartment would be a step up from her current living situation. 
The exhibition will be open until September 2.