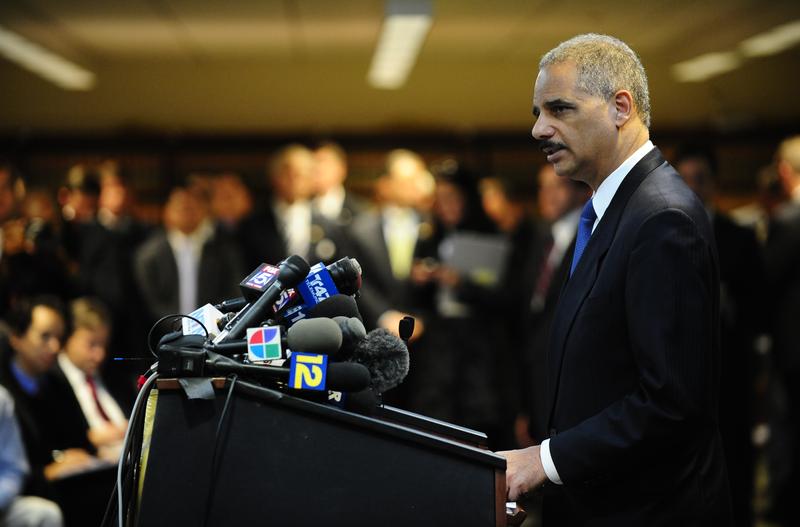 On this week's episode of Gabfest Radio from Slate and WNYC, Political Gabfest panelists David Plotz and Emily Bazelon are joined by very special guest Paul Sabin, an associate professor of history at Yale University and author of The Bet: Paul Ehrlich, Julian Simon, and Our Gamble Over Earth's Future. (He also happens to be Emily's husband.)
As the fighting in Egypt grows more violent, David, Emily, and Paul discuss President Obama's constrained foreign-policy choices. And they discuss the significance of Attorney General Eric Holder's gesture toward sentencing reform.
Then on the Culture Gabfest portion of the show, Stephen Metcalf, Dana Stevens, and Julia Turner discuss Clear History, the new HBO feature film starring Larry David. In Clear History, David plays essentially the same self-parodying, disgruntled master of pettiness he plays in Curb Your Enthusiasm, though that's not necessarily a bad thing. Lastly, it's Summer Strut time! The 2013 Summer Strut Playlist is here—you can stop walking down the street in that melancholic earbud cocoon and emerge as the strutting, fully metamorphosized rock star you were always destined to be.
Join the Gabfest discussion all week long at the Political Gabfest Facebook page and the Culture Gabfest Facebook page.
Here are links to some of the items mentioned in this week's episode:
POLITICAL GABFEST (Click here for this week's full episode at Slate):
It's time for President Obama to admit that he has no influence with Egypt's generals, writes William Dobson.
Eric Holder's plan to lower sentences for some drug offenders should go further, writes Emily.
Emily cites an Economist report that says, "One in every hundred American adults is now in prison." A 2008 Pew report reported a similar statistic—but, as David wondered, that number does include the population of local jails in addition to all federal and state prisons. Of 230 million American adults, Pew found that 2,319,258 were behind bars at the end of 2007; 1,596,127 were incarcerated in federal or state prisons, and another 723,131 were in local jails.
As of the end of 2012, the Bureau of Justice Statistics reports that 1,571,013 individuals were incarcerated in a federal or state prison. (Also worth noting: Some states don't distinguish between their jail and prison populations, according to the BJS.)
CULTURE GABFEST (Click here for this week's full episode at Slate):
Clear History on HBO.
Director Greg Mottola.
Curb Your Enthusiasm.
Willa Paskin's review of the film, for Slate.
The Summer Strut favorites talked about on this week's show include:
Pharrell Williams' "Happy."
Camera Obscura's "French Navy."
The Very Best's "Julia."
Robyn's "Hang With Me."
Ruby and the Party Gang's "Ruby's Surprise Party."
YACHT's "Psychic City."
Laura Mvula's "Green Garden."
Quinteto Ternura's "Leao de Bronze."
Passion Pit's "Carried Away."
Strut along to the Summer Strut 2013 playlist on Spotify. And here's a text version of the list.
Endorsements:
Dana: John Oliver on Charlie Rose and hosting the Daily Show.
Julia: "The Wire" by HAIM.
Stephen: Wilco, Nick Lowe, and Mavis Staples covering "The Weight."
End Music: Wilco, Nick Lowe, and Mavis Staples play The Band's "The Weight."