Democratic Candidates for Public Advocate Face Off in First Debate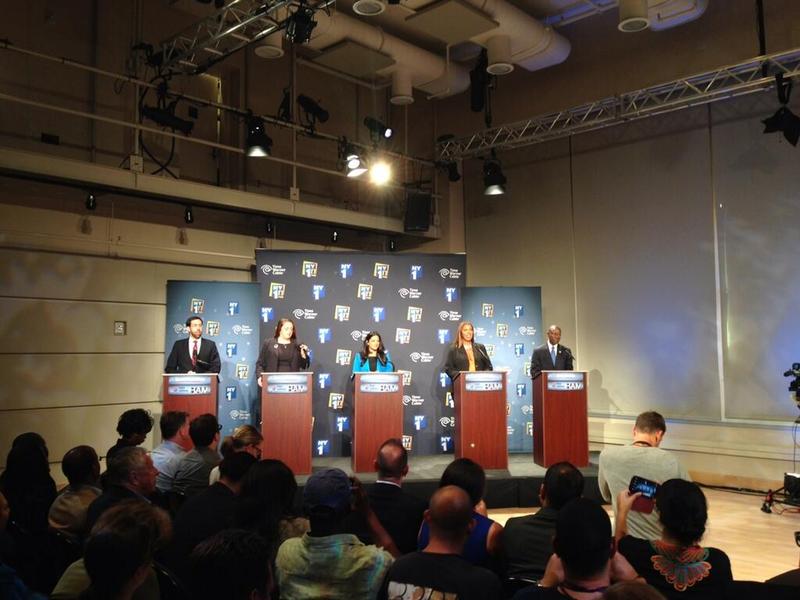 The five Democratic candidates running to become the next public advocate — known as the city's watchdog — faced off in a debate at the Brooklyn Academy of Music.
Three of the candidates — City Council Member Tish James, State Senator Daniel Squadron, and former deputy public advocate Reshma Saujani — touted their experience in government.

Sidique Wai, an advisor to police commissioner Ray Kelly, and university professor Catherine Guerriero said they were proud of their status as relative outsiders when it came to politics.

After this week's court decision on Stop and Frisk, the candidates also offered differing views on the policy.

City Council member Tish James called for doing away with Stop and Frisk altogether.

"Unfortunately Stop, Question and Frisk in the city of New York has become a perverse rite of passage for little boys of color and we need to end it," she said, adding that her nephew had been stopped and frisked.

Saujani also said that Stop and Frisk should end, while Squadron called for major reforms to the policy as well as to the state's marijuana laws.

On the other hand, Guerriero, who has been endorsed by the Patrolman's Benevolent Association, and Wai emphasized the value of Stop and Frisk and said they oppose council bills designed to reign in the policy.

On education, Squadron said he planned to strengthen the role of community education councils.

"My wife, who's here today, and I have a two year old. He's going to go to public school and if we're told we have no role in his education we're going to pull our hair out," he said.

James called for a moratorium on school closures and co-locations with charter schools.

And Saujani touted a program she created for teens called Girls Who Code and promised to enhance technology training in city schools. In general, she pledged to devote more of the public advocate's resources to advancing women. 

"We need to have paid parental leave, affordable day care, and really close the pay equity gap," she said.

The candidates also took swipes at each other, with James questioning Saujani's career as a financial services lawyer and Squadron's legislative accomplishments in Albany.

Saujani and Squadron accused James of ethical lapses in the financing of her campaign.

The public advocate is first in line to succeed the mayor if he or she becomes unable to serve. The advocate can also introduce legislation in the City Council and make appointments to boards and commissions.

The candidates will debate again on August 25th.