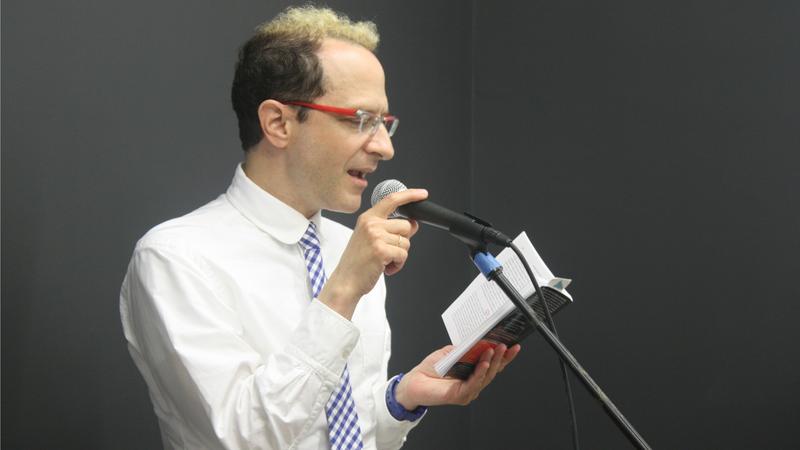 Wayne Koestenbaum is a writer, poet, and cultural critic. Over the last few decades, he's written about culture as he sees it, covering subjects as wide-ranging as Andy Warhol, opera, and Susan Sontag. New York Magazine once called him "the philosopher of fabulousness." Now, he has a new collection of personal and critical essays, My 1980s and Other Essays. He talks about his new book and shares a diverse playlist that ranges from Blondie to Jessye Norman.  
Interview Highlights
Wayne Koestenbaum, on choosing to write about the 1980s:
It's the decade that I stopped listening to pop music, I confess. After Blondie's "Call Me," I retired that part of my life. It's the decade when I discovered opera. It's the decade of AIDS — sad to say, but true. It's the decade of Reagan. For four of those years I lived in New York City and feel like I saw it all, but as I say it my essay, I didn't go to one Andy Warhol opening — a fact I regret.
On his affinity for classical music:
Musically, the '70s, when I was a teen, were also formative for immersion in classical music. I would say that my musical tastes were hardwired with Bach, Brahms, Beethoven, [and] Schumann in that era. I grew up in San Jose, California, which was a bit of a backwater, or was then. Living on the east coast and living in New York City exposed me to hotter cultural currents. And I continue to expand.
On Debbie Harry of Blondie:
I think Debbie Harry was my last heterosexual crush — maybe the culmination of my heterosexuality. I remember… buying Penthouse Magazine for the interview with her. It was her face. As I say in her essay, I'm really into big faces and small noses. And wide-spaced eyes. But it is also her voice and her irony.
Wayne Koestenbaum's Playlist
Blondie, "The Tide Is High" from Autoamerican
Blondie, "I Didn't Have the Nerve To Say No" from Plastic Letters
Anna Moffo  - "Cinq Poèmes de Baudelaire, #5, La mort des amant" (Claude Debussy) from Songs of Debussy
Leontyne Price, "Tu vois le feu du soir (Miroir brûlants #1)," (Francis Poulenc) from A Program of Song
Jessye Norman, "Fruhlingsnacht" (Robert Schumann), from Frauenliebe und Leben / Liederkreis
Wayne Koestenbaum will appear for conversations at Greenlight Bookstore on Thursday Aug. 22nd and at McNally Jackson on Tues. Aug. 27.