The Takeaway
Violence Escalates in Egypt With Pro-Morsi "Massacre"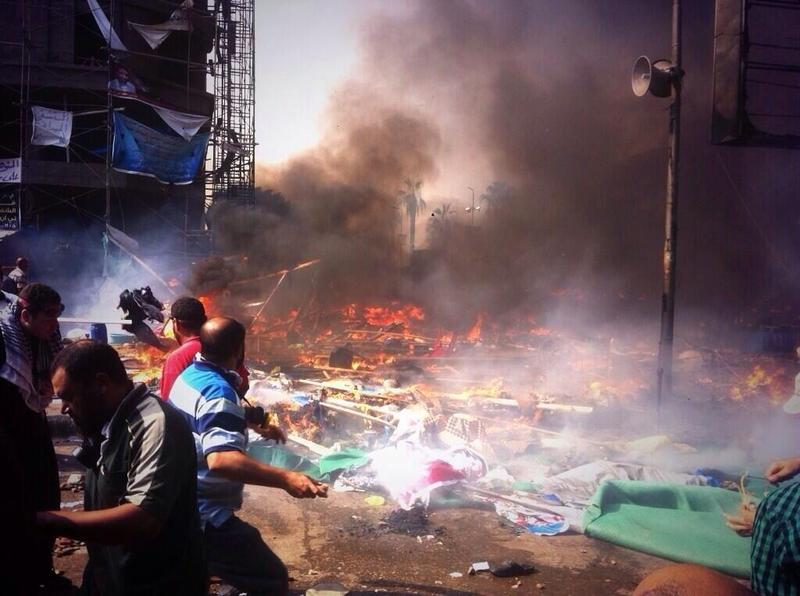 Violence in Egypt is escalating as Egyptian security forces clash with supporters of ousted President Mohamed Morsi.
Egyptian military forces cleared out two pro-Morsi camps in Cairo overnight, and there are reports of armored vehicles, bulldozers and tear gas being used by government forces against the supporters. There are also unconfirmed reports of dozens of fatalities. Muslim Brotherhood officials are calling the situation a "massacre."
David Kirkpatrick, who is in Cairo for our partner the New York Times, is describing a sense of the chaos on Twitter:
Blocks from Rabaa sit in in Cairo, soldiers are firing live ammunition at a lone young man throwing rocks from a roof

— David D. Kirkpatrick (@ddknyt) August 14, 2013
In Egypt Rabaa sit in, Morsi supporters outside have no weapons but are attempting to make Molotov cocktails, break rocks... Futile

— David D. Kirkpatrick (@ddknyt) August 14, 2013
Kirkpatrick also says the number of dead bodies in a makeshift morgue nearby rose from three to 12 in the 15 minutes he was there—these reports are backed up by pictures of what appear to be dozens of dead bodies.
It would appear the violence is not restricted to the capital. Churches have reportedly been set on fire in other parts of the country. So far appeals for calm are being ignored. Kirkpatrick says that Egypt's most respected Muslim cleric, the Imam of Al Azhar, has made a televised statement calling for an end to the violence.
Louisa Loveluck, a freelance reporter based in Cairo filing for the Global Post, explains the situation on the ground.
Stay up to date with The Takeaway—become a Facebook fan & follow us on Twitter!