Dems Sharpen Attacks in Mayoral Debate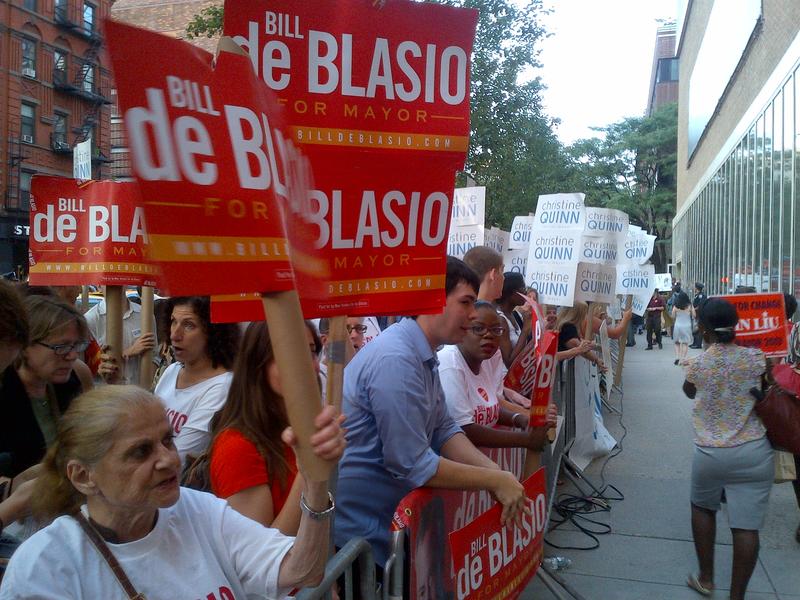 Five of the Democratic candidates for mayor debated for the first time on network television Tuesday night. In a campaign season that's been packed with almost daily mayoral forums, the candidates are well-practiced when it comes to laying out their positions on the issues. But with less than four weeks until the primary, they're sharpening their attacks on each other.
The first question to the candidates was on the topic of the NYPD's use of stop and frisk. Council Speaker Christine Quinn said her administration would end what a federal ruling deemed unconstitutional stops. Next week, she said the Council will override Mayor Bloomberg's veto of a bill that would create an independent Inspector General for the NYPD.
It's one of two police reform bills passed by the Council. Public Advocate Bill de Blasio criticized her for not supporting both bills.
"She voted against a ban on racial profiling," said de Blasio citing the other bill that passed the Council. He also attacked her willingness to keep Ray Kelly on as the police commissioner calling him, "the person who is the architect of the overuse of stop and frisk that's caused such harm in this city."
The only candidate who has consistently called for an all out ban of the practice is City Comptroller John Liu. He took a swipe at former comptroller Bill Thompson, who has been speaking out more against racial profiling, citing the death of Florida teenager Trayvon Martin. Thompson has stopped short of calling for an all out ban on stop and frisk. Liu used the debate stage to seize on his nuanced position.
"Now we have some Billy-come-lately's who now say they're against stop and frisk when in fact they continue to support the status quo, that there needs to be some stop and frisk," charged Liu.
The candidates also collectively went after Quinn for overturning term limits, allowing Mayor Bloomberg a third term.
"Speaker Quinn betrayed the people of the city New York and undermined democracy and that's a fact," said Thompson who narrowly lost to Bloomberg in 2009.
Quinn acknowledged that some people opposed her decision on term limits, but she consistently tried to bring the focus back to her accomplishments in City Council, and she let loose on the records of her opponents.
"Bill Thompson doesn't want us to remember that when he was comptroller our pension funds performed worse than similar pension funds across the country, in the bottom third," said Quinn.
WABC moderator Bill Ritter attempted to cut her off, but she wasn't done.
"Bill de Blasio doesn't want you to remember that he never passed a bill that would help schools or to create a job," Quinn added saving her most stinging attack for former Congressman Anthony Weiner. Quinn said, "there's just a whole lot of things he doesn't want us to remember."
Weiner tried to strike out as the independent, who would bring change to City Hall, and lashed out at the current front-runners saying that the only difference between Quinn and de Blasio was that Quinn was more successful.
"They made the same promises to the same people. She was elected Speaker and Bill hasn't gotten over it," Weiner said.
Weiner is now a polling in a distant fourth place in the latest Quinnipiac poll. Quinn dropped to second, six points behind de Blasio, who's currently in the lead.
The candidates debate again next Wednesday in the first mayoral debate administered by the New York City Campaign Finance Board. It will air live on WNYC and NY1 starting at 7 p.m.