Note to Self
Social Bicycles Brings 'Smart' Bike Share to Hoboken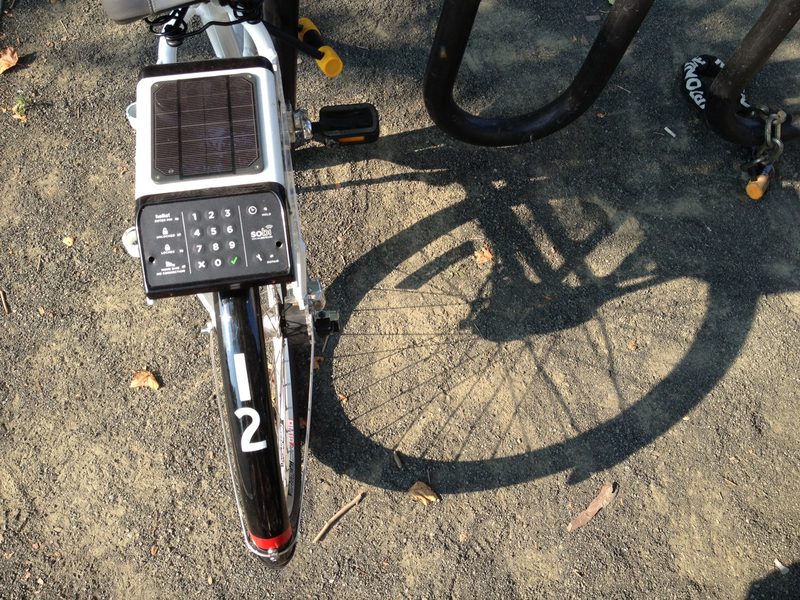 As New Yorkers get used to blue Citibikes and their docks and kiosks on streets in parts of Manhattan and Brooklyn, Hoboken residents across the Hudson are experimenting with a wildly different model for how to share bikes. 
Social Bicycles — a startup based in Manhattan — is partnering with Hoboken on a 25-bike pilot program this summer and fall. Unlike Citibikes, Social Bikes are 'smart': All of the communications technology is housed on-board in a solar-powered box above the back wheel. 
"The same way your cell phone has a cell phone connection, so does each of our bikes," says Social Bicycles co-founder Ryan Rzepecki. "There's some really powerful advantages to that."
Rzepecki's bikes collect real-time GPS data, so his company can pinpoint the location of any bike at any time. That makes tracking a missing or stolen bike as easy as logging on to a secure website and looking at a map, and it could help a city like Hoboken re-design its transportation infrastructure. 
"Understanding where bicyclists are riding — and just as importantly, where they aren't riding — can be a tremendously useful planning tool," said Hoboken Mayor Dawn Zimmer. "It will allow us to focus our resources regarding network upgrades and bike parking needs so we can make our streets safer and more accommodating."
Not everyone has such faith in the power of real-time GPS, however. New York City's transportation department says it's superfluous. 
"NYC Bike Share is incorporating GPS in the coming year to collect general information, not for real-time tracking, which is not necessary for system operation," DOT spokesman Seth Solomonow wrote in an e-mail. 
The Social Bikes technology could also help with the onerous process of bicycle redistribution. In most bike share programs, including New York's, bikes pile up in popular spots and have to be trucked back to other docks, which costs money and time. 
Social Bicycles have an integrated U-bar that allows them to be locked to any rack or pole, so there are no docks.
The company works with partner cities like Hoboken to define geofenced zones called "hub locations" where the bikes can be locked up, and it has devised a way to shift bikes via pedal power.
"To guide the redistribution of bikes, we provide incentives," Rzepecki says. "If you lock up outside of a hub location, you can do so, but you're paying an extra charge, and the next user to take that bike and bring it back to a hub that needs a bike, gets a credit."
In the case of Hoboken, users lose $5 if they lock up outside a hub and make $5 if they move a misplaced bike back to a hub.
Rzepecki says this model can be refined as needed so busy hubs could be made bigger with a click of a button or the incentive structure could be adapted to encourage users to move bikes to specific hubs that need bikes.
Aside from offering a quick way to make $5, all this technology helps riders find and reserve bikes and track and even tweet their rides. Riders can reserve a bike from a web browser or smartphone app or simply by typing a four-digit PIN on a keypad on the bike's on-board computer.
Rzepecki calls Social Bicycles "a lightweight social network." After a trip, riders can view maps of the ground they covered, see their friends' trips and statistics and share it all on social media right through the Social Bikes interface. 
"There's an embedded social component within the site, and then we're pushing out the activity to the other social networks as well," he says.