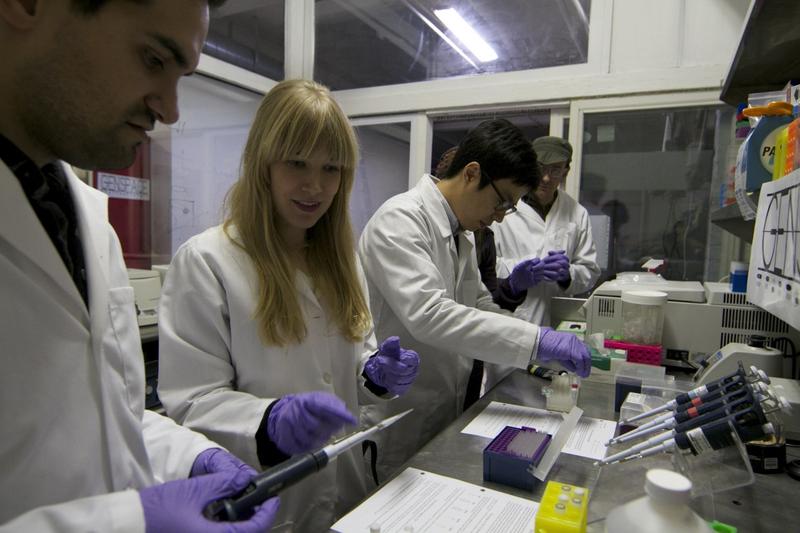 At the Genspace community biolab in Downtown Brooklyn, citizen scientists are coming together to explore the basics of biology — and maybe discover something that will transform our lives. 
The students and tinkerers at the lab work with genes and other materials on what co-founder Dan Grushkin calls their "pet biotechnology projects." There's a big granite table for experiments and an industrial fridge full of bacteria.
Members pay a fee to use the space, and there are classes that teach the basics of biotech to the general public, which the lab's supporters say helpgenerate meaningful scientific research. 
"The benefits of having a garage biology or amateur biology movement grow is they start thinking outside the box," said Art Caplan, a bioethicist at New York University. "They aren't bound by the accepted wisdom. They don't care what their elders say can and can't be done."
One of those tyros is Wilhelm Joys Andersen, a software engineer who attends a class at Genspace called "Pizza and PCR" where students sequence DNA and hang out over beer and a pie. 
"I actually have no idea what I'm doing," he said. "I'm a software guy and this is all hardware."
The lab is strictly Biosafety Level 1, so newbies like Andersen and everyone else who uses the lab only work with non-pathogenic organisms as they try to come up with the next big thing in biotech.