Last Chance Foods: Hot, Hot Heat — And Flavor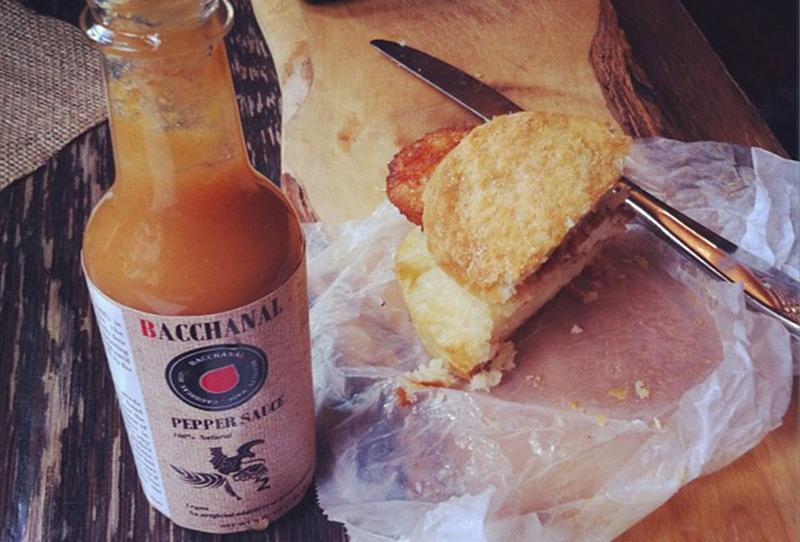 Step into any hot sauce emporium, and you'll likely be surrounded by labels bearing words like "pain," "death," and any number of expletives. But the world of hot sauce goes far beyond mere Scoville units, and plenty of hot sauces focus instead on flavor, rather than pure capsaicin.
Take Sonya Samuel's Bacchanal Sauce, for instance. Inspired by the pepper sauces of the Caribbean, it includes tropical ingredients like papaya, pineapple, and tamarind. Samuel is based in Crown Heights, Brooklyn, and her family hails from Antigua, where pepper sauce is ubiquitous.
"Across the Caribbean, it's used in everything," she said. "Locally... families make their own pepper sauce so if you go to someone's home, if you have a meal with them, they're going to offer you some pepper sauce. That's just sort of the way it is."
Spicy and aromatic Scotch bonnet peppers make up the primary ingredient in most Caribbean-style hot sauces, said Samuel, who also uses habanero peppers. "If you're looking for flavor, it's good to look for hot sauces or pepper sauces that have something besides pepper in it, she added. " If you have some wonderful fruits and herbs and sometimes people even put vegetables in their pepper sauce."
Samuel pointed out pepper sauces from the Caribbean also tend to differ from more popular American-style hot sauces in both taste and texture. "You don't get that really vinegary taste right up front," she said. "The more Americanized hot sauce is, I would say, watery. The Caribbean hot sauce has some texture to it, has some body in it. Usually, the peppers are in there."
(Photo: Sonya Samuel)
Those peppers can be dangerous in large quantities, though. Samuel advised only making small batches at home, wearing gloves, and being careful to keep your fingers away from your face. For larger batches, she recommends going all out and donning protective eyewear, too.
Pepper sauces usually also include a good amount of vinegar, which means the condiment will keep for several months in the refrigerator. The long shelf life is a good thing for pepper sauce devotees.
"All those wonderful Caribbean flavors really sort of give you that flavor that you might be looking for, so that you're not just getting heat," said Samuel, who has garnished everything, including waffles, with Bacchanal Sauce. " It really enhances your food. It's really something that you can use to complement whatever meal that you're having."
Below, try Samuel's easy recipe for Bacchanal Pepper Sauce Spiked Guacamole.
Bacchanal Pepper Sauce Spiked Guacamole
5 small, ripe avocados
2 tablespoons freshly squeezed lemon or lime juice
Bacchanal Pepper Sauce (12 drops or to your own taste)
½ cup diced white onion
1 large garlic clove, chopped finely
1 teaspoon sea salt
½ teaspoon freshly ground black pepper
1 medium tomato, seeded and diced
Cut the avocados in half, remove the seed, and scoop the flesh out of the shells into a large bowl. Quickly add the lemon juice, Bacchanal Pepper Sauce, onion, garlic, salt and pepper, and mix well. Using a mortar, or rounded spoon, smash through the avocados in the bowl until they are to your liking. (I like it a little chunky.) Add the tomatoes and mix all the ingredients together. Enjoy!