SchoolBook
Facing Lower Test Scores Bloomberg Administration Takes Long View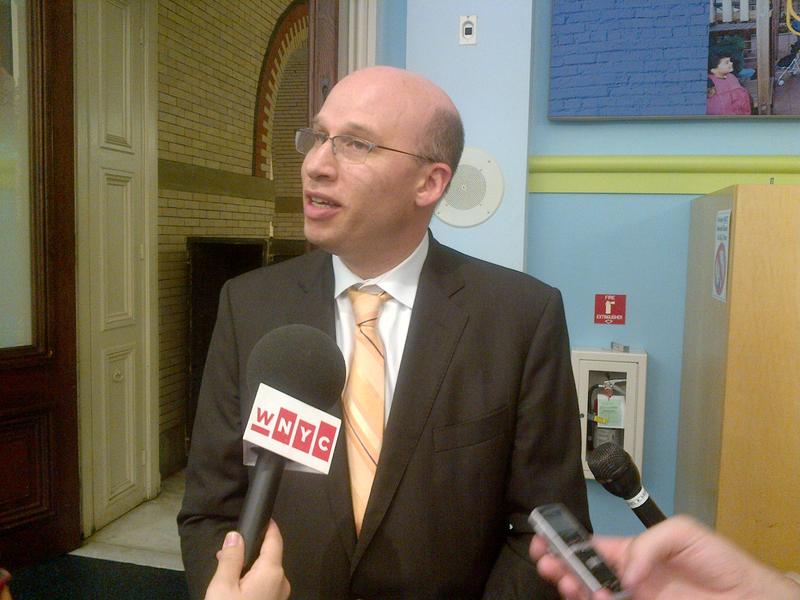 New York is now the second state in the country to see its math and reading scores tumble following the adoption of more difficult tests for grades three through eight. The percentage of New York students considered proficient in math and reading was cut almost in half.
Mayor Michael Bloomberg and his education officials appealed for calm as they called the scores a new "baseline" from which the city can evaluate student performance going forward.
During a press conference at the Department of Education headquarters, Bloomberg was joined by State Education Commissioner John King and Board of Regents Chancellor Merryl Tisch. It was a striking image of solidarity as all parties tried to soften the jarring news that only 31 percent of third through eighth graders in New York State were proficient in math and reading, and fewer in New York City.
Bloomberg noted that the new tests were designed to measure college and career readiness, and are therefore harder than any that were given before. With that in mind, he said, they were more like the 2011 national tests that found 26.5 percent of city students proficient in English and 28 percent in math. Those results were almost identical to the performance of city students on the new state exams: 26.4 percent were proficient in English and 29.6 percent were proficient in math.
The mayor also emphasized that city students outperformed the other large urban school districts in the state. In Rochester, for example, only 5 percent of students were proficient in English.
"Our teachers are doing a spectacular job," he said. "No other big city I think remotely comes close to the state averages."
But city principals and teachers were stunned as scores tumbled throughout the five boroughs. And there was no getting around the fact that a shocking 36 percent of city students scored at the lowest level in both math and reading. In previous years, that would have kept them from moving on to the next grade.
Chief Academic Officer Shael Polakow-Suransky, however, urged families and teachers not to panic. He emphasized that these new tests, like the state standards, are designed to get students ready for college and careers, instead of just over the hump of graduation.
"I think one way to look at this is if you got a level 2 or above you're on track for high school graduation. If you got a level 3 or above your on track to be college ready. And if you're in that level I category, some of the students are really really struggling at the bottom end and others are approaching what they need for a high school graduation to be on track," he said.
But not everyone was on board. Parent activist Zakiyah Ansari, of New Yorkers for Great Public Schools, said students might have done better on the exams if the city had given them a more solid foundation.
"Testing has been on steroids under the Bloomberg administration," she said during a rally Wednesday morning. "It has been used as a way to punish, not to assess and support schools and educators."
Suransky said no teachers will be punished because of the new test scores. A new evaluation system, in which 20 percent of a teacher's rating is based on their students' test scores, will not kick in until after the 2014 exams. He also said schools will be compared to each other for the upcoming report cards this fall, mitigating the impact of this year's low scores.
New York is among 45 states plus the District of Columbia that have adopted Common Core standards which emphasize critical thinking as well as more reading and writing. Kentucky was the first state to use exams linked to the standards and it also saw a huge drop in student proficiency rates. 
Some academics said they believe it's still too early to know whether the tests will measure what students need to be ready for college, partly because they're so new.
"I worry that the low scores in New York City and around the state will be seen as a license for unproven reforms, on the grounds that performance is so low that almost anything would be better," said Aaron Pallas, a professor of education and sociology at Teachers College-Columbia University.
"The truth is that anyone who confidently asserts that implementing the Common Core curriculum and teaching to Common Core-aligned state tests will result in better long-term outcomes for children and youth is lying," he said. "We simply don't know if that's the case."
Many teachers and parents complained that this year's exams seemed too difficult for young students, and didn't give them enough time to finish.
But Bloomberg noted that scores typically fall when there's a new test, and then creep up again. In 2010, the state made its exams tougher to pass and proficiency rates fell by double digits. They were inching up until this year.
Sean Corcoran, a professor of education and economics at New York University, agreed the picture is likely to improve in a few years.
"We can be sure these scores will improve over time as schools adopt the curriculumand students and teachers become more comfortable with these tests."