In the Bronx, Voting Is the Exception, Not the Rule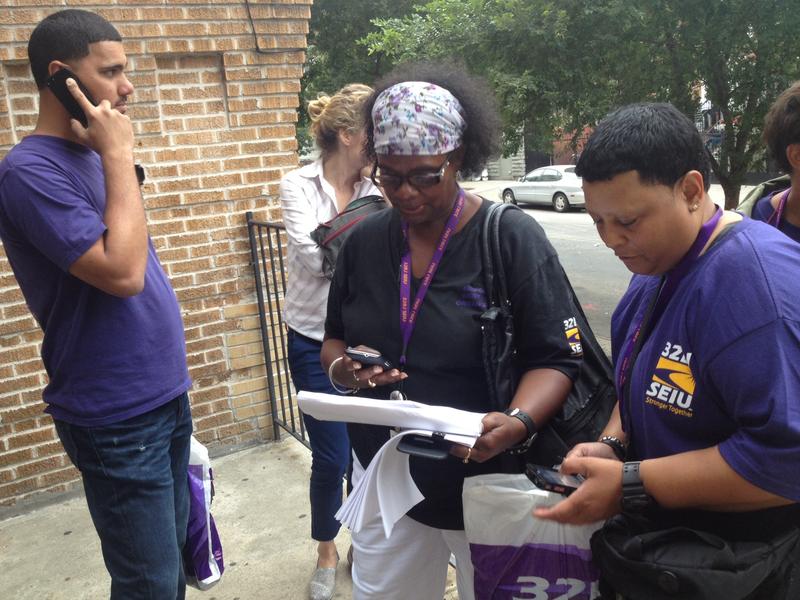 Voter turnout in New York City elections is abysmal. The predictors of low participation are varied, from high residential mobility to language barriers and lower education levels. Turnout is lowest in the Bronx, where fewer than 20 percent of adult citizens voted in the last mayoral election, in 2009, across almost two thirds of the borough.
That doesn't mean people aren't talking about the mayor's race in the Bronx — at least one guy in it. Over a game of dominos along Willis Avenue in Mott Haven, Anthony Weiner — as much a reality show star as a candidate — stirred up a debate.
"They should just leave him alone. That's his life," said Vilma Madera. "Yeah, but public office?" Francisco Schmidt objected. "We're going to be the butt of every joke in the country!"
Both Madera and Schmidt say they plan to vote. But most people in this Bronx neighborhood do not. In 2009, it was in the bottom tenth for turnout in the city.
Crossing the street nearby, Angel Cordova chalked that up to immigration patterns in the neighborhood.
"Well, it's just because there's a lot of people that are scared," he said. "That they might get deported, for some people."
Citizens won't get deported, but newer citizens nonetheless are unlikely to vote. Neighborhoods with high numbers of naturalized residents vote at below-average rates in New York City. Language is also a factor, as is education, according to a report last year by the city's campaign finance board.
Sever Fisca understands the hurdles. He lives in Pelham Bay in the Bronx. He immigrated from Serbia decades ago, but 2012 was the first time he ever voted. It wasn't fear that stopped him. Voting just wasn't a priority.
"Because my day was 4 o'clock in the morning to 6 in the afternoon, I got no time to go to the post office," he said.  "At that time, that's what I knew. Post office, go register at post office."
Fisca is a cleaner in the Apple Store on Fifth Avenue, and it was through his union that he finally got involved in politics. This campaign season, he's doing political outreach for SEIU 32BJ, which represents janitors and building security workers.
"We are targeting new voters, and we want people to register to vote," said Héctor J. Figueroa, the union's president, in a recent interview in his office. "Because of who we are, two out of three of our members were born outside of the U.S. We're going to pay an inordinate amount of attention to immigrant voters – Latino, Asian and others."  
About a fifth of 32BJ's members aren't eligible to vote, so it's not just focusing its organizing efforts on citizens.
"We're telling people, you need to come out whether you can vote or not and build a movement to really get a piece of the fair share. And politics is one way of doing it," Figueroa said. The idea is that workers ineligible to vote can still convince members of their family or neighbors to turn out. And, the thinking goes, the more people that show up at the union's political election events, the more negotiating power the union will have after November, no matter who the new mayor is.  
So 32BJ is reaching out to all its members. Since early July, the union's been going door-to-door in targeted neighborhoods across the city. In the Bronx, it's focusing on three council districts.
On a recent afternoon, a woman named Elizabeth opens the door in her Bronx high rise and welcomes Monique Spears and Vivienne Olivera at her door when she sees the familiar SEIU purple t-shirts.   
"Are you a registered voter?" Olivera asks. Elizabeth nods, and Olivera continues. "I'd like to give you some information here, of who we've endorsed."
Elizabeth intently leans over the flier with the union's picks, because she doesn't know whom to back. 
"I have no idea," she says. "For me, reading all that, it will give me an idea, who you know. Because we all human, we want better for ourselves. I don't really follow the political stuff."
She agrees to try to come to an upcoming organizing day, but demurs to the canvassers' repeated requests to make a weekly contribution to the union's political fund.
This is one of the few successful stops on this afternoon. At most of the Bronx addresses on the canvassers' lists, there is no union member around to talk to. Many aren't home, and at other doors, strangers say the union member has moved away. That's another factor in low voter participation: high rates of residential turnover.  
Back at union headquarters, Edgar Hernandez tells a room full of organizers how he convinced two new citizens who work at his Manhattan building to take the time to register. At first, he says, they were reluctant.
"And I told them, you're entitled to vote," he says. "And they liked the idea of being heard, because they'd never been heard before."
But, he admits, he made the mistake of not collecting their filled-in registration forms. So he's not still not sure if, in the end, these new citizens will become New York City voters this year.