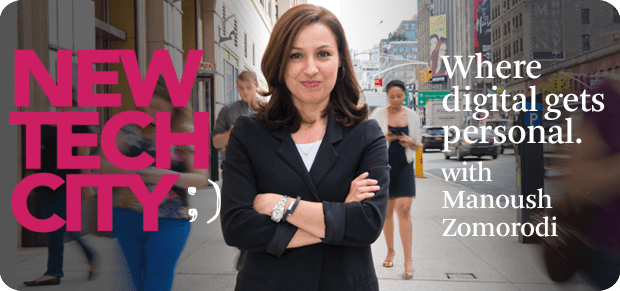 Episode #46
Computerized Confessions: Biographies and Wedding Toasts in the Digital Age
Wednesday, August 07, 2013
Biographers have relied on handwritten letters for centuries, but more and more, they're using emails, texts and online chats to tell the story of a person's life.
This week on New Tech City, WNYC's Ilya Marritz reports on how writers like Walter Isaacson — author of Steve Jobs — are using electronic correspondence to write biographies.
Isaacson told Marritz about emails between Bill Gates and his team at Microsoft reacting to new Apple products, including one that read "we were smoked."
"It was sort of a wonderful exchange to know exactly what people were thinking at Microsoft when the iPod first came out," Isaacson said. 
Then, WNYC's Dan Tucker explains a digital trend he's noticed at a spate of recent weddings when it comes time for speeches and toasts. The best man or maid of honor takes the microphone, whips out a sheaf of paper and starts reading from emails the bride and groom sent each other when they first met. 
One newlywed said having your emails to your bride-to-be read aloud to 250 wedding guests was hilarious and embarrassing but ultimately touching because everyone got a play-by-play of love blossoming.  
"I think it's the coolest thing ever," said Josh Galecki. "It's kind of a snapshot or a look in on a relationship that you really can't get." 
Also on this week's podcast, you'll hear from Mike Bergelson, CEO of a Everwise, a startup that's trying to update the idea of mentoring in the workplace through technology. 
It's something akin to online dating for mentors and mentees with a notable addition: So-called "relationship managers" based in Minnesota who help shepherd the process along. 
This is an extended podcast of New Tech City. You can listen to the broadcast version every Wednesday morning at 5:50 and 7:50 a.m. on WNYC 93.9 FM, AM 820 and New Jersey Public Radio or subscribe to the program on iTunes.

New Tech City producer Dan Tucker has attended A LOT of weddings recently, and he's noticed a trend when it comes time for speeches and toasts. The best man or maid of honor takes the microphone and starts reading from emails, texts and online chats that the bride and groom sent each other over the years. Call it Love in the Time of Gmail. 

For centuries, biographers have relied on letters to bring historical figures to life, from Gandhi to Catherine the Great. But over the past two decades, most people have switched from writing paper letters to email.

Finding a mentor can be a mysterious process, but a startup called Everwise has figured out how to connect potential mentors and mentees through data analysis.