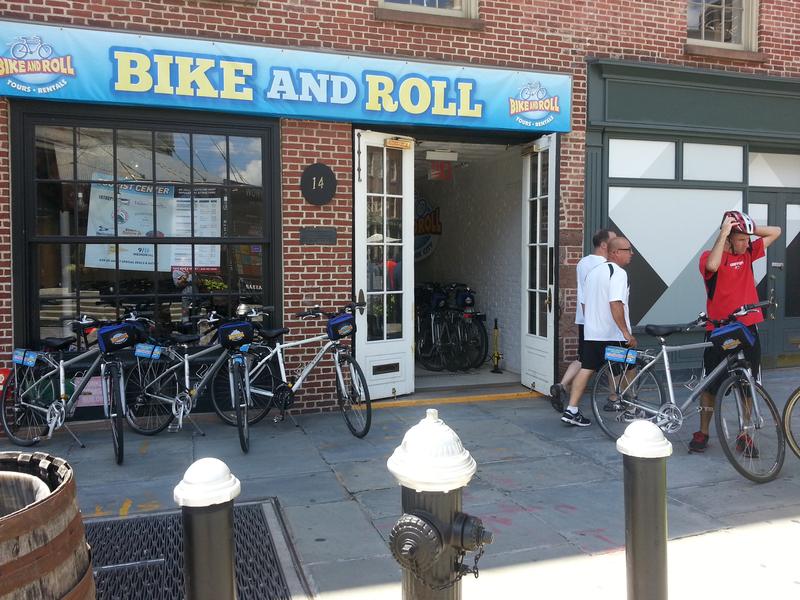 Two months after the launch of New York City's bike sharing program, the people who run bike rental companies in New York City agree: Citi Bike is changing their businesses. But they can't agree if it's helping or hurting.
After speaking with a dozen different companies big and small, the verdict is an even split.
Half the companies think Citi Bike is a massive competitor taking away business from the underdog independents, the other half think the 6,000 blue bikes around town have sparked enough general excitement in cycling that Citi Bike is like a rising tide lifting all, er, bikes. 
"We really want to get more people on bikes," said Chris Wogas, President of Bike and Roll, the city's largest bike rental company with 2,000 bicycles. "We think this will get us more business," he said. He can even see a future where people check out a Citi Bike for a short ride to one of his eleven locations and then rent his bikes to go on a long distance ride. "We don't compete at all," he insists. "They are for short trips. We are experience-based," mostly for leisure in Central Park. Bike and Roll business is flat compared to last year, which Wogas says is good considering worse weather. 
At Blazing Saddles in the South Street Seaport, assistant manager Solo Respeto said business is up 15 percent, and credits Citi Bike. "The whole dynamic of biking is getting better," he said. "Citi Bike spreads the news that biking is popular and the thing to do, so I think it hasn't hurt us, and if anything it's helping."
As he sees it, Citi Bike and rentals like his aren't competing. "They don't give you a map," he said.  "They don't size out the bike for you. We do a lot of little extras. See the young lady I have here with the big beautiful smile, you can't get that at Citi Bike." 
A personal touch is certainly one of the competitive advantages of independent rental companies, but Citi Bike wins on brand marketing. 
Sixty-Seven year-old Xena Jann of the West Village decided she wanted to rent a bike after seeing so many people out rolling around on them, including Citi Bike users. "Yeah the spirit moved me and I decided I just gotta do it today," she said while standing in Waterfront Bike Shop, which rents out about 90 bikes. 
In a sense, she was renting from Waterfront because of Citi Bike. But not so much in a rising tides lifting all boats kind of way. 
"I wanted to rent one from the station here in the neighborhood," she said referring to a Citi Bike kiosk two blocks away. "I stuck my card in and it didn't work... and I got disappointed and came here."  
That's a lucky bit of business for Christian Farrell, owner of Waterfront Bike Shop, but he says it isn't common. And counting on credit card processing glitches from Citi Bike isn't much of a business plan. 
Farrell said business is down to half of what it was last year around this time. "I don't think this is going to put us out of business, but it will definitely make it less appealing unless we come up with a better plan." Some of that is the weather, but he said he used to rent out all of his 90 bikes on nice weather weekends. That happened the weekend before Citi Bike launched. It hasn't happened since.
He feels Citi Bike is too well known and too cheap at $10 for a day pass that gives users unlimited trips that are each less than 30 minutes. He charges $10 for the first hour and $20 for four hours. Other companies charge similar rates, some offer tours, most offer much nicer bikes than the Citi Bikes. But on a purely financial point of view, some people who would have previously rented a bike from a bike shop or bike rental company to make short trips of hop around town checking out museums or tourist sites will now get a better deal from Citi Bike. But the question is, will enough additional customers who wouldn't have thought to brave the NYC traffic on two wheels now fan out and rent bikes to compensate? 
That's still up in the air.
"I'm sort of in between two feeling," said Pablo Castro of Echelon Cycles in Greenwich Village. "I feel OK that's great, I like the Citi Bike because it's advocating more cycling, but … on the other hand it's hurting my business," he said. "I had to let someone go because the money wasn't coming in the way it was... Last year I made a lot more money."
Carlos Dallorso of Spokesman Cycles said, "It's a funny year because we had about two weeks of nonstop rain and then we had the heat wave. So our numbers are slightly down, but if you calibrate for weather, I think it's the same." He's optimistic because Citi Bike is causing lots of new people to ride, and also because Citi Bikes are so big and clunky. "All those people who would never think of riding a bike, once they try a better bike—which is what we rent and sell—maybe then they'll allocate some space in their studio for a bike," and buy one.
But Savas Sevil, owner of NYC Bike Rental, doesn't sell bikes. He just rents them. He said, "We cannot compete." His company has out about 200 bikes in Midtown and near Central Park. He supports the program as a public service, but feels it is being run for profit, courting tourists by putting stations right in front of hotels so his target customers choose Citi Bike over him. "I'm not arguing against it," he said. "It's how it's being run."
In fact, every single person interviewed for this story praised the idea of a bike sharing program, usually without any prodding. Even the businesses who blame Citi Bike for the bum year still support bike share. Because, whether it is happening yet or not, they all want Citi Bike to become the rising tide that lifts all their boats. 
And at least one of the companies is capitalizing on what Citi Bike doesn't do. Bike and Roll is now renting helmets to go along with Citi Bikes.